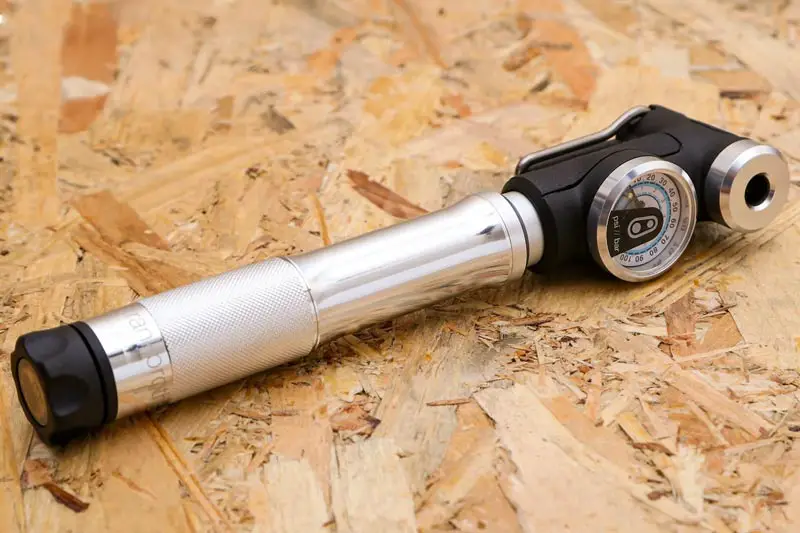 Imagine this scenario: you're in the middle of a rural area and you either got a flat tire or you noticed that it is low on air, which makes your riding experience gritty and uncomfortable, causing you to exert even more effort and your bike tires to wear out easily. 
Now, you might wonder: how can I pump my mountain bike tires without having to carry my big old foot pump or an electric bike pump? The answer to this solution is by buying a mini pump. These little handy tools work the same as a standard bicycle pump but they are more portable and can be carried anywhere with comfort.
One of the key advantages to having a mini pump for your mountain bike is portability – you wouldn't want to carry a bulky foot pump to be on your shoulder all the time, right? While it's true that foot pumps deliver more power, many mini pumps can give you just as much with the right features.
So, with that in mind, what are the best mini pumps for mountain bikes (MTBs) out there? We want to help you out on the road and that's why we wrote a guide for you to get started on choosing a mini-pump that will surely keep your mountain bike tires in tip-top shape wherever you go.
Best Mini Pump for Mountain Bike
Here are our top picks for the best mini pump for mountain bikes:
PRO BIKE TOOL Shock Pump
With up to 300 psi or 20 bar of pressure capacity, the PRO BIKE TOOL Shock Pump is made with a clear readout despite its small size, making it suitable for those who want to read the pressure values easily. Here are some of its noteworthy features:
Lightweight and accurate design
At only 154 grams in terms of weight, this mini pump is CNC-machined for quality and durability. After all, the whole point of a mini pump for a mountain bike is to have a lightweight design, right? The accurate design will help you add air to your bike without sacrificing durability and accuracy.
Moreover, the gauge measures 1.5 inches and has a clear look. It displays the pressure of your tire(s) in both psi and bar, making it suitable for either measurement system. Having much more defined fonts and symbols make this MTB mini pump much easier to read at any time of the day.
Comfort and usability
 It has an ergonomic handle for easy pumping – even with sweaty hands. When you've been using your bike all day – even if you wear gloves – having sweaty hands is quite common. If it's a hot day and you don't want to wear your gloves (or if they're soggy), you may need to pump with your hands.
That's where an ergonomic handle comes in handy – to make it easy for you to pump your tires properly. Given that mini pumps are trickier to use as compared to foot pumps, it's a good feature to have – especially on a very hot and humid day.
Equipped with a 6-inch swivel hose that's flexible for various angles, it allows you to inflate your tires without having to worry about your position.
Secure valve head
We like that it has a 2-stage anti-leak valve head. This will keep the air secure within your bike tire – especially if you're too slow to remove the hose from the valve. A secure valve head is important for those who often have difficulty pumping their mountain bike tires.
Precision in pumping
Aside from that, there's a bleeder button for a more precise PSI/bar pressure amount. If you need to have an accurate and specific pressure amount, you may want to use that bleeder button.
Recommended uses
If you're looking for a tire pump that will fit a bike rim with a Schrader valve, this is a good portable choice. This is also a decent pump for those who have MTBs with full suspension.
BV Mini Bike Pump
Able to take up to 120 PSI, the BV Mini Bike Pump is yet another choice in our list of portable bike tire inflators. Here's what you should expect about it:
Wide compatibility
This portable pump will fit both Schrader- and Presta-type valves. With this kind of bike pump, you can use it for a wide variety of bikes and bike rims without having to worry about an adapter.
Speaking of compatibility, did we mention that it even has a sports ball needle? This allows you to use it even on inflating basketballs, soccer balls, and other types of inflatable objects such as kids' floating toys and the like. We'd recommend this if you want to go on a summer vacation with your family.
Weight
The BV Mini Bike Pump weighs only 3.4 ounces so you can just stash it inside your bike gear bag. It's quite portable in terms of design and is easy to assemble as well. Weight and portability are both important when choosing a mini pump for a mountain bike.
Accessibility
What we like about this bike pump is the inclusion of a mounting bracket. There's no need to keep it inside your bag all the time if you need it in a hurry – you can simply place it on the bracket (which is attached to your bike frame) for ease of access.
The bracket system uses a Velcro strap so that your mini pump stays in place. Assembling the whole mounting bracket won't take a lot of time plus it's a great way to keep the mini pump within reach. The compact design also allows you to store it without getting in the way of your legs as you start pedaling.
Usability
The mini pump is quite straightforward to use. Using the lever to lock (turn upwards) and to unlock (turn down), you'll know how to properly secure your pump hose on your bike rim valve without worrying about losing air – great for those who aren't used to pumping their bike tires yet.
Despite its size, this mini pump will likely fill up your tires in about two minutes or so. Keep in mind that this is an estimate and the amount of time still depends on the pressure you need, the bike tire size, and the pumping power exerted.
Adjustability
Another fun feature that we like about this bike pump is its adjustability. It has a telescoping design that allows you to switch between a length of 9.8 inches (25 cm) and an extended length of 15.1 inches (38 cm). This is useful for much bigger bikes.
GIYO Mini Bike Pump
The GIYO Mini Bike Pump is yet another portable choice that's suitable for MTBs. With up to 120 PSI of maximum pressure, here's what you need to know about this mini bike pump:
Portability
Similar to the choice we mentioned above, this bike pump can fit easily on your frame (where you regularly put your water bottle) using the included mounting bracket. A hook and loop strap, as well as a couple of screws, will attach your bike pump so it's ready to be used anytime and anywhere.
Similar to the ones we mentioned above, the mounting bracket also comes with secure Velcro straps, which will keep the bike pump in place. Ensure that it has been telescoped back to the smallest height to avoid conflicting with your bike frame.
Valve compatibility
Both Schrader and Presta-type valves in a bike rim can use a mini bike pump. There's no more frustration with trying to look for the appropriate adapter for your bike pump to take specific valves. There are specified instructions on connecting to these valves.
Aside from that, the design of the pump also works with other inflatable objects, such as soccer balls, volleyballs, inflatable toys, basketballs, footballs, and the like. It also works on various other tires for different vehicles – as long as you pump the correct pressure and attach it to the valve properly.
Weight of the mini pump
Weighing only 4.96 ounces or 0.31 pounds, this is a very lightweight bike pump that's easy to take with you on the road. It won't add too much load to your bicycle, which will help you steer your bike with comfort and ease.
Unique gauge design
What we like about this portable bike pump is the unique design of the gauge, which is built inside the tube. This makes it less bulky and minimalistic – good for those who want something that doesn't get in the way of their bike frame when they pedal.
For those who don't prefer the traditional circular pressure gauge, this is an alternative for you. It's also easier to read the gauge because it already tells you the amount in psi.
Adjustable height
You can adjust the total height of this mini pump up to 13 inches from the original 9 inches, which makes it convenient for catering to different user heights (as well as various bike sizes). The telescoping design is good for getting more power even from a small bike pump.
Marque Mini Bike Tire Pump
With a 120-psi max pressure capacity, the Marque Mini Bike Tire Pump is yet another compact yet easy-to-use bike tool that you might like. Here are some of its features:
Lightweight yet durable
Made of aluminum alloy, the mini bike pump weighs 4 ounces or 114 grams, making it quite similar to the other portable pumps we mentioned above. Any bike pump that's 3 to 4 ounces in weight is a good choice for commuting or if you don't want added bulk to your bike.
Compatibility
Don't worry about adapters because you can use this portable mini bike pump for both Presta and Schrader valves. As long as it's not a bike rim valve that has non-threaded extenders, this pump will work just fine.
Ease of use
We like the connection design of the air hose, which is quite flexible so you can inflate your tires from various directions. If you don't have a good spot to inflate your bike tires in an emergency, the flexible hose will help you accomplish your task just fine.
Comes with a mounting bracket
Just like the other mini bike pumps that we already mentioned, this bike tire inflating device also comes with a mounting bracket and a strap to secure it to your bike frame, allowing convenient access when you need it.
Two inflation modes
The unique feature that we found interesting in this bike pump is the presence of 2 inflation modes: HV (high volume) and HP (high pressure). If your tire just needs added air, you can use the HP mode while the HV mode is for when your tire lost a lot of air (e.g. from getting flat).
They can be switched by simply twisting. These inflation modes are lifesavers when it comes to exerting effort. If you don't want to sweat too much while pumping your mountain bike, switching between these two pumping modes will help reduce the effort that you need to put into inflating your bike tires.
Length
If you compare this mini bike pump to other models that we mentioned above, it is quite short at only 8 inches, which makes it very portable and non-invasive. If you don't have a big bike when it comes to frame size (and you want to attach it to the frame) then this portable bike pump is for you.
Tiakia Mini Bike Pump High-Pressure Pump
Able to inflate bike tires up to 260 PSI, the Tiakia Mini Bike Pump High-Pressure Pump is a good multi-purpose inflation device for MTBs and various other tire types. Here's what you can expect from it:
Portability without sacrificing power
Although the bike pump weighs 5.3 ounces (slightly bigger than the above-mentioned picks), it has up to 44 ml for each pump you make so it will inflate your tires faster. Another plus point is the pressure compatibility of up to 260 PSI – good for high-pressure tires.
Speaking of portability, the bike pump is also surprisingly short at only 7.8 inches in length. With the included mounting bracket, it will fit even in smaller bike frames without getting in the way of your feet.
Wide valve compatibility
Compared to our above-mentioned picks, this pump is compatible not only with Schrader and Presta but also with Dunlop valves – great for those with rare bikes purchased from Japan and similar countries. With this type of compatibility, you can use it for a wide range of bikes – ideal for bike shop owners.
It is also compatible for use with non-bike tires (e.g. electric cars and motorcycles), as well as basketballs, soccer balls, footballs, kids' toys, swimming pool floaters, and the like.
Durability
When it comes to durability, unlike other bike pumps out there that easily rust, this pump has an IPX4 rating, which means it is waterproof and can be used even when it rains hard. This is a good choice for bikers who live in wet and extremely humid climates.
Q&A
Do you want to know more about bike pumps and tire inflation in general? Here are some frequently asked questions for pumping your mountain bike:
Which is better, hand pump or foot pump?
Both foot and hand pumps have their pros and cons. If you need to inflate your bike tires quickly with a ton of pressure in one go, we prefer foot pumps. However, for emergencies on the road, you'll want a hand pump because they're more portable.
Do bike pumps work on all bikes?
Unfortunately, no – some bike pumps work only on specific valves. For instance, a shock pump will mostly be compatible with Schrader valves. To be sure, a floor pump is a way to go – they typically have adapters for both Presta and Schrader valves.
Are mini pumps good?
Mini pumps are good for emergencies on the road when you are starting to lose a bit of air. However, they will take more time and effort to use since they cannot pump a huge amount of air as compared to a traditional foot pump.
Does a bike pump need a gauge?
Yes, pressure gauges on bike pumps are greatly needed so that you can check the pressure in real-time. However, for accuracy, we recommend always counter-check with a separate pressure gauge you have on hand after you've inflated the tire in question.
How much should I pump my bike tires?
That depends on the type of tire, the size, the bike type you have, and so on. Go for around 25 to 30 psi for a mountain or off-road bike and maybe about 80-100 psi for road tires. Always check the tire sidewall for the recommended pressure.
Conclusion
As a whole, mountain bike owners should have a mini pump in their arsenal of emergency bike tools. Not only will it help them to stay safe on the road but it will also make their tires last longer since you will avoid under-inflating and over-inflating them. We hope that you liked our top picks!