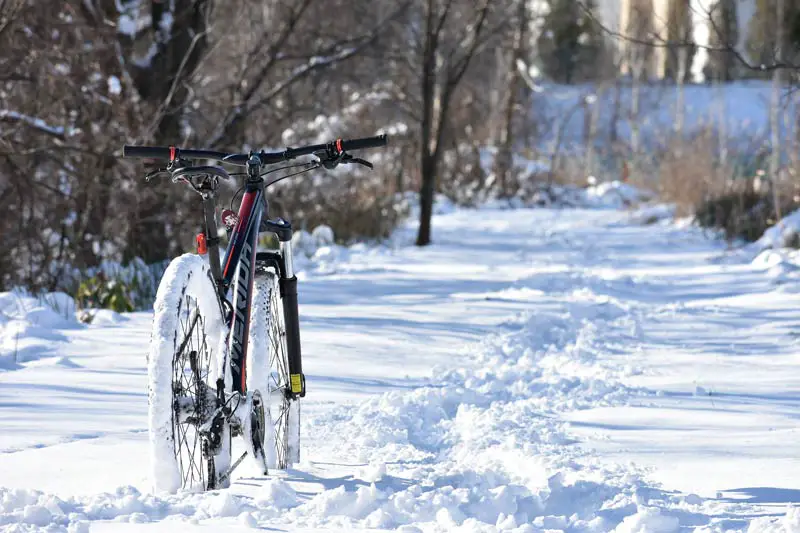 An MTB (mountain bike) is a special kind of bike that's more suitable for climbing hills and difficult terrains, such as rocky roads, dirt, snow, and all kinds of non-pavement grounds. If you plan to go on an adventure on a bike, an MTB is your best bet for areas that aren't concrete or smooth enough.
Compared to road bikes, mountain bikes are typically larger and have more shock-absorbing components, since they are built and are suitable for off-road traveling. If biking around the city seems dangerous to you, going into uneven trails might be an option – that's where an MTB comes in handy.
With that said, there are many kinds of mountain bikes on the market, and it's not a one-size-fits-all. The bike you should buy must fit your height, riding style, comfort, skill level, and other factors. However, with all the overwhelming choices, how can you have a good mountain bike without spending a lot?
Are you planning to have an MTB but don't want to spend a big budget yet? If you are looking for the best mountain bike under 500, you've come to the right place – we've got some suggestions to get you started on your bike shopping decision.
Is a 500 dollar mountain bike worth it?
Yes, a mountain bike under 500 will give you a basic yet working bicycle to take with you anywhere. Bikes that aren't too expensive and under this price bracket can already have a multiple-speed system for their drivetrain, are not very heavy to carry around, and can be comfortable to ride on.
One of the factors that make a bike expensive is the weight – pricier bikes usually have a different build that makes them more lightweight without sacrificing quality and speed. With our picks above, you can find a decent mountain bike without having to spend a lot at first.
Types of mountain bike
MTBs or mountain bikes are typically grouped or classified into four types: trail, downhill, cross-country, and all-mountain or enduro bikes. So, what makes each of the types of mountain bikes different from each other? Let's find out:
Cross-country bike
An XC or cross-country bike focuses more on pedaling power and efficiency because they are for longer rides. This makes the bike more lightweight and easier to move around without causing too much fatigue at the end of the day.
If you will ride through places and worry much about climbing power, this is the type of mountain bike for you. They usually have a longer chainstay and also have much larger wheels up to 29 inches, also known as the 29ers.
Trail mountain bikes
A trail MTB can also have 29-inch wheels but they tend to have more focus on traction and grip since they are suitable for bumpy roads and uneven surfaces. They make your ride as comfortable as possible on the trail with added suspension.
For a rider who doesn't like a very jagged riding experience, this type of mountain bike is for you. They can have front and back suspension that has from 120 to 150 mm of travel.
Downhill mountain bikes
A downhill MTB, as the name suggests, is more suitable for going downhill as compared to uphill. They have up to 250 mm of suspension travel on the rear and up to 200 mm at the front plus they have traction and a low center of gravity. This type of mountain bike is more suitable for practicing descents.
Enduro or all-mountain bikes
When it comes to enduro bikes, these are used for Enduro races where the downhill or descents are scored but you need to ascend first. They are closer to the trail bike when it comes to specs and can have up to 29-inch wheels with aggressive knobby tires.
How to determine the correct mountain bike size
The right bike for your needs depends on the following factors, so be sure to know about them before you head to the bike shop or get a bike online:
Height – the rider's height can correspond to a specific bike size (frame or wheel)
Age – most MTBs are grouped according to age with a specific bike size recommendation
Torso, leg, and arm length – you may have a custom-fitted frame for this
Inseam – measure from the inside of your legs to get a properly-fitted bike
Mongoose Malus Adult Fat Tire Mountain Bike
For those who want to ride on the beach or difficult terrain, you will like the Mongoose Malus Adult Fat Tire Mountain Bike. This bike features mechanical disc brakes and a solid steel frame for durability. What's more, it has a 7-speed system to put you at ease during ascents and descents. 
With an 18-inch frame, this bike has a rear derailleur that changes gears smoothly while you ride. It also has a set of 4-inch tires that are suitable for snow and sand, making it an ideal mountain and beach bike for traveling.
The bike works well over loose sand so it's good for beach cruising. With that said, keep in mind that it is slightly on the heavy side since it is a fat-tire bike.
For those who want a combination of a mountain bike and a beach cruiser, this is a great fat tire bike to consider due to possessing both these bike types' notable features. The power and torque of this bike are sufficiently good thanks to the combination of the disc brakes and the fat tires.
For those who are new to fat tires, this is a good starter bike that won't break the bank since it already has most of the basic features. It's also suitable for plus-sized riders who want to slim down using a bike. Last but not least, the bike is also backed by a limited lifetime warranty.
Elecony 26/20 Inch Fat Tire Mountain Bike
Yet another beach-ready bicycle on our list is the Elecony 26/20 Inch Fat Tire Mountain Bike, which has a total of 21 speeds from its Shimano 3×7. It has dual disc brakes for convenient and easy stopping during emergencies regardless of the terrain and situation.
This mountain bike also has a set of front forks, making the bike shock-absorbing and suitable for a wide range of bumpy roads or hills. Aside from that, this set of forks will reduce your discomfort when you ride the bike during unfavorable weather conditions.
Made with 26-inch tires with a width of 4 inches, the fat bike can go through a wide range of ground types, including snow, sand, and mud. Due to the Shimano transmission, changing your gear will be smooth and convenient regardless of the situation.
The tires also feature a super-grip design that's suitable for slippery environments. It is also ideal for rugged ground due to its puncture-resistant design. If you need to use your mountain bike over snow, it won't be accident-prone thanks to the low resistance tread.
This bike best suits riders from 5'4″ to 6'2″ and has a frame size of 17 1/2 inches. As for the material, it is made with high-carbon steel which makes it lightweight yet durable. It also has an ergonomic saddle that has a rapid-release design for conveniently adjusting while you ride.
2021 Gravity FSX 1.0 Dual Full Suspension Mountain Bike
When it comes to bumpy roads, the 2021 Gravity FSX 1.0 Dual Full Suspension Mountain Bike is a great choice thanks to its dual suspension, which absorbs shock greatly to give you a smooth and comfortable trail or mountain ride.
Like a bike with a 17-inch frame, it has a total of 24 speeds to choose from thanks to its Shimano drivetrain. If you're a cyclist who wants extra speeds on difficult terrain, this is the MTB for you. The derailleur hanger on the rear can also be replaced by anything you like.
Its mechanical disc brakes are made with an alloy that's suitable for the worst elements. What's more, the coil-over shock at the rear can be adjusted to your needs. The bike has a just-right weight that's not too cumbersome to carry around.
What's more, this mountain bike has an aluminum frame (coupled with Hydroformed tubes) which makes it fast enough and lightweight without sacrificing durability against the elements.
The MTB uses a Shimano FD-M190 as the front derailleur and Shimano Acera for the rear. The rims are made with Maddux DX22 and 6061 T6 aluminum (double-walled) with a set of stainless steel spokes. For convenience, the bike also comes with a free bicycle pump. It is backed by a limited lifetime warranty.
Schwinn Bonafide Men's Mountain Bike
Made with an aluminum frame, the Schwinn Bonafide Men's Mountain Bike is great for bumpy roads and terrain thanks to its set of knobby tires with a width of 2.25 inches each. Made with extra-large 29-inch wheels, the MTB has a total of 24 speeds to choose from.
Equipped with a set of front and rear derailleurs for a smooth and convenient cycling journey regardless of terrain, the mountain bike has a suspension fork so that it's suitable for a wide range of roads, hills, pathways, and locations.
The mountain bike has a set of mechanical disc brakes that are made with a durable, weather-resistant material. Aside from that, the bike is equipped with maintenance-friendly alloy cranks for a smooth change in gears.
Due to having double-walled alloy rims, the bike will last for a long time and through rugged use. This bike is suitable for riders who are 5'4 to 6'2″ in height. Due to its Shimano EZ Fire trigger shifters, quickly switching speeds won't be a challenge – even in bad weather.
To assemble the bike, all you need to do is connect the pedals, handlebars, front wheel, and seat to the seat post (it comes with a manual, don't worry). The mountain bike weighs around 39 pounds and is backed by a limited lifetime warranty from the manufacturer.
Vilano Blackjack 3.0 29er Mountain Bike
Yet another MTB with big wheels is the Vilano Blackjack 3.0 29er Mountain Bike, which has a 17-inch frame. It comes with mechanical disc brakes that make stopping safe on nearly any ground. With a total of 24 speeds and shifters, you can easily switch gears depending on the situation.
Another helper for rough roads that can be found on this mountain bike is the suspension fork (with a travel of 80 mm), which comes with a lockout feature. Made with an alloy frame (6061 Hardtail), it makes the bike durable without being too heavy.
Speaking of durability, it also has double-walled alloy wheels to withstand years of usage. The handlebars are also quite large to make turning and maneuvering convenient in sharp corners. It features 9/16″ alloy pedals and a KMC z72 chain.
With an alloy handlebar, it has a fair weight even though it has big wheels, making transport and mobility easy. If you want a 29er mountain bike that isn't too bulky in terms of weight, we recommend this bike for you.
Equipped with a Shimano cassette and lightweight yet durable aluminum frame, this bike will be suitable for those who are new to MTBs and don't want to spend a lot for just the basic features.
Hiland Kids Fat Tire Bike
For those who are looking for an MTB for children, we recommend the Hiland Kids Fat Tire Bike. This bike has a Shimano 7-speed (TY300D for the rear derailleur) plus a MicroShift MS25 grip shifter to make changing speeds convenient regardless of the situation and to keep your kid rolling in any terrain.
It has dual mechanical disc breaks for safety and almost instant stopping.  What's more, it has 24 x 4-inch tires that will suit a wide variety of ground types, such as snow, sand, mud, and the like. This makes it suitable for traveling off-road without worrying about slowing down or sinking with your bike.
Using the REVOSHIFT shifter, your little rider won't have problems shifting gears since it only operates using the index finger and the thumb without having to let go of the handlebar – perfect for those who are new to bicycles.
We like how the bike comes with its kickstand, as well as the pedals. What's more, it has mounts that allow you to add any bike rack to it. Likewise, it has a quick-release seat post for convenient adjustments on the fly.
This bike is suitable for kids who are 4'3″ to 4'11" tall or those who are around 7 to 12 years of age. Because the bike comes nearly assembled and even includes tools, setting up this mountain bike for your little one will be a breeze overall.
Hiland 29 Inch Mountain Bike for Men
Are you looking for hydraulic disc brakes? Why not try the Hiland 29 Inch Mountain Bike for Men? These V-brakes will help you stay safe on any terrain as compared to mechanical disc brakes. It also has a lock-out suspension fork to prevent bumpy road riding.
Made with 29-inch wheels with a 2.1-inch width, this MTB has alloy rims and an aluminum frame that gives the rider a balanced weight while still possessing large wheels. The bike fits riders who are 5'9″ to 6'3″ in height.
The design of the saddle is made to help the rider stay breathable throughout long sitting hours on the bike. With a 17-inch frame size, the bike even has a rebound damping mechanism on the left side opposite the lock-out regulator, which is adjustable.
The mountain bike has a total of 16 speeds (LTWOO 2×8 drivetrain) to choose from. It also has an internal cable design so it's pleasing to the eyes and the cables won't be in the way of your cycling. This bike can reach up to 30 mph depending on the rider and the conditions.
When it comes to the other bike parts, the chain wheel is made with a one-piece molding construction while the tires are made with non-slip and wear-resistant tread. This bike has an overall weight of 41 pounds.
Eurobike 29in X9 3-Spoke Wheel Mountain Bike
Yet another big MTB on our list is the Eurobike 29in X9 3-Spoke Wheel Mountain Bike. What makes this MTB unique is that it has 3-spoke rims for durability. It uses a Shimano EF500 3*7 Speed shifter (a total of 21 speeds) plus a Shimano TY300 rear derailleur to control its gears.
This 29-inch mountain bike has a 19-inch frame size so it is suitable for people who have difficulty slouching on a bike due to their longer torso. Made with an alloy crank seat post, it has dual mechanical disc brakes for easy stopping during emergencies.
As with most of the MTBs we mentioned above, this bike also comes with a pump for convenient maintenance on the go. This bike is suitable for riders with a height from 5'10" to 6'6″ and it also comes nearly assembled (only a few parts need to be installed).
The pedals are made with alloy and the rims are made with magnesium alloy. We like the addition of a quick-release lever for easily removing the front wheel for maintenance, replacement, or tune-up needs. What's more, it can take riders up to 330 pounds in weight.
Overall, this is a great mountain bike to consider if you are a little on the taller side and want a bike that isn't too awkward to maneuver.
Mongoose Exlipse Full Dual-Suspension Mountain Bike for Kids
With 24-inch wheels, the Mongoose Exlipse Full Dual-Suspension Mountain Bike for Kids can be more than just a great Christmas or birthday gift for your little one, but is also an affordable, functional, and safe bike to ride on for kids.
It has a 15-inch frame that will suit riders from 4'8″ to 5'6″ in height. Moreover, this mountain bike has a steel frame plus a full dual suspension system to make each ride comfortable for your youngster, regardless of how bumpy the terrain can be.
With front and rear linear-pull breaks, the bike has a 21-speed drivetrain (Shimano rear derailleur) that's easy to shift for kids. It also has a set of 3-piece cranks and you can also personally adjust the shoe and brake cables when you put the bike together.
The seat post of this bike is fairly simple to adjust and lock in place. What's more, the bike has knobby tires and a suspension fork for convenient off-road traveling for your little one.
The weight of the bike is roughly 33 pounds so it's not too heavy to carry around for kids thanks to its lightweight steel frame. We like that the bike comes with a kickstand so that your child will learn how to make adjustments on their bike. This mountain bike is backed by a limited lifetime warranty.
For those who prefer larger wheels, the Polygon Cascade 2 Blue- 27.5 inch Mountain Bike is for you. It features a Shimano drivetrain (3×7) to help you go through a wide variety of terrains without sweating too hard – especially on hills and steep ascents or descents.
Made with an AL6 aluminum frame, this mountain bike is suited for those who prefer something lightweight yet durable. This allows you to gain more control of your bike over difficult terrain. Aside from that, aluminum is also corrosion-resistant against most bad weather.
The bike also comes with a travel fork (the SR Suntour XCE 100MM) that will further improve your riding comfort. If you tend to bike over bumpy roads and want a more stable mountain bike, this is a great feature to have on your MTB since it stabilizes the front wheel.
When it comes to its wheelset, you get double-walled alloy rims and hubs. The seat post is a steel candle-type that's fairly easy to set up. For its rear derailleur, it uses a Shimano Tourney TY200 7-Speed so you can adjust depending on the geography and the situation.
Weighing 33 pounds, the bike comes with a kickstand so you can perform maintenance on it easier. It has a 680-mm handlebar and a WheelTop 42 x 34 x 24T crankset (170 mm).
Q&A
Are mountain bikes better for beginners?
Not necessarily – mountain bikes can be for beginners as well. However, if you are slightly intimidated or unsure, you can start with trail mountain bikes. Aside from that, you can also try bike trails that are meant for beginners.
How Much Air Pressure Should I Put in My Mountain Bike?
A mountain bike should have somewhere between 25 to 35 psi for its tires. However, you should look at the tire sidewall to make sure you know the recommended pressure by the manufacturer.
Expensive vs. Cheap mountain bike
Aside from price and intended customer, the build quality of more expensive bikes tends to be more durable and long-lasting as compared to cheaper, supermarket-quality mountain bikes.

The steel frame is used for most lower-priced bikes while the pricier ones typically have aluminum or carbon fiber for reduced weight and maneuverability. Bikes with more speeds also have a higher price range.
Should I buy a used mountain bike?
Yes, there is nothing wrong with buying a used mountain bike. You can even upgrade it, aside from fixing whatever is broken, and it will be ready to rumble on the trail.
Is it worth upgrading a cheap mountain bike?
Sometimes, you might want to do the math first. If the bike components total to a bill that's almost equal to buying a new bike, you might as well want to buy a completely new bike anyway.