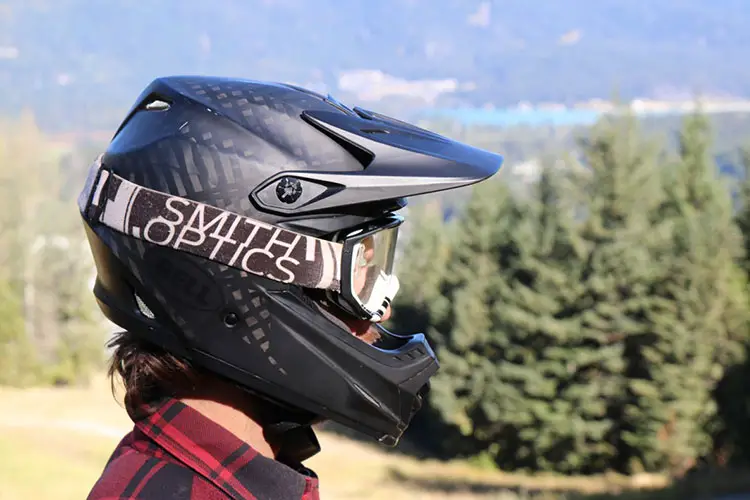 There will be times when a full-face MTB (mountain bike) helmet is needed depending on the terrain and the type of bike you're riding. Full-face helmets have their benefits when it comes to overall safety while not compromising comfort.
While it's true that you have more breathability with half-shell helmets, when there are tricky sections on the trail, it's best to go for a full-face MTB helmet. With modern designs nowadays, you're likely to find a helmet that combines safety features while not making it too heavy on the head. Most of them have a lot of vents to keep you cool throughout the ride.
Full Face MTB Helmet Reviews
With that said, here are our top picks for the best full-face MTB helmet to help you choose:
1. Demon United Full Face MTB Helmet Removable Chin Guard
With enough ventilation to keep you cool with every ride, the Demon United Full Face MTB Helmet Removable Chin Guard is a great choice for those who want comfort and ease. The weight of this mountain bike helmet is only 1.8 pounds or 816 grams. This weight will not make you sweat too hard while your eyes are on the road.
When it comes to fitting, it comes in one size with an additional pad kit to help you adjust depending on different user sizes. This will ensure that the helmet will fit just right for your needs. For further adjustments, it has a tight dial at the back to help keep a snug fit that will keep you comfortable throughout your ride.
If your head size is between the range of 58 and 61 cm, this full-face MTB helmet will fit you just right. For convenience, it also comes with a removable chin guard that's a breeze to install and take out depending on the situation. However, if your head size is smaller than 58 cm, you will need to have additional pads, just to be sure – especially for female riders.
The design of the helmet allows not only ventilation but also comfort for the rider without the bulk to the head. It also has a stealthy design that makes it easy for the rider to see ahead. If you are often a rider who goes for downhill events, this is a must-have mountain bike helmet for flexibility in terms of comfort and usability.
Key Features:
Removable chin guard
Well-ventilated design
Fits most medium and large sizes
Stealthy design
Lightweight
2. Fox Racing Men's PROFRAME Helmet CAMO
For those who are looking for a racing MTB helmet, the Fox Racing Men's PROFRAME Helmet CAMO is for you. This 2020 model is a lightweight and breathable bike helmet with a variety of inserts. If you want to put your custom cheek pads and whatever kinds of pads inside for added protection, this helmet has inserts that will support those.
The inside also has room for replacements if you've already worn out your pads. We like this feature to allow you to customize your helmet depending on your comfort level. The pad inserts are also straightforward in terms of installation and removal.
Looking at the clipping feature, it might need a bit of a learning curve at first. However, once you get the hang of the mechanism, the clipping is quite secure and convenient. Bikers who often get neck fatigue at the end of the day will feel comfortable with this helmet due to its lightweight feel.
Although the material makes a little bit of noise due to its Styrofoam construction, it's less of a con for those who want a lightweight helmet that's not too expensive. You can even wear headphones while wearing this helmet and it won't give you a headache after.
When it comes to the design, enduro racers and even casual MTB riders will find it comfortable and protective thanks to the dual-density EPS liner included in its MIPS technology. With a total of 24 vents (9 exhaust and 15 intakes), it will give the rider sufficient ventilation for difficult ascents and downhill rides.
Key Features:
Dual-density EPS
24 vents
Wide variety of inserts
Lightweight
Secure clipping
3. Troy Lee Designs Adult MTB Full Face Helmet
For those who want extra breathability, you will like the Troy Lee Designs Adult MTB Full Face Helmet. This helmet has a total of 25 vents (14 open-core exhausts and 11 high-flow intakes) for added ventilation to the rider while also maximizing the aerodynamics of the helmet.
When it comes to security, the lock system of the helmet is the FIDLOCK magnetic buckle, which keeps it secure to the rider without discomfort. We found this magnetic buckle easy to use.
The construction of the helmet has been well-tested to be crash-proof so that even though the helmet will become dented at some point, the rider will remain safe. It is rare to find a quality crash-proof MTB helmet while also being lightweight and comfortable to wear for hours.
In terms of the helmet's durability, POLYLITE shell construction is used, which is backed by fiber for added strength without sacrificing weight. We also like the different options for pad fitting that make it more adaptable to different users.
As with many MTB helmets, there's a magnetic GoPro mount on its crown point for convenience. In this way, you can capture your climbing and descending action in the mountains.
This MTB helmet comes with a drawstring bag to keep it in place when not in use. Since the bag has breathable mesh paneling, it's a great way to keep your helmet secure even when it's wet from the pouring rain from the mountains.
Aside from the different sizes, there are also various helmet designs to choose from, although we love this camo design the most for a stealthy look.
Key Features:
Crash-tested
Has a GoPro mount
With 25 vents
Comes with a drawstring bag
Lightweight with durability
4. O'Neal Sonus Deft Mountain Bike Helmet
For those who want a cool and comfortable MTB helmet, the O'Neal Sonus Deft Mountain Bike Helmet is a good choice if you want a touch of orange.
This helmet has various air vents to give the rider a breathable and relaxed ride as if they aren't wearing anything on their head. When it comes to security, it comes with a Fidlock magnetic buckle so you can take off the helmet without having to use both of your hands, which saves time and effort.
As for accessibility, it has a visor that allows height adjustment depending on your needs. This means you can easily see the road without compromising your safety and still wearing a full-face helmet.
For the construction of this helmet, ABS material is used for the shell for a lightweight yet durable feel. The padded inner liner is also removable for your comfort needs and also to make it easy to clean and/or replace when needed. Likewise, this padding is also sweat-absorbent.
International standards are also part of this helmet – it exceeds the EN1078 safety standards for bike helmets. The design of the helmet is made for enduro and downhill riders who want ventilation without a lot of added weight on their head.
What's more, the design is made so you won't sweat easily. Even if you do sweat a lot, the moisture-wicking liner will help you to keep the uncomfortable sweaty feelings at bay. Cold-weather riding is also okay with this helmet as it has sufficient ear protection as well. If you like snug-fit MTB helmets then this is a great enduro helmet for you.
Key Features:
One-handed Fidlock magnetic buckle
EN1078-certified
Snug fit
Multiple air vents
Adjustable visor
5. Fox Racing Rampage Pro Carbon Helmet
For those who want durability when they ride, the Fox Racing Rampage Pro Carbon Helmet is a great choice with its carbon fiber shell material plus FRP resins, which will help people who often get neck fatigue after a long ride. When it comes to rider protection, Varizorb dual-density EPS material is used for impact foam to keep you safe.
On ventilation, mesh vent screens are found on all of its ventilation ports – both the intake and exhaust types. They are also large enough to provide the rider with comfort for a long ride despite the weather. Seeing the road ahead is also convenient thanks to its Magnetic Visor Release System 2.0 that's user-adapting.
This helmet has a lot of certifications for safety, including EN 1078, ASTM F1952, and more – to put your mind at ease. Having a certified helmet is always a plus point.
Even if you run at a low speed, the size of the ventilation ports makes the helmet breathable for a variety of weather conditions. With this MTB helmet, you don't have to run fast just to feel the air around your face while in a full-face helmet.
What we found unique about this MTB helmet are the 2 rotational management systems for added protection to the rider when it comes to injuries. The displacement and foam compression also help the helmet (thanks to the inner pods) to have a rotational system to protect the rider.
It also has a fluid inside design that will be helpful for linear impacts so the rider will stay protected while not sacrificing breathability in the helmet.
We also like the magnetic visor release system that's ideal for going downhill while bracing for impact. You don't have to constantly adjust the visor due to its easy detachment when you are in a tight situation. Although the helmet runs a bit small (order a size up), we still like its overall safety features such as EPS foam liner crumple zones.
Key Features:
2 rotational management systems for safety
Passed many safety certifications
Magnetic visor release system
Dual-density EPS material
Carbon fiber and FRP resin
6. IXS Unisex Trigger FF Full Face Bike Helmet
For enduro racers and riders, you'll find the IXS Unisex Trigger FF Full Face Bike Helmet a comfortable yet protective shock-absorbing MTB helmet to consider.
This helmet has a good amount of vent openings (internal and external) while also have strategically placed angles for efficient cooling to the rider. EPS material is used for the helmet, which is connected directly to the shell for added protection without being too bulky for long rides, thanks to the in-mold technology, making the helmet feel like a second skin.
The materials of the helmet include polycarbonate, EPS foam (shock-absorbing), polyester, PP, aluminum, nylon, and POM, so it's an assortment of strengthening materials while reducing weight.
With its dial adjuster for comfortable tweaking while riding (or while not riding), it's easy to tailor to your fit also thanks to its adjustable straps and jaws. We find this very useful when adjusting your helmet without having to make full stops on your trail – it saves time and effort.
Because there's a magnetic closure, you don't have to waste valuable riding time to set up the helmet. It even has a goggle-compatible adjustable visor (2-level) so you can strap in your favorite goggles.
We also like that it has micro-adjustments for a more personalized fit (both vertically and horizontally), especially if you've had different helmets before that don't fit properly. If you have ILX goggles, this is a compatible helmet for you. The design of the visor allows easy adjustment of both the goggle and the visor for user comfort.
Key Features:
Goggle-compatible
Made with shock-absorbing EPS foam
Horizontal and vertical adjustments
Easy-access adjustment knob
A good amount of vents
Before You Buy
Here in our value section, you'll find out more information about buying a full-face MTB helmet to help you decide:
Things to consider when buying a full-face MTB helmet
If you don't know where to start on choosing an MTB helmet, here's a rough guide on what you should consider:
It should pass safety standards, such as ASTM, CPSC, and the like. Having a well-designed EPS liner is crucial to keep the rider safe in the event of a crash.
The helmet should be easy to fit and adjust to the rider. Aside from straps, there are helmets with special tensioning knobs that allow both horizontal and vertical fitting for the rider. Consider an MTB helmet that fits snugly but not uncomfortably.
Ventilation should be present. Most of the full-face helmets that we reviewed above have about 20 or more ventilation points, which includes entrance and exhaust points. Having added ventilation is important to keep your head cool since a full-face helmet being too hot for the summer is already given.
Usability features are also welcome. For instance, an easily removable chin bar is good for easily converting your full-face helmet to a half-shell and vice-versa to suit the weather or the riding comfort. An MTB helmet with goggle (or even GoPro) compatibility is also a plus point.
Full Face MTB Helmet Size Chart
MTB helmets are typically sized in centimeters (cm). Here's a rough guide on how to choose your full-face MTB helmet:
| | |
| --- | --- |
| Head circumference | MTB helmet size |
| 52 cm and below | Toddler size |
| 48 to 53 cm | Small |
| 54 to 57 cm | Medium |
| 58 to 60 cm | Large |
| 61 to 66 | X-Large |
| 67 cm and above | Usually a custom fit (contact the manufacturer) |
Do You Need A Full Face Helmet for Mountain Biking?
On the issue of full-face versus half-shell MTB helmets, certain bikes do require a full-face helmet while others don't. Sometimes, it may also depend on the terrain that you're riding on.
It may also depend on how many technical sections you expect on the riding terrain on whether you'll need a full-face helmet or simply a half-shell design for your MTB.
Q&A
Here are some questions to guide you about full-face MTB helmets:
Why full-face helmets are better?
Full-face helmets have a lot of plus points, such as the following:

Safety – since it is a full-face helmet, you get added protection compared to wearing a half-shell helmet.

Protection – you get extra protection from the elements, leaving you comfortable throughout the ride.

Easily adjustable – aside from the convenient fitting, some helmets have the option to convert into half-shell helmets so you have the best of both worlds.
Can I use a road helmet for mountain biking?
Yes, road bike helmets are okay to use as MTB helmets if we look at the general safety aspect. However, MTB helmets have a specific design that makes them more suitable for mountain riding, especially for downhill and climbing.

Because road bikes are typically made thinner and sleeker than MTB helmets, they might not do well as compared to slightly thicker MTB helmets when it comes to rider safety on bumpy sections.
Why do MTB helmets have a peak?
A peak, also known as the visor, is important to an MTB helmet. They protect the rider's eyesight when it comes to dirt, debris, and sometimes the elements (e.g. sun or rain).

MTB helmets are similar to motocross helmets in this aspect. This is also why such helmets are usable even for road bikes if you want extra eye protection.
What is the difference between motocross and MTB helmets?
Motocross (MX) helmets simply have more safety features, such as added padding and EPS liner. That's because MX is a more dangerous sport and could send someone flying at a bigger impact compared to an MTB crash.

If you compare MX and MTB helmets side by side, you'll see that MX helmets typically have more material. Moreover, MTB helmets can sometimes be a little bulkier in terms of design since someone who rides a mountain bike won't go as fast as a motocross rider would.
Conclusion
To wrap it up, a full-face MTB helmet isn't entirely restrictive or uncomfortable when you look at the protective features and if you select a helmet that has the right design. The helmets we chose above are breathable due to the vents and they're also lightweight so that you won't feel a sense of bulkiness when you ride.
We hope you liked our top picks for the best full-face MTB helmet. Always remember to stay safe when riding and don't forget to enjoy!