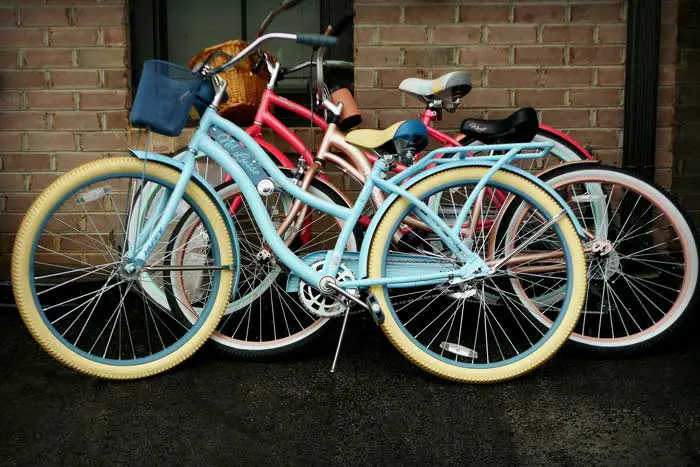 What size cruiser bicycle is right for my height?
When it comes to choosing the right beach cruiser bike for your height, you'd have to factor in the frame and the wheel size. Some bikes use the wheels for the sizing while others use the frame. Taller people might need a higher frame and a larger wheel size.
The 26-inch wheel is common for adult bikes. With that said, 24-inch wheels are also suitable for those who have a height of 4' to 5', such as women and shorter people.
Aside from the bike wheels, the cruiser bicycle should have a good frame height. For people who are over 6 feet tall, you might need an extended or special frame to accommodate your height, since the 26-inch wheel might not be enough. Some common frame sizes will be listed below in the chart.
How do I choose the right size cruiser bike?
Deciding on a cruiser bike that fits you perfectly can be a challenge. Therefore, we listed some of the factors that you need to know about if you want to buy a properly-fitting bike to comfortably ride on:
Rider height
The height of whoever will use the bike is the most crucial part of the equation. It determines the frame and the wheel size that is mostly recommended based on your height. Children's bikes, women's, and men's bikes all differ in terms of frame and wheel size – some shops may also have a variety of sizes.
Typically, men's bikes have an 18-inch frame and a 26-inch wheel, since most of them are around 5' to 6' in height. Some of them who are taller might also get a special frame to make them feel more comfortable when biking.
Women, on the other hand, are best suited to frames measuring 12 to 15 inches with a wheel size of around 24 to 26 inches depending on their height. If you want a kids' bike, you'll need a frame size of 10 to 12 inches and a wheel size of around 16 to 20 inches, depending on their height as well.
Know the frame size
Bike frames are measured from the point where the pedal is connected, up to the point where the seat is connected to. As mentioned above, higher frame size is more suited for taller riders. While we mentioned recommended frame sizes above, it's still best to get recommendations from the bike shop.
Some tall riders might find discomfort even with the tallest frame size available in the market. That's why if you tend to be over 6 feet tall, you will likely need an extended or special frame bike to adapt to your needs. After all, no one wants to ride their bike in a bad crouching position all the time!
Check the wheel size
The wheel size will vary depending on your height as well. Most children's bikes have a smaller wheel size that varies from 16 to 20 inches. You can ask your local bike shop owner for a suitable wheel size for your little one – there are typically a lot of options available.
However, wheel size is not always counted when it comes to buying adult bikes. 24-inch wheel size is suitable for most women and small-frame riders while having 26-inch wheels is typically the norm for most male bikers or those around 5' to 6'.
With that in mind, 26-inch wheels are typically the largest so you would have to compromise with a longer bike frame instead. That's why we suggested having a bike with a higher frame or extended type, as mentioned above, for those who are tall riders.
Beach cruiser size chart
To help you understand which beach cruiser is suitable for your needs, here's a simple chart to help you figure out your ideal bike based on the most common sizes out there: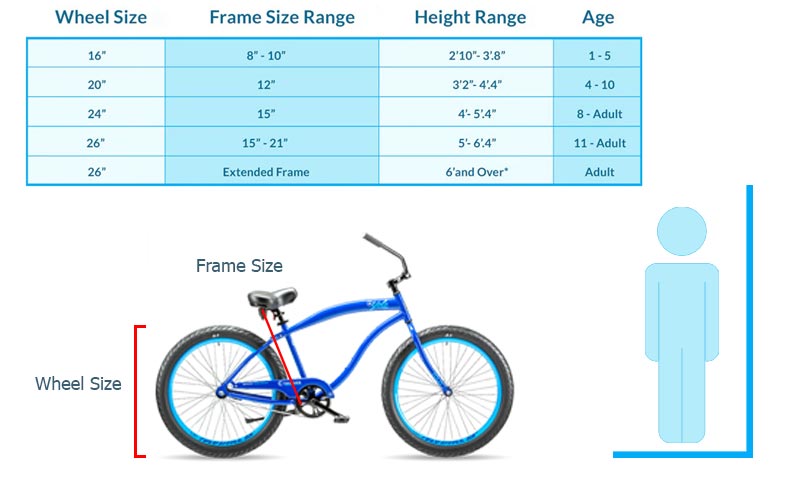 | | | | | | |
| --- | --- | --- | --- | --- | --- |
| Height of the rider | Below 3' | 3' to 4' | 4' to 5' | 5' to 6' | Above 6' |
| Recommended frame size | 10 inches and below | 12 inches | 15 inches | 18 inches | Special or extended frame |
| Recommended wheel size | 16 inches | 20 inches | 24 inches | 26 inches | 26 inches |
Men's beach cruiser bike size
When it comes to men's bikes, you'll have a lot of options. Here are the most common sizes of cruiser bikes depending on your height:
| | | |
| --- | --- | --- |
| Rider height | Wheel size in inches | Frame sizes in inches |
| 4 to 5 feet | 20 to 24 | 15 |
| 5 to 6 feet | 24 to 26 | 18 |
| 6 feet and above | 26 | Extended |
Women's beach cruiser size chart
For women's bikes, the measurements are roughly the same as men's bikes although we have some exceptions below the chart:
| | | | |
| --- | --- | --- | --- |
| Rider height | 4' to 5' | 5' to 6' | Above 6' |
| Ideal frame size in inches | 15 | 18 | Special frame |
| Ideal wheel size in inches | 20 to 24 | 24 to 26 | 26 |
Women's cruiser bikes tend to have a slanted design on the horizontal tube, typically with a sloping top tube so that it will conform to ladies' skirts. The design of a cruiser bike for women also allows easier mount and dismount.
You'd also have to consider the difference between male and female anatomy. Men's torsos are typically longer while women tend to have more elongated legs, which is why cruiser bikes for women are usually built differently.
Beach cruiser bikes for plus size
When choosing a good plus-size bike, you'll need to find one that is easy to get on and off from, preferably a bike with a step-through frame design. The wheels and the frame both need to be of quality build to support your weight as well.
We also recommend bikes that have multiple speeds to choose from, especially if you need to use them on steep hills and areas. Aside from that, always look at the load capacity of the bike before you buy – most can take up to 300 pounds.
What size are beach cruiser tires?
Tire sizes for beach cruiser bikes vary depending on the user's height. The most common sizes are the following:
26 inches – the most common bike tire or wheel size, typically used by adults.
24 inches – suitable for women or those with shorter height.
16 to 20 inches – commonly found in children's bikes.
What size are beach cruiser pedals?
Beach cruiser pedals typically use 1/2″ pedals because they allow the rider to gain better control of the bike. However, you will also find quite a few beach cruiser pedals that are 9/16″ depending on your needs and preferences.
Q&A
What size beach cruiser for a 6-foot man?
A beach cruiser bike that's suitable for those with a height of 6 feet and above should have an extended frame or at least 18 to 20 inches. You may also need to give your inseam measurement, which you can ask your bike shop for proper fitting.
What is the difference between cruiser and comfort bikes?
The difference usually lies in where they are typically used on. Cruiser bikes are more suitable for flat terrain while comfort bikes work well for bumpy roads while giving you a higher speed.
Are cruiser bikes good exercise?
Yes, riding a cruiser bike is a great workout idea that's also relaxing. It isn't very rigorous so it's good for casual, non-sporty people.
Are cruiser bikes good for long rides?
Yes, beach cruisers are very comfortable for long rides and distances since they are suited for flat terrain and offer a relaxed seating design for the rider.
Are cruiser bikes good for beginners?
Certainly! Cruiser bikes are suitable for beginners due to the relaxed design that allows you to sit comfortably for hours of biking.
What size beach cruiser for a 10-year-old?
Children's bikes typically have a smaller wheel, ranging from 16 to 20 inches. They will need a smaller frame of around 10 to 12 inches.