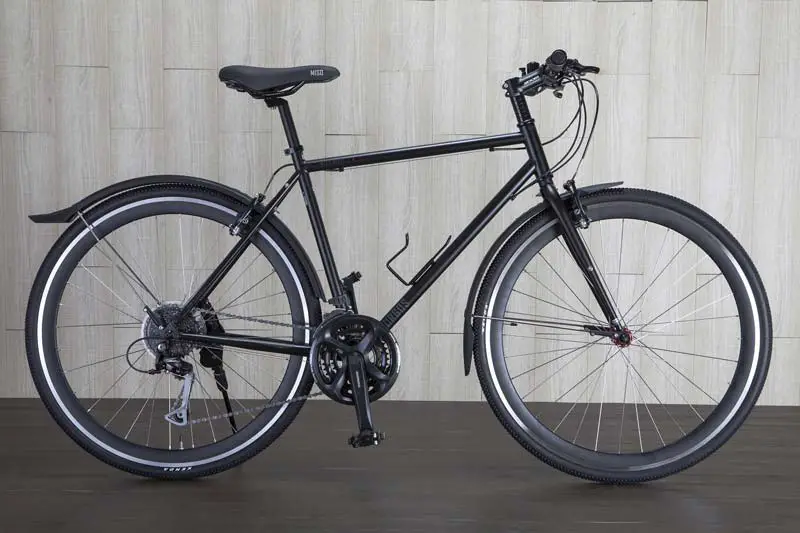 Hybrid bike size chart by height
Choosing the right hybrid bike size can be difficult if you don't know which user height is suitable for which bike frame size. Therefore, we've written a simple chart below to help you determine which hybrid bike size suits you best for your next cycling journey:
| | | | | |
| --- | --- | --- | --- | --- |
| Rider height | 4' to 5' | 5' to 5'5" | 5'5" to 6' | 6' and above |
| Suitable bike size | X-Small 24 to 29 inches | Small 25 to 30 inches | Medium to Large 26 to 32 inches | X-Large to XX-Large 28 to 34 inches |
Keep in mind that this size chart is only a rough estimate – different bike companies and shops will have a different sizing charts, so it's best to follow that instead. However, these numbers are the most common for most bike charts so they will give you an idea of what to buy.
Always remember that when choosing a bike, it should comfortably fit your height and other factors such as your inseam or inner leg length. This is crucial to get the most out of your hybrid bike without a lot of problems – especially for long commutes and rides.
Men's hybrid bike size chart
When choosing a hybrid bike for men, consider measuring your height as accurately as possible. It also helps to get fitted professionally at a bike shop. Unlike other bike types, hybrid bikes are usually measured using frames instead of wheel size.
| | | | | | |
| --- | --- | --- | --- | --- | --- |
| Rider height. | 4'10"ft (148cm) | 5'2"ft ( 158cm) | 5'6"ft ( 168cm) | 5'10"ft ( 178cm) | 6'ft + (185cm +) |
| Suitable bike frame size | 13″ to 14″ (33cm) | 15″ to 16″ (38cm) | 17″ to 18″ (43cm) | 19″ to 20″ (48cm) | 21″ to 24″ (53 to 61cm) |
The reason why frames are used in hybrid bike sizes instead of wheels is that the majority of hybrid bikes use 700C or 26-inch wheels. These wheels only have a small variation depending on their width, ranging from 35 to 45 mm.
Women's hybrid bike size chart
As compared to men's bikes, hybrid bicycles for women are typically slimmer when it comes to frame sizes, handlebars, and all other parts to fit their body shape properly. Most women's bikes also have a convenient step-through frame. Here's a size chart for women's hybrid bikes:
| | | | | | |
| --- | --- | --- | --- | --- | --- |
| Rider height (feet) | 4'10"   | 5'2"   | 5'6"   | 5'10"   | 6' +   |
| Rider height (cm) | 148 | 158 | 168 | 178 | 185 + |
| Ideal bike frame size | 13 to 14 inches | 15 to 16 inches | 17 to 18 inches | 19 inches and above | 19 inches and above |
If you believe that you have specifically shorter or longer legs, you may also want to go to the bike shop to get a custom fitting to make sure that the bike you choose will suit your riding style and comfort. Not everyone is built the same so it pays to get a custom fit sometimes.
Electric hybrid bike size chart
When measuring electric hybrid bikes, the size chart is relatively the same for males and females. Again, frame sizes are used instead of wheels, along with the corresponding user height recommendation. Here's a chart to help you figure out the right electric hybrid bike for your needs:
| | |
| --- | --- |
| Electric hybrid bike frame size | Ideal user height |
| 13 inches | 4'10" |
| 14 inches | 5'2" |
| 15 inches | 5'2" |
| 16 inches | 5'6" |
| 17 inches | 5'6" |
| 18 inches | 5'10" |
| 19 inches | 6'1" |
| 20 inches | 6'1" |
| 21 inches | 6'4" |
| 22 inches | 6'4" |
| 23 inches | 6'6" |
| 24 inches | 6'6" |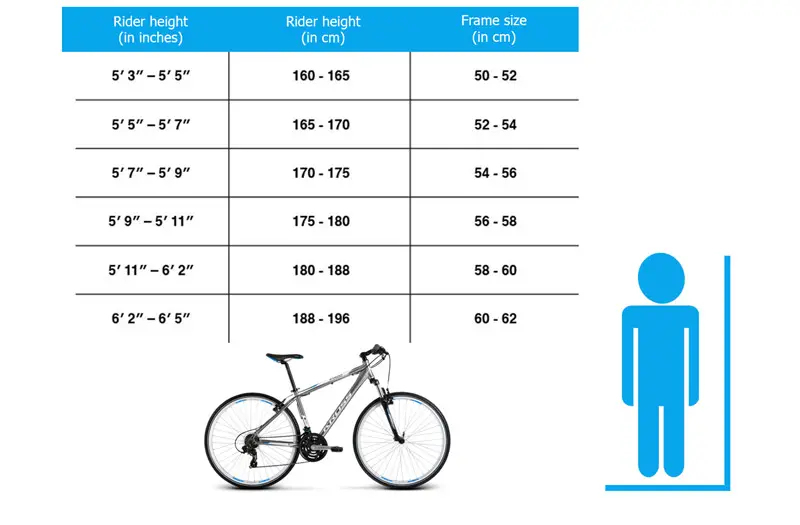 However, there are also differences between men's and women's bikes. For instance, step-through frames are common for bikes made for women to help them get on and off the bike easier. Due to the smaller frame and shorter overall length, a women's bike might be too awkward for men to ride on.
What size are hybrid bike tires?
Hybrid bikes are measured in millimeters instead of inches as with other bike types. The common hybrid bike is around 700C or roughly 26 inches, which is a standard that measures around 622 millimeters in terms of diameter.
The width of a hybrid bike tire ranges between 35 and 45 millimeters. To know the width of your hybrid bike tire, you can find it on the tire sidewall as 700C x 35 or 45 (or 700 x 35C or 45C) depending on the width. Different manufacturers indicate the hybrid tire sizes in a variety of ways.
What size are hybrid bike wheels?
Hybrid bikes usually have a 700C or a 26-inch bike wheel. The 700C is a standard that's been used for a long time although there will be a difference when it comes to the width of the tire as well. In some cases, certain hybrid bikes have a smaller version of the 700C depending on the manufacturer.
With that in mind, bike wheel and tire sizing is not always a big concern since 700C is quite standard for most hybrid bikes. Most experts advise you to look for the frame size instead of the wheel and tires because they make the difference between similar bike wheel sizes.
How to measure hybrid bike frame size
To measure your hybrid bike frame, simply start from the top of your seat tube and downwards to the bottom bracket. However, you may also want to ask your bike shop or manufacturer for other measurements that they will need.
For instance, most bike manufacturers and shops will also ask for your inside length, inseam, as well as your height, so that they can pick a bike that best suits your needs. When in doubt, it's much better to go on-site when shopping for a bike so you can get a custom bike fitting session.
You can use our charts above to know which hybrid bike size best suits your needs. Aside from that, you can also go for an adjustable seat height if you feel awkward or don't find a bike frame size that best suits your needs.
Q&A
What is a hybrid bike used for?
A hybrid bike is a combination of an MTB (mountain bike) and a road bike. They are made to become dual-purpose bikes that can be used on a wide variety of terrains – especially for commuting long distances.

If you're the type of rider who just wants a single bike to do the job for both flat and bumpy terrain, hybrids are a great choice for you.
Can you ride a hybrid bike long distances?
Yes, hybrids are excellent bikes for long distances. You can ride them across cities and towns without the need to switch over to an MTB or a road bike because they are essentially two bikes in one. Most people use hybrid bikes for trail exploration.

Hybrid bikes are generally comfortable to ride on for long hours, making them suitable for farther distances.
Can you ride a hybrid bike on the beach?
It depends on the beach terrain that you will ride on. Hybrid bikes with slightly less air pressure can ride safely over wet sand. A hybrid bike can be used for riding over the sand during low tide, although it's a little more difficult.

If you want to try out riding a hybrid bike on the beach, it's best to get tires that are wide enough to do the job.
Are hybrid bikes as fast as road bikes?
In some cases, yes, hybrid bikes can catch up to the speed of a regular road bike. However, they fall short. For instance, you will likely end up at 16 mph with a hybrid versus a road bike that can go up to 20 mph.

With that said, hybrid bikes can still go significantly fast, although the top speed is not as fast as a road bike.
Can you turn a hybrid bike into a mountain bike?
Unfortunately, no – you can't make an MTB out of a hybrid bike despite many tweaks and upgrades. Despite that, you can still configure it to seem like an MTB with a wider bar, knobby tires, and other extras.

Hybrid bikes mostly don't come with suspension, which makes them impossible to become MTBs. If you want to get an MTB, you'll need to purchase one separately.