Are you looking for a bike rental service while around Long Beach, CA? Worry not – we've handpicked some great spots and shops to check out for all your summer touring needs:
Daniel's Bicycle Rentals-Sales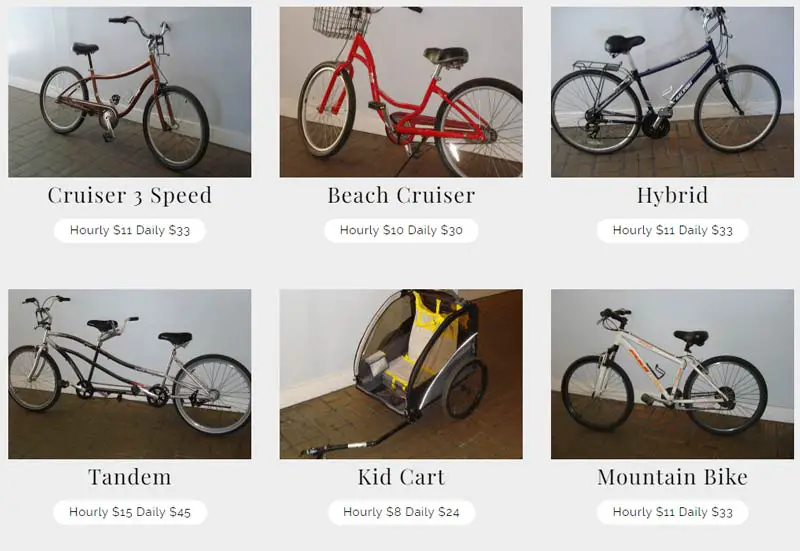 The first bike rental service on our list is the Daniel's Bicycle Rentals-Sales, which opens from 10 AM to 4:30 PM on weekdays and 9 AM to 6 PM on the weekends. With their location at 13737 Fiji Way, Marina Del Rey, CA 90292, the store is near the Northern Beach Bike Trail, as well as the Marina Del Rey Harbor.
The shop accepts credit cards and they have a location good for kids with a lot of parking spaces. Among the bikes they have for rent include a beach cruiser, a 3-speed cruiser, a hybrid, tandem, MTB, road bikes, kids' bikes, trailer attachment, and a cart.
The bikes all have hourly and daily rates so that you can choose depending on your needs. What we like about this bike rental service is that each rental comes with a $2 discount for Daniel's Ice Cream store (any scooped ice cream). Their riding hours can be up to 6:30 PM.
They also have a wide variety of parking options (free and paid). Among the bike brands, they offer to include Fuji, Raleigh, Torker USA, SE, and Diamondback. With each bike you rent, a basket, lock, and bike helmet are included. Their average rates are$9 to $10 hourly and about $30 for the entire day.
For further information about their rental services and the like, check out their website or Yelp page for reviews. If you want more information, you can also talk to their staff by calling (310) 980-4045 – especially for inquiries about reservations and groups.
Irvine Park Railroad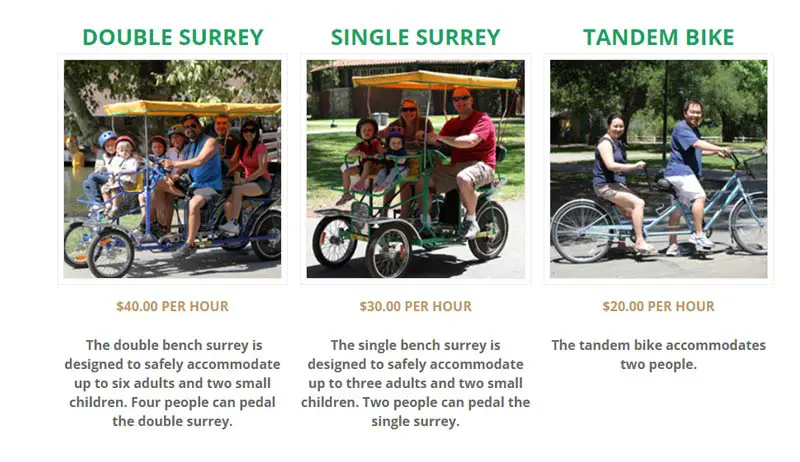 For those who want bike rentals for the entire family, we'd like to suggest the Irvine Park Railroad since they are more than just an amusement park. Among the bikes they offer include tandems, cruiser, quad, chopper, kid's bikes, BMX, surreys (single and double), and tag-a-long bikes.
Aside from that, they also rent extras like training wheels for the children who want to learn how to ride a bike. Each rental comes with a free helmet for safety. Among their accepted payment methods include cash and major credit cards and gift certificates (bought from the Wheel Fun Rentals counter).
On the weekends, you can also rent a bike as early as 9 AM (except in fall and winter) if the weather conditions are okay. They also give a half-price offer if you rent a bike before noon from Monday to Friday (except holidays).
If you are a group looking forward to bonding, team building, or group activities, you can simply call or contact them using the details below. They accept rentals with 10 or more people (for both bike and paddleboat rentals). They offer group discounts, which is a plus for company outings.
Their business is located at 1 Irvine Park Rd, Orange, CA 92869 so you can visit them for more information about their bike rental services and the like. They are open from 10 AM to 4 PM daily. For further inquiries, give them a call at (714) 997-3968. You can also check out their website.
Wheel Fun Rentals | Shoreline Village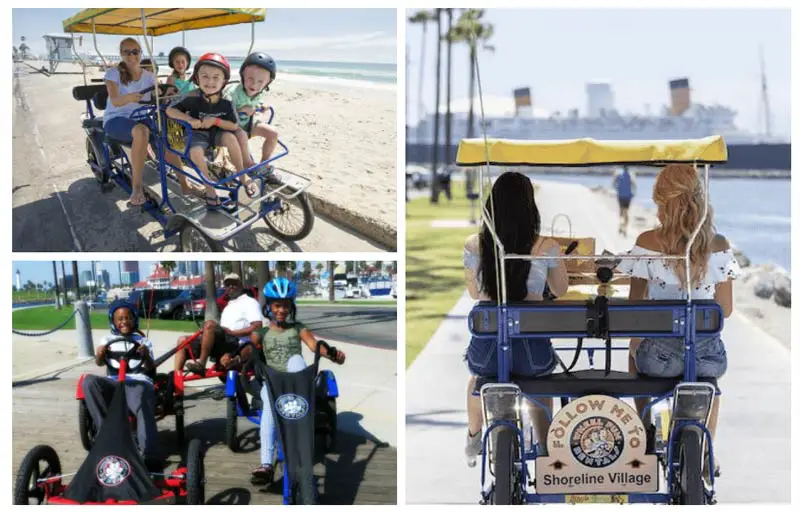 Wheel Fun Rentals is a great place to rent a bike for the entire family. Located at 429 Shoreline Village Drive suite g, Long Beach, CA 90802, Wheel Fun Rentals is very conveniently located near Long Beach for easy access to their wide array of bikes for rent.
So, what's included in their rental services? You can check out family-friendly bikes such as a surrey, as well as cruiser bikes, electric bikes, specialty bikes, and the like. They offer both long-term and hourly bike renting rates for your different needs plus they have convenient parking locations.
Because the bike rental service is located near shops and restaurants, getting food and amenities will be easy. You can check out their website for a full list of schedules and bikes available for rent so that you'll know when to book a ride for you and your family.
Aside from normal bike rentals, they even have night rides as special events – these night events don't require reservations! They also offer self-guided bike tours with their custom map so that you can tour the area by yourself or with the people you love or trust.
Aside from the Wheel Fun Rentals main site, you can also check out the Shoreline Village website for other additional info. You can call them at 562-951-3857 for further inquiries or visit their on-site location at the address mentioned above from 9 Am to 10 PM daily.
GoActiveLB Hub powered by Pedal Movement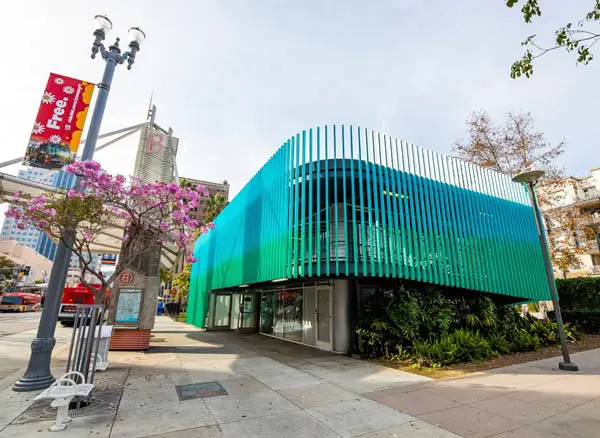 For those who want a complete location for bike rentals, repairs, maps, and sales, the GoActiveLB Hub powered by Pedal Movement is a good choice for you. With their location at 223 E 1st St, Long Beach, CA 90802, this bike rental service is open from 9 Am to 5 PM daily except Sundays.
What's unique about this bike rental service is that they offer workshops on bike knowledge for people. These virtual bike workshops are for free to give commuter and hobbyist knowledge as well. Since their location is in the heart of the city, it's easy to access shops and restaurants from there.
Among their list of programs include bike rack requests, e-scooters, bike maps, and a wide variety of bicycle treatment programs for the locality. The facility is also like a gym such that they offer all-day indoor parking to keep your bike secure. It even has a shower to help you refresh after biking.
When it comes to pandemic restrictions, it is advised to call them beforehand and make an appointment. The staff values the safety and always employs health and safety protocols for all customers and employees.
For more information, you can send them an e-mail at [email protected] or call them at (562) 570-6331. Furthermore, you can find their other services and links over at their website.