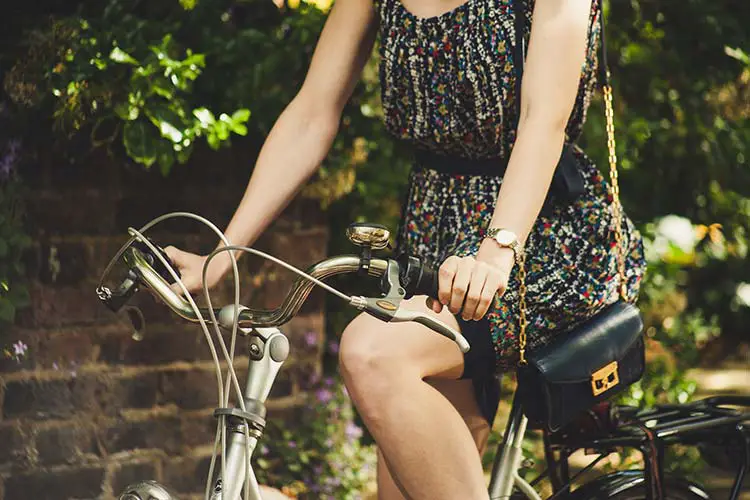 Choosing the right bike for your needs depends on whether or not it fits you as a rider. The first step to finding the right bike is to know the size. So, how do you know which size of a bike is for women? In this article, we'll know all about finding the right size of bike for women.
There are many factors to consider when choosing the right bike – and choosing the right bike for women is no exception to that. You should choose the bike that's appropriate for your height, weight, physical ability, frequency of usage, the climate in your area, and many other factors.
Buying the wrong size of bike for your needs would not only result in a likelihood of accidents but it will also make you feel uncomfortable. That's why you need to look into the basics first.
Women's Bike Sizes
When measuring women's bike sizes, there are two key measurements:
Frame size. This is the distance from the chainring of the bicycle up to the base of the seat of the bike. Bigger bikes usually use the frame size to help you choose the appropriate bicycle, and is also the standard for adult bikes.
Wheel size. The wheel size is straightforward – it is the diameter of your current bike wheels. Wheel sizes vary depending on the type of bike that you have (or want to have):
Road bikes typically have 622 mm (standard) or 571 mm (petite).
Mountain bikes usually come in 26, 27.5, and 29-inch sizes, with the 26-inch more ideal for smaller women.
Some mountain bikes may also have 29 inches on their wheel diameter, especially newer models.
A cruiser bike, as well as hybrid bikes, will usually have similar sizes to that of mountain bikes. Some, on the other hand, will have sizes like that of road bike wheels.
In general, when looking for a women's bike, all you need to provide to your bike shop of choice is your height and your inseam. The inseam is the measurement of your inside leg. In some cases, you may also need to provide your current weight as certain bikes have weight limits to keep them safe to ride.
For ordering bikes online, most manufacturers will guide you with finding the right size by giving you a set of measurements that you need to provide them. For instance, the manufacturer might ask for your arm length so that they'll give you a bike with proper handlebar reach.
Also, if you do intend to purchase a bike online, make sure you know where to get the components if they need to be replaced for certain reasons, such as if it doesn't fit you or whoever will ride it.
Women's Mountain Bike Size Chart
If you want to find a mountain bike for women, look for the frame size, which is measured in inches (in). A shorter frame size means that it's meant for a smaller rider. Mountain bike frame sizes vary from 15 to 21 inches but it depends on the manufacturer.
Here are some of the most common mountain bike sizes for women, along with the corresponding rider height to guide you:
| | | | | |
| --- | --- | --- | --- | --- |
| Frame size standard | XS | S | M | L |
| Frame size in inches | 13 to 14 | 15 to 16 | 17 to 18 | 19 to 20 |
| Rider height | 4'10" to 5'2" | 5'2" to 5'6" | 5'6" to 5'10" | 5'10" to 6' |
Women's Road Bike Size Chart
A road bike for women is typically measured on its frame size and is expressed in centimeters (cm), as opposed to mountain bikes that use inches (in). Here are the most common road bike measurements for women depending on the rider height:
| | | | | | |
| --- | --- | --- | --- | --- | --- |
| Frame size standard | XXS | XS | S | M | L |
| Frame size in cm | 44 to 46 | 47 to 49 | 50 to 52 | 53 to 55 | 55 to 57 |
| Rider height | 4'10" to 5'1" | 5'1" to 5'3" | 5'3" to 5'5" | 5'5" to 5'8" | 5'8" to 5'10" |
As you can see from the chart above, a smaller bike size refers to a bike with a shorter frame. When looking for the ideal road bike size for your needs, each bike manufacturer is different – the above chart is just a guide.
Check the bike manufacturer's website or user's manual and look for a bike size chart for the intended bicycle model that you want to purchase. This will save you time and effort on having to return the bike if it doesn't fit the rider.
Specialized Women's Bike Sizes
Special bikes for women, such as hybrid, cruiser, and commuter bikes, all have different sizing guidelines. However, most of them usually depends on a similar chart for a road bike, although other bike models will also work well for a road bike size chart.
If you are not that sure, look at your manufacturer's specifications and check the bike sizes there. Another important consideration for special bikes is to look at the step-thru frame.
Women with a shorter inseam or if they wear a skirt while riding will feel more comfortable on a bike with a step-thru frame, which has a lower top tube.
Women's Bike Size Chart By Height
All bikes differ when it comes to user height – too short or too long of a bicycle frame would make the rider feel uncomfortable. Therefore, it pays to look into the women's bike sizes by height. Here's a simple chart comparing the most common road bike and mountain bike sizes per user height:
| | | |
| --- | --- | --- |
| Rider height | Ideal mountain bike frame size (inches) | Ideal road bike frame size (centimeters) |
| 4'10" to 5'2" | 13 to 14 | 47 to 48 |
| 5'2" to 5'6" | 15 to 16 | 49 to 50 |
| 5'3" to 5'6" | 15 to 16 | 51 to 53 |
| 5'6 to 5'9" | 17 to 18 | 54 to 44 |
| 5'9" to 6' | 19 to 20 | 56 to 58 |
| 6' to 6'3" | 21 to 22 | 58 to 60 |
| 6'3" to 6'6" | 22 to 24 | 61 to 63 |
Test riding the bike for women
Bike size charts are only guides and estimates, especially if you're ordering online. For us, we still prefer that you go on-site to test the bike to see if it fits the rider properly. Most bike shops will allow you to do a little test ride around the block to give you a feel if it is comfortable for you.
To let you know if the bike is okay for your size and comfort, here are key factors to observe:
You should be able to stand over the bike frame. A properly-fitting bike will not make you too short or too tall when it comes to stopping the bike with your legs and feet.
During the test ride, if you can easily get on and off the bike without having to stretch your feet too much, that means that the bike fits you well. Stopping the bike is crucial so you should be able to reach the ground with your feet on a properly-fitting bike.
You should be able to sit properly without adjusting the seat post. A properly-fitting bike doesn't need any adjustments for the seat post. It should be at a comfortable level for your height.
Check your handlebar reach. It should not feel uncomfortable to stretch your arms all the way just to hold the handlebar, otherwise, you might want to get a different bike size instead.
Look at the clearance between the handlebar and your knees. When you pedal, your knees should not bump into the handlebars and it shouldn't make you feel cramped at all. A bike size that fits your needs should give you ample room to pedal without hitting anything else.
If for some reason, the bike shop doesn't have the right kind of bike for your needs, you can get professional help. Many high-standard bike fitters are willing to help you out, albeit for a slightly higher price.
Think of it as a bespoke suit – they'll take all sorts of measurements from your body but the result is a much better fit with all aspects of the bicycle – from the seat post to the handle and all sorts of clearances. This will ensure that you're getting a properly-fitting bike size for your needs (and will not make you feel cramped and uncomfortable).
What if I can't find a women's bike?
Unfortunately, not many manufacturers label their products as "women's bikes" so you may have to stick with a unisex bike, which is okay. Although we'd prefer the anatomical design of a women-specific bike, a unisex bike is still a great option for you.
Common reasons why you might want to get a specific bike for women is due to its anatomical design, which is tailored for women, as well as the step-thru frames, which will help women who wear a skirt. Moreover, women-specific bikes typically have a petite size that's made for smaller women.
Conclusion
Bicycle sizes for women might be a little different from the usual sizes for men, but that doesn't mean they're difficult to find or understand. If you want to know which bike fits for you, all you need to know is your height and inseam (inside leg measurement) and a bike shop will most likely assist you with what you need.