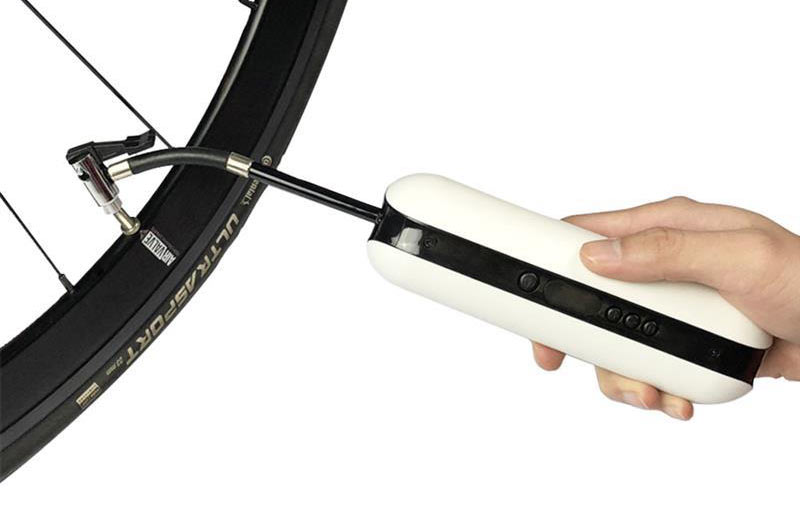 Did you ever experience having to worry about a flat tire on your bike and you're already too exhausted to pump air onto it? That's where an electric bike pump comes in handy. Unlike the manual way of pumping your bike some air, this type of gadget uses a battery to fill up your tires.
In some way, they are like portable air compressors but they work specifically for bikes – especially the bikes that only require a minimum amount of pressure, such as MTBs or mountain bikes. They are very helpful for emergencies where you don't have the energy to pump air to your tires anymore.
Best Electric Bike Pump Reviews
We want to help you have a stress-free time on the road, which is why we have some top picks for the best electric bike pump just for you:
AirXwills Electric Bike Pump
With a max pressure of 150 psi, the AirXwills Electric Bike Pump has a sleek design and is a great choice for a portable electric bike pump. It will inflate up to 20 liters per minute when it comes to its air-pumping speed.
As for the power, this bike pump has a 2000mAh rechargeable lithium-ion battery. With that said, here are some of its other major features:
Different units to choose from
Unlike most bike pumps, you can choose between four different units: psi, bar, Kg/cm2, and kPa, which is great for those who use other units of measurement for pumping up their bike tires. While most bike pumps only have psi and bar, this cool electric bike pump allows you to change the unit depending on your needs.
Safety features
As this is an electric bike pump, it has an automatic stop feature so that it will simply stop once you've reached the desired pressure. As long as the start key is turned off, the bike pump won't risk your tires' over-inflation.
Sleek design
The orange aluminum shell makes it easily visible and stylish – perfect for those with orange bike frames or somehow similar to the color scheme. Aside from that, the HD LED digital display is easy to read, allowing you to use the pump in any weather condition or time of day.
The buttons are quite simple to learn – use the plus and minus signs to increase or decrease the value respectively. Start the inflation using the U button and the multi-function power button can also change the unit and the current inflation mode.
Portability
The design makes it portable and easy to carry around. It has roughly 9 inches of length and a 1.8-inch width/diameter. You can easily mount it on your bike so that you can easily pick it up whenever you need to inflate your bike tires on the road effortlessly (just make sure it's fully charged).
Compatibility with various valves
What we like about this electric bike pump is that you can use it for different valve types: Schrader, Presta, and even Dunlop! It comes with four different adapters so you don't have to buy ones separately from bike shops.
Since it has many adapters, you can also use this bike pump for various other uses, such as car tires, basketballs, swimming pool floatation devices, motorcycle tires, and much more. The manufacturer can also be contacted to ship parts if they are missing from the package.
ZTK Tire inflator
Yet another electric bike pump that we liked is the ZTK Tire inflator, which has a 120-psi maximum capacity for tire pressure. Powered by a 2000mAh lithium battery, it can fill up your bike tires in 5 minutes or shorter. This electric bike pump can be used for up to two bike tires and a car tire before you need to charge it.
This bike pump has a fairly good inflation speed of 12 liters per minute and it can be charged with any 5V source, such as your vehicle's cigarette lighter. If you own a mountain bike, it will likely inflate it up to 70 psi within 60 seconds. Here are some of its other major features:
Portable design
With a total length of 7.8 inches and a width or diameter of 2.2 inches, this bike pump will easily fit underneath any bike frame – specifically for those who own a smaller bike. It weighs about 12 ounces but it is packed with a lot of technology inside.
Did you know that this bike pump also comes with a flashlight? This would be neat if you were in a low-light situation or needed to inflate your bike tires at night. It gives the bike pump a sense of portability as well so you don't have to carry an additional flashlight with you (or use your phone as a light source).
Safety electronics
As the design ensures that the battery of the bike pump is kept away from the mainboard, it will help regulate and keep the electronics safe. This also plays a role in the bike pump's durability so you can use it for many years to come.
Likewise, this portable electric bike inflator also has sufficient protection against overcharging, excess voltage, and over-current so that your tire inflation sessions will be kept safe – especially on a hot day.
Usability
When it comes to usability, this electric bike pump allows you to choose not just between psi and bar but also to other units such as kg/cm2 and KPA. If you use other units to measure your tire pressure then this is a great electric bike pump to have.
Another usability feature would be the clear readout for the LCD screen of the pressure gauge. You can easily see it regardless of bad weather circumstances or time of day. Likewise, it has an automatic shut-off feature once it hits your desired tire pressure for safety.
CYCPLUS Bike Tire Pump
With up to 150 psi of max pressure for its capacity, the CYCPLUS Bike Tire Pump is an electric bike tire inflator with a rather simple design. Depending on the type of bike you have, it will inflate the tire fully at around 2 to 3 minutes.
Like every electric bike pump, it has an automatic shut-off feature. This bike pump best suits those who own fat-tire bikes. It has the following features:
Straightforward design
This electric bike pump has four buttons: a power button, two buttons for switching the pressure that you desire, and a button to start pumping the tire. You can see the pressure on the LCD screen, which has a clear design and backlight so you can spot it even in dim areas.
Portability
We like that this bike tire inflator is only 7 inches in length (2.1 inches in diameter/width), making it very easy to put in your bag much like a foldable umbrella. If you are looking for a very short tire pump that won't take a lot of space in your inventory, this is a good choice for you.
Multipurpose design
We like that it has a built-in flashlight that has up to 80 lumens in terms of brightness. The built-in flashlight can light up your bike maintenance session for up to about seven hours until it needs to be recharged.
Aside from bike tires, the design of this high-pressure electric bike tire pump allows you to use it even on car tires, basketballs, beach balls, and the like. If you want to go biking for the summer and the kids will have a beach/pool party, this bike pump is a must-have in your bag.
Different pressure units to choose from
Similar to the picks we mentioned above, with this bike pump, you can choose between bar and psi, as well as other units like kg/cm3 and kPa if you need those. Having a variety of units is good for bike mechanics and those in a similar field.
Compatibility
The air hose accepts both Presta and Schrader valves. You don't have to fiddle around with lost adapters because the air hose can simply be screwed backward with its 2-in-1 design, allowing you to make it compatible with these two major valve types for bike rims/tires.
VEEAPE Portable Tire Inflator
The VEEAPE Portable Tire Inflator has a 2000mAh lithium battery that will last up to 40 minutes until it needs to be recharged. It will handle any tire at up to 100 PSI for its maximum pressure. Here's a list of its major features:
Multipurpose design
Due to its USB port and unique design, you can even use it as a power bank for your phone and other similar devices. In this way, you can pack it up for your next trip in case you need to charge your phone right away – great for emergencies.
Aside from the phone-charging feature, it comes with a built-in flashlight, much like with other bike pumps mentioned above. This flashlight is good for emergencies when you need to fill up your bike tires on the go (and it's getting dark).
Another plus point for its wide usefulness is the inclusion of various adapters that you can use to fill up sports balls, care tires, and motorcycle tires. Therefore, this would be a great tool to bring on your next vacation when you need to pump up various inflatable objects.
Portable design
This electric bike pump is one of the shortest units out there at only 6 inches in length and 2.4 inches in width. The shape allows you to comfortably grip it for your next bike inflation session. What's more, it's not too heavy at only 17 ounces.
Fast inflation
What we like about this electric bike pump is how fast it is when it comes to air volume. It will fill up a bike tire at a rate of 20 liters per minute – great for emergencies or if you simply have a much bigger tire (or set of tires) to handle. It will fully inflate a standard bike tire in about 3 minutes or so.
Different unit displays
You can also use kPa and kg/cm2 as units of choice aside from the standard psi and bar units that are frequently used. With the wide choices for pressure units, you can have a multitude of uses for this bike pump aside from bike tires.
Safety features
It has thermal insulation so that if you run it on your bike tires, it won't overheat and cause injuries. This is especially important if you are using the electric bike pump during a hot summer day – an extra layer of safety is always good.
AUTDER Electric Bike Air Pump
With up to 140 PSI for its max pressure capacity, the AUTDER Electric Bike Air Pump is a tire inflator that has a much more powerful 3000mAh lithium battery. This bike pump has the following major features to look forward to:
Various pressure units
Similar to the above-mentioned bike pumps, this electric tire inflator has a variety of choices for pressure units, such as kPa, psi, kg/cm2, and bar. You can simply adjust the settings when you want to inflate using a specific pressure unit.
Fast and powerful inflation
With up to 20 liters per minute of air volume, this bike pump will inflate your tires fast. It will only take about 2 minutes to get a bike tire from zero to 50 psi, which will significantly save time and effort. On a single charge, you will get up to 16 bike tires inflated.
Portability
Weighing 1.21 pounds, this bike tire inflator has a length of 9.6 inches and a 1.6-inch width so it's not too heavy to carry around.
Durability
The unit is made with aviation-grade aluminum, which also has a sleek finish that will surely fit most bike frames when it comes to aesthetics. You can even fit it onto the bike frame if you use a mount.
Usability
The LCD has a clear design that makes it easy to determine the pressure even when the weather is rainy, foggy, or hazy (or if it is dark). This is good for emergencies where the surroundings are just not helping on your bike maintenance situation.
It has an automatic shut-off feature so it will stay at the desired pressure that you set. Aside from that, it has an automatic cut-off feature during low power to protect the unit against low voltage.
Multipurpose function
Do you want an electric bike tire pump that also comes with a flashlight? This is a good choice for that since the included LED flashlight will illuminate your path up to 30 meters or 98 feet. Due to its brightness, you can even use it as an S.O.S. light in an emergency.
Due to the inclusion of various nozzle types, you can use it for a variety of bike rim valves, as well as other inflatable objects such as toys, swimming pool floaters, sporting balls, and the like. You can also use it for car tires – as long as it meets the right amount of pressure needed by your tire.
Q&A
To help you understand more about using electric bike pumps (and bike inflation in general), we compiled a bunch of frequently asked questions about them:
What PSI should bike tires be?
A tire should have the right pressure as indicated by the manufacturer. If you aren't sure or if there is no mark on your tire sidewall, MTBs typically have 25 to 30 psi and road bikes have a higher pressure requirement – about 80 to 100 psi.
How much PSI is in a fat tire?
You don't want to have high pressure for fat tires. That's why the ideal pressure for such tire types would be 12 to 20 psi depending on the weather. You can also counter-check what the manufacturer indicated on the tire sidewall, just to be sure.
Should I inflate bike tires to max psi?
Yes and no – whether or not you should inflate to the max pressure depends on the bike type you have. MTBs require lower pressure to make it safer to ride on (less bumpy) while road bikes can have much more pressure – even up to the psi limit.
What happens if you put too much air in your bike tires?
Expect a bumpy ride if you fill up your tires with too much air. Don't go overboard with the psi because not only will be a possible cause of bike injuries but it will also decrease the lifespan of your tires if you inflate them too much.
How do you know when your bike tires are full?
The most accurate way to check if the air pressure on your tire is okay is to use a pressure gauge on the valve. However, if you want the quickest way, simply physically feel the tire with your hands. A fully-inflated bike tire cannot be squeezed easily.
Conclusion
Electric bike pumps are very helpful during times when you're physically exhausted and you just want your bike fixed on the road. When used properly for your bike tires, they will save time and effort so that you can go home quickly.