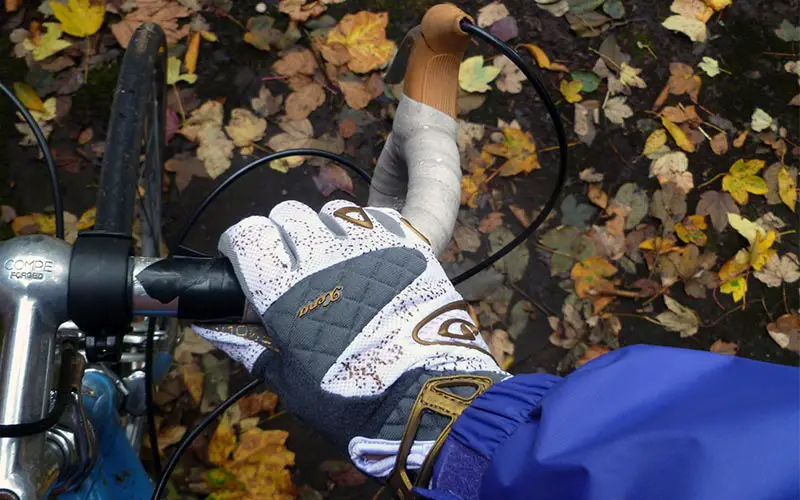 MTB riding is always fun – until the weather decides to ruin it. Gloves that are too thick aren't good for the summer while fingerless gloves usually don't do well in the winter. But what if you can have an all-weather pair?
That's why we're here to help – we've reviewed some biking gloves below for your next MTB adventure. We understand that having an all-year pair of gloves will help you to ride with comfort even when the weather becomes unpredictable.
Keep in mind that these gloves aren't meant for the extremities, but are rather for general all-weather riding. For specific weather, we still recommend the appropriate gloves for the best comfort. However, if you prefer a flexible pair, we hope you will like our picks below.
10 Best MTB Glove Reviews
Here are some great suggestions for mountain biking gloves if you want a pair for all-weather riding:
1. Giro DND Men's Mountain Cycling Gloves
When it comes to all-weather MTB gear, the Giro DND Men's Mountain Cycling Gloves is a great choice due to its comfortable design that's suitable for both warm and cool weather.
These unisex MTB gloves are backed by 2-mm EVA crash pads for rider protection throughout the trail ride. We find this thickness not too numbing for those who prefer a breathable glove pair.
The mountain bike gloves are made with faux leather and have a 4-way stretch mesh to keep the rider comfortable. The palm part is made with Clarino synthetic for added grip to the bike plus as pull-on-style closure, which allows easy putting on/off.
What's more, bunching (which we hate a lot) is kept to a minimum due to the AX suede palm material/design. The upper construction also has an absorbent microfiber wiping surface that's great for humid and slightly drizzling weather.
There are also flex zones at the knuckles for better comfort and control of your bicycle in difficult sections. When it comes to the palm, it also has a 3-panel design for a comfortable fit. You can also easily control your gadgets due to its silicone fingertip print touchscreen technology.
Hand articulation and flexibility are thanks to the 3-piece palm construction plus the flex zones to give you a natural movement. We like that they don't use Velcro straps because that could be a turn-off for some people as Velcro sticks to different items of clothing.
Key Features:
EVA crash pads
Flex zones
3-piece palm construction
AX suede palm material
Touchscreen-friendly
2. KUTOOK Full Finger Cycling Gloves
If you want ambidextrous MTB gloves, you'll find the KUTOOK Full Finger Cycling Gloves comfortable. As unisex gloves, they are made of synthetic leather/nylon for durability, as well as comfortable Lycra and neoprene (moisture-wicking) for all-weather riding.
These gloves are touchscreen-friendly so it's okay to use your gadgets and whatnot with them. With additional padding on the gloves (6 silicone pieces), these gloves will help when it comes to shock resistance. Adjustability is also good thanks to the hook and loop fastener on the wrist, which is typical with most gloves.
Due to the just-right thickness of the gloves, they can be used in all seasons of the year. When it comes to safety, they also have 5 mm EVA pads and a non-slip silicone on the palm, which will appeal to people who want extra thicker pads for safety on the road.
For user comfort, there are also extended knuckles for better grip on your bike. What's more, the comfortable and breathable fabric material is soft to touch and allows for all-weather riding. Added to that, the Terry cloth design on the thumb adds more traction, protection, and grip to your bicycle handle.
If you want moisture-wicking gloves, these gloves will do well due to the neoprene material. Although the gloves lean more to the winter side, they're okay even for warm conditions due to the sufficient ventilation of the material.
Key Features:
Breathable material
Extended knuckles
EVA pads and silicone
Touchscreen-friendly
Moisture-wicking neoprene
3. HUPENG Full Finger Mountain Cycling Gloves
Yet another all-weather MTB pair, the HUPENG Full Finger Mountain Cycling Gloves will do well not just for bicycles but maybe even for motocross and other sporty activities. Due to the shock-absorbing synthetic leather and padded palm section, they're ideal for bumpy sections on your trail.
A mixture of mesh and Lycra makes the gloves comfortable for different temperatures due to the moisture-wicking capability. Putting on the gloves and taking them off won't be much of a hassle due to the stretchable Lycra construction.
They are also machine-washable so there won't be a lot of frustration when cleaning them. The thumb part also uses Terry cloth for a better grip on your bike while also protecting against abrasions.
Due to its cushioned palm part, the gloves help add dexterity and prevent slipping when you handle your bike in tricky sections. We like the mesh part of the gloves on the upper part, which makes them breathable for warm conditions.
While they are not thoroughly insulated for the winter, they will do well in cold temperatures while also work well as a summer glove pair due to their breathability. The gloves come in sizes from small to X-large and in different colors to suit your preferences. Last but not the least, these gloves are backed by a 60-day warranty from the manufacturer.
Key Features:
Soft Terrycloth
Shock-absorbing material
Moisture-wicking Lycra
Mesh for breathability
Cushioned palm
4. LuxoBike Mountain Bike Gloves
If you prefer half-finger riding, you will like the LuxoBike Mountain Bike Gloves as they work well for different weather situations. Made of spandex and suede for protection and user flexibility, the unique 4-zone pads will help you on bumpy roads. These pads are strategically placed to protect your hands.
When it comes to rider comfort, the stretchable Lycra on the back of the gloves will help with breathability as you ride. What's more, the gloves will stay securely fit thanks to the hook and loop closure that's also adjustable for each glove.
Gripping your bike handlebar won't be too difficult due to the half-finger design plus the microsuede palm design, which provides traction and fit with a very minimal chance of slipping.  We also like the thumb towel cloth that's moisture-wicking when it gets hot.
A plus point for the gloves is the smart finger loop design, which allows you to efficiently remove the gloves without having to turn them from the inside. Because the MTB gloves also have lightweight layers while being double-stitched to ensure durability for long-term use, they work well as both summer and slight winter gloves.
Overall, these gloves are also great for long-mile rides both in terms of convenience when pulling them off and in user comfort.
Key Features:
Easy to take off and put on
Stretchable Lycra
Adjustable hook and loop closure
Non-slip palm
Strategically placed pads for shock resistance
5. INBIKE Mountain Bike Gloves
Made with spandex, the INBIKE Mountain Bike Gloves are ideal for bumpy roads and ensuring the dexterity of your hands when you grip onto your bike. As half-finger gloves, they have a 5-mm gel pad for reducing user fatigue while keeping the rider safe from accidents due to their well-distributed design.
The gloves also provide sufficient cooling in the summer due to the mesh cloth, which is important if you have sweaty hands. Another sweat-resistant feature is the thumb Terry cloth for convenient, moisture-proof riding.
Putting on the gloves is a breeze thanks to the pull-tab feature and the large hook and loop fastener. This would make your gloves more time-efficient when you are in the middle of the forest or trail and need to let loose.
Because the hook and loop fastener has a low-profile design, it won't easily stick to various fabric objects inconveniently. We also like that the EVA pad at the palm has extra thick padding that's ideal for very bumpy sections or long rides.
The elasticity of the Lycra material combined with the mesh fabric makes the gloves comfortable and enhances rider dexterity even in technical sections. People with carpal tunnel syndrome will find these gloves comfortable as they provide sufficient movement for the rider.
Key Features:
Thick EVA padding
Pull-tab for easy on/off
Terry cloth for sweat/moisture wiping
Gel pad for reducing user fatigue
Comfortable and stretchable Lycra material
6. FINGER TEN Cycling Gloves for Men
Made with moisture-wicking capabilities, the FINGER TEN Cycling Gloves for Men are easy to put on and off due to the design of the adjustable hook and loop closure. The palm section has a shock-absorbing silicon pad for providing the rider with a non-slip grip on the handlebar of the bike.
Like most MTB gloves, it also has a towel cloth on the thumb for easy sweat wiping. When it comes to finger dexterity on phones, these gloves are also okay to use on gadgets due to their touchscreen-compatible fingertips. What's more, some sections of the hands (not just the palms) are also coupled with non-slip gel pads for extra grip and dexterity.
For sunny weather, the honeycomb structure mesh fabric allows for breathability while also allowing the gloves to dry quickly after a sweaty (or rainy) ride. You'll like these gloves if you have sweaty hands thanks to that mesh fabric. There's also a reinforced thumb grip for extra protection and grip onto the bike handlebar.
These gloves have great durability because of their construction so they won't be easily torn apart. That's because even though they are breathable, they're not too permeable so that also makes them gloves for all-weather MTB riding. If you want your gloves a little thicker, this is a good all-weather pair to consider, especially for fall trips.
Key Features:
Adjustable hook and loop closure
Touchscreen-compatible
Reinforced thumb grip
Breathable mesh
Non-slip gel pads
7. FIRELION Cycling Gloves
The FIRELION Cycling Gloves are breathable yet don't fall short on protective features, such as gel palm patterns for a non-slip feel and better grip onto your bike handlebar. These gloves are compatible with touchscreens so you can use your phone or other gadgets (e.g. navigation devices) comfortably even without taking off your gloves.
To wipe the sweat away easily, the thumb section has soft microfiber that's moisture-wicking so that you stay dry and comfortable throughout the ride. In terms of construction, gloves are made with Micromatrix synthetic leather for durability while also a combination of spandex and elastane for stretching ability, so it's a good investment for long-term use.
If you often have sleepy hands, numbness, or fatigue, the design of the gloves will help relieve pressure in crucial points of the hands. That's due to the spandex material that keeps it stretchy.
What's more, the combination of Terry cloth, spandex, and Lycra will keep the rider comfortable throughout a hot, summery day thanks to the moisture-wicking capabilities without compromising dexterity and comfort.
Aside from being MTB gloves, they may also work well for road biking and BMX due to their breathability. When it comes to maintenance, the gloves can be tossed into the washing machine for a cold wash with mild soap. Just don't bleach, iron, dry-clean, or store them while wet.
Key Features:
Made with Terry cloth for easy moisture wicking
Spandex and elastane for flexibility
Touchscreen-compatible
Gel palm patterns for a better grip
8. 100% RIDECAMP Mountain Bike Gloves
A combination of a nylon construction for durability and a spandex top for flexibility, the 100% RIDECAMP Mountain Bike Gloves will provide a good handlebar grip thanks to the silicon prints on the fingers and palm area. We award plus points for the flexibility of the gloves thanks to the stretchable finger gussets.
Since these are touchscreen-compatible, there's no need to take off your gloves to use your phone or check e-mail. The Clarion palm layer will keep your hands comfortable through a rough ride while providing a good grip on the handlebar.
If you're looking for a multi-purpose pair, the MTB gloves can also be used for MX. We like that it doesn't use Velcro for fastening so it will be less awkward trying to put them on. The slip-on design also makes it easy to put them on and take them off later – great for long trails without wasting time.
Whether a seasoned or casual rider, if you're looking for good MTB gloves that will do the job, especially if you are new to riding, these gloves are sufficient for protection against most injuries while also improving your hand dexterity and handlebar grip. That's because the material isn't too thick so it's easy to grip on your handlebars without feeling too awkward or bulky.
Key Features:
Slip-on design, no Velcro
Touchscreen-compatible
Silicon prints for traction
Clarion palm layer
9. ROVOS Women's Light Non-Slip Half Finger Mountain Biking Gloves
Made with style and comfort in mind, the ROVOS Women's Light Non-Slip Half Finger Mountain Biking Gloves are made of Lycra for breathability, spandex for flexibility, and charcoal fiber towel cloth for moisture-wicking properties. Like most gloves that we mentioned above, it also has foam padding on the palm for protection against bumpy rides.
It also has soft microfiber on the thumb area for easy sweat-wiping when needed. The gloves also have pulling buckles for convenience when taking off if you're in a difficult situation or position. Available in various sizes and colors, the MTB gloves are also ideal for those who want fewer odors from their sweaty palms thanks to the bamboo charcoal fiber.
Securing the gloves is simple due to the hook and loop closure, which also has adjustability to fit a variety of users and comfort levels. Likewise, the lockstitch sewing provides added durability to the gloves while the damping SBR design below the thumb area helps reduce road fatigue.
With 5-mm padding on the palm rest for reducing impact, compared to standard unisex gloves, they fit more comfortably on women's hands, giving more dexterity and accuracy. The lower palm area is also padded for extra protection against injuries and whatnot, making it a good protective pair.
Key Features:
Breathable Lycra
Flexible spandex
Sufficient foam padding on the palm
Durable lockstitch sewing
Form-fitting on women's hands
10. Cevapro Mountain Bike Gloves
The Cevapro Mountain Bike Gloves are ideal for those who want half-finger gloves with sufficient elasticity thanks to the Lycra and mesh fabric. Since it has a low-profile design and construction, it won't feel bulky when you grip your handlebars. If you have carbon handlebars, you'll find these gloves comfortable without much numbness – even for long rides.
Available in sizes from small to x-large and different colors (black, blue, and white), the gloves have non-slip silicone palm pads for added finger dexterity and protection against bumpy rides and hand fatigue.
Aside from that, in the summer, the breathable mesh will protect you from getting excessively sweaty hands. Likewise, the Terry cloth on the thumb area will easily wipe off sweat and moisture. Removing the gloves is also convenient thanks to the pull straps on the finger areas, which is great for on-the-go glove changes.
Since the padding is not too much, it won't make you feel bulky so they will work well as MTB gloves. If you tend to have hand fatigue often, the gel areas will help a lot in long rides. Keep in mind, however, that the sizing may run a bit small for some. The texture doesn't feel itchy due to the thin yet protective material of the gloves.
Key Features:
Breathable mesh
Low-profile design
The padding is not too thick
Terry cloth for moisture wiping
Doesn't feel itchy
Things to Consider Before You Buy
When choosing the best mountain biking gloves, here are some FAQs and considerations you may want to read on first before you buy:
Do I need gloves for mountain biking?
Yes, gloves are important for MTB riding because they provide a great amount of protection not just from the weather but also from crashes (from fatigued hands) and various obstacles like tree branches and the like.
Even though gloves are sweaty, especially in the summer, it's a way to keep an MTB rider safe from harm, especially on bumpy rides. Since MTB gloves have specific traction thanks to padding, they will give you a better grip on the handlebar to keep your ride safe.
What kind of gloves for mountain biking
MTB gloves should have good padding on the palm sections, as well as rubberized patterns on some parts of the fingers. This will provide traction and a better grip on the handlebar, providing a safe riding experience.
Moreover, MTB gloves also need to have sweat-resistant properties. For instance, Terry cloth is typically used on the thumb section for wiping off sweat when needed. Pull tabs are also found in most gloves for easy on/off – even if your hands are gross.
How tight should cycling gloves be?
Your MTB gloves should have a snug fit but should not ruin your blood circulation. A snug fit will help you gain better control of your bike so make sure you get a properly fitting pair of bike gloves before you ride.
How to Choose the Right Mountain Bike Glove
Here are some pointers on how to choose the ideal bike glove for your next MTB adventure:
1. Good grip on the palms
Clarino is a leather-like synthetic material that's typically found on most MTB gloves. They will provide your hands and gloves with sufficient grip on the bike handlebar, especially since MTB riding is difficult due to the bumpy terrain.
If the gloves don't have Clarino, at least find something similar to provide grip. Some even have rubberized grips even on the fingertips for added dexterity.
2. Protective features
You'll find that some gloves have extra padding or layers of protection on the top, depending on the design. Knuckle armor is usually found in gloves that are meant to be used for tough forest riding where you might bump into a tree or whatever object.
The aforementioned Clarino material is also a great way to protect your palms and hands from user fatigue that causes "sleepy hands" when riding a bike. To become more responsive, the padding should be strategically placed.
3. Adaptability to the seasons
MTB gloves exist in both full-finger and fingerless gloves. Both are okay for all seasons depending on the construction but fingerless gloves tend to be used for the summer. It's hard to find gloves that are for all-weather riding as manufacturers usually have a specific season in mind.
For instance, winter gloves tend to have insulation while summer gloves are usually the fingerless types. Some of these MTB gloves, however, are a bit of both so they are okay for spring and fall riding.
Mountain Bike Glove size chart
Although all manufacturers have different size charts, here's a typical size chart for the most common MTB gloves in the market, for your reference:
Palm width
MTB glove size
cm
in
18 to 20
7 to 8
Small
20 to 23
8 to 9
Medium
23 to 25
9.5 to 10
Large
28+
11+
X-large
Conclusion
As a whole, MTB gloves need to have extra protection but should not compromise on important factors, such as comfort, dexterity, extra grip, and convenience.
When you ride on a difficult trail, all those factors come into play so it's great for a pair of gloves to be adaptable to various situations, especially that we picked gloves here that are for all-weather riding. We hope you enjoyed our top picks for the best mountain biking gloves!