Are you looking for bike shops and rentals in New Orleans, LA? We have a couple of suggestions here for you if you're nearby. Different bike rental services and shops offer various rates depending on your arrangement.
They also have various policies, especially when it comes to health and safety protocols. If you want to know about the options they offer on-site and online, check them out below:
The Best Bike Rentals in New Orleans
Here are the best bike rentals in New Orleans, LA: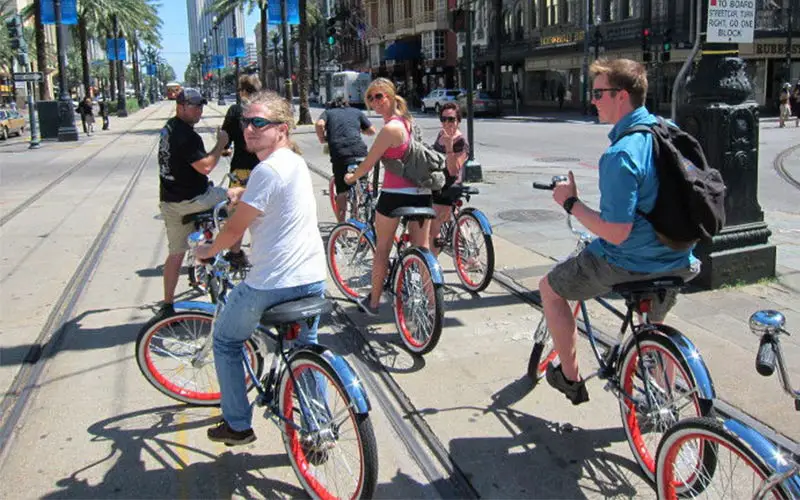 When it comes to bike touring and rentals, the American Bicycle Rental Company is also a great choice. Located at 1025 Bienville St New Orleans, LA 70112, they offer cruiser rentals for different hour schedules (4, 8, and 24 hours). You also have choices of bike reservation and guided tours (solo or with a staff member).
When you rent a bike, it already comes with lights, a bell, a basket, a safety helmet, and a bike lock. What we like is that they also offer multiple days of rental schedules. They also offer 24-hour self-returns plus they are a family-owned business. Moreover, they sanitize between customers to adhere to the COVID-19 health and safety guidelines.
Their American-made cruiser bikes are of quality build – they have puncture-resistant tires and tubes, a heavy-duty frame, single-speed options, oversized tires for bad terrain, a wide seat (13 inches), and chrome fenders and bell.
Their office hours are from 9 AM to 4:45 PM (Thursdays to Saturdays) and 9:15 AM to 4:45 PM (Monday and Tuesday) while being closed every Wednesday and Sunday. Their schedule is also subject to special hours so it's best to contact them for more information. Are you interested in their rental services? Give them a call at (504) 522-4368.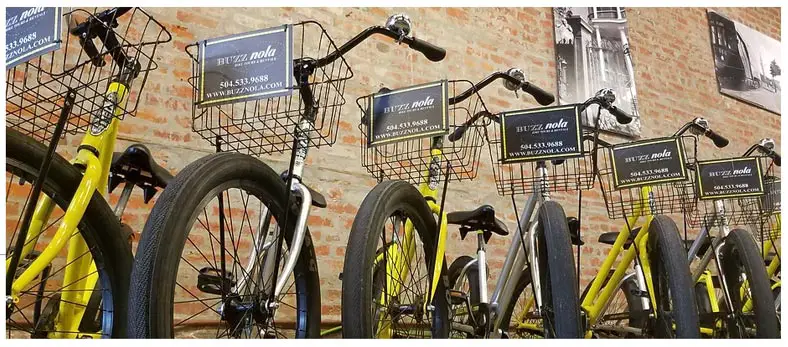 Yet another bike hub for cruising is the Buzz Nola Bike Tours & Rentals. You can easily book a bike rental schedule, which comes with a free bike lock, map, safety helmet, and a basket. They also offer kids' bikes other than adult-sized types. They have hourly rates from 2 to 24 hours plus day rates from 2 to 7 days to suit your needs.
As for the establishment, they are open from 9:30 AM to 4:30 PM from Monday to Sunday and they also enforce health and safety measures, such as social distancing, sanitizing, wearing masks, hand sanitizer, and contactless payments for convenience. We like that they also have gender-neutral restrooms and military discounts, aside from credit cards.
Among their other services include bike tours, night riding, private and group tours, e-bike tours, and rentals, and much more. Keep in mind that tours should be booked 2 hours before the set schedule.
Are you interested in this bike rental service? Try visiting them at 214 Magazine St New Orleans, LA 70130 or calling (504) 533-9688 for more information.
If you are looking for a light-up bike rental, Arts District Bike Rental & Tours is a great choice for you. They offer free reservations, roadside assistance, a self-guided map, and extended hours. They even offer escorted music night rides.
Unlike other bike rentals, this bike hub specializes in the artistic and aesthetic value of riding bikes, by renting out light-up bikes with added speakers and guides. So, if your group wants to go for a fun experience at night, they're a cool bike rental service for you. You can also book a guided tour if you're a group so you can have fun in New Orleans.
Most of their bikes also had wide tires that are suitable for bumpy roads. The staff members also advise new riders, especially for unique bikes. Each bike rented also comes with a heavy-duty bike lock and lights (other than the bicycle being a light-up bike).
Their location is also convenient for art tours because it's near the WW2 Museum. They also have proximity to Canal Street and the Lower Garden District. Among their amenities include convenient street/bike parking and gender-neutral restrooms. They are also a female-owned business.
If you are interested in fun, light-up bikes, give them a visit at 1121 Margaret Pl New Orleans, LA 70130 or call (504) 521-6390 for further information about their bike rental service.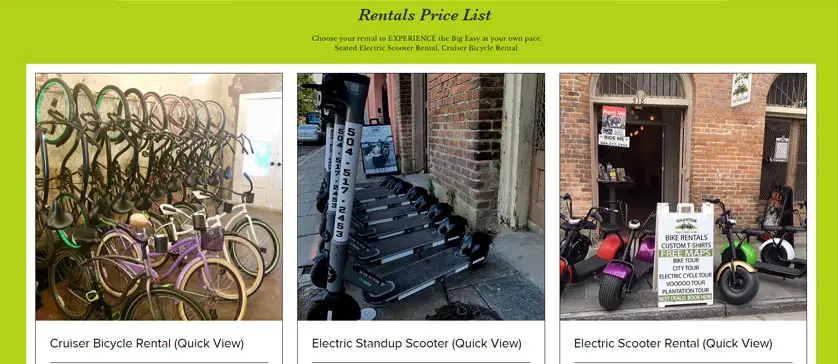 Located at 518 Conti St New Orleans, LA 70130, Nola Cycles is a bike rental service with various offerings, such a cruiser bikes and light-up bikes for night riding. They have 1 to 2-hour rates depending on your preferences and they also have electric scooter rentals.
With each bicycle rented, you'll have a free helmet although you have to add fees for the locks. They also offer other hourly and daily rates.
While they do accept walk-in clients, they are also available for reservations by calling their phone number at (504) 517-2453. If you want to visit them on-site, be sure to wear a mask and observe health and safety guidelines. Their business site is open from 11 to 7 PM all week long except Mondays.
You can also choose from their tour options (self-guided and assisted tours) depending on your needs. It's a great way to explore the French Quarter. Keep in mind that since this business establishment is quite famous around the area, it's best to reserve as early as possible.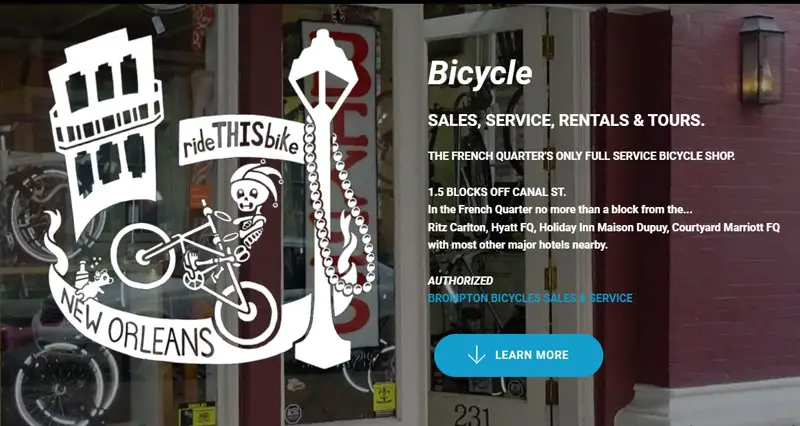 Another place that's near the French Quarter is the RideTHISbike, with office hours from 10 AM to 5 PM all week except Tuesday. They are situated near Canal St. and are also near various major hotels, such as Hyatt FQ and Holiday Inn Maison Dupuy.
Their rates are not that expensive so it's a good choice for first-time riders. They also include locks and safety helmets plus you can also add some other bike accessories. You also have a choice of single-speed and multiple-speed bikes.
Aside from handbrake-style bikes, they also have coaster (backward-pedal) bikes. The bike hub accepts credit cards and has sufficient street/bike parking.
If you are interested in this bike rental service, give them a visit at 231 Dauphine St New Orleans, LA 70112 or call (504) 324-2492. You can also send them an e-mail at [email protected] for more details.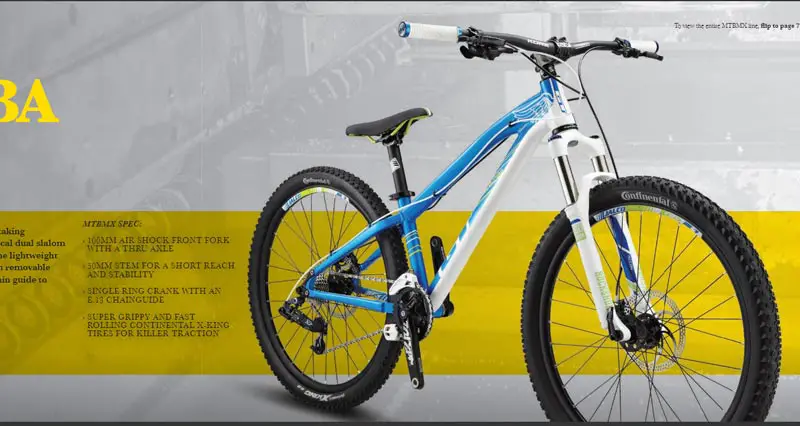 This bike shop is located at 4411 Magazine St New Orleans, LA 70115 and is open from 11 AM to 5 PM (except Sundays). Among their bikes for rent include single-speed cruisers and multi-speed bikes. They offer various day rates depending on how long you want to use the bike.
Because their cruisers have wide tires, they are easy to cruise (pun intended) along rugged pathways. They also have a bike showroom, as well as bike repairs when you need them. Among their bike brands include Schwinn, GT, Origin, Sun, Shimano, Sunlite, Topeak, 3D, and others.
For more information, you may contact them at (504) 899-1344 or visit them at the address we mentioned above.
When it comes to rentals and repair, Alex's Bikes is a great bike hub in New Orleans. Renting their bikes is usually open for those who want to cruise along the Mississippi River and Crescent Park.
Unlike other bike rentals, Alex's Bikes offer a first-come, first-served basis without reservations, so you have to come early to their place. When you rent a bike, it's complete with a basket, lights, bike lock, and a safety helmet for your convenience.
They have a lot of cruisers that are ready to be used. They have a comfortable feel plus bike pick-up isn't much of a hassle. Before you rent a bike, they make sure that you're a perfect fit for it so that you'll find it comfortable to ride on.
If you're ready, give them a call at (504) 327-9248 or visit their site at 607 Marigny St New Orleans, LA 70117. You can also e-mail them at [email protected] for more information.