Are you looking for some bike rentals in Falmouth, MA? You've come to the right place – we've got some nice spots for you to check out. These bike shops are great for cruising along the Falmouth Inner Harbor to give you a relaxing view.
If you are looking for a shop to grab a bike for cruising the Shining Sea Bikeway, check out the following bike rental services and choose the one that's best for your needs.
5 Best Bike Rentals in Falmouth, MA
Here are some of the best bike rentals to check out if you're staying near Falmouth, MA:
1. Holiday Cycles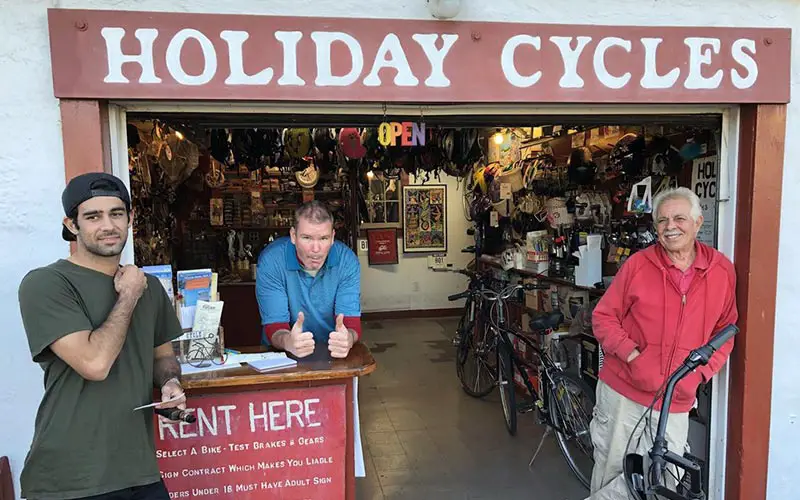 If you're looking for a great view of the beach and the coastal trails, Holiday Cycles is a great bike rental shop to check out. Their staff members are helpful and know a lot about bicycles while also being courteous to their customers and patrons.
With their bike rental service, you can go through the Shining Sea Bikeway and explore the breathtaking views. They give out extras, such as helmets, bike locks, and baskets. The staff is quite friendly towards beginners and they also give tips on the different bike trails around the area. They are also advising folks when it comes to bike fitting.
They have a wide selection of bicycles and there are also options for the kids. Bike parking is also a breeze plus if you run out of cash or don't have available payment options at the moment, there's an accessible ATM when you go to the nearby Woods Hole.
In terms of accessibility, they offer bike parking, wheelchair accessibility, and kids' amenities/comfort. When it comes to emergencies, one of the team members will also gladly assist you in case of a flat tire.
Since they also offer bikes for kids, it is a great destination to take your family with you. Even within the off-season, their store is still somewhat open and one of the staff will open the shop for you if you call in advance for rentals.
You can give them a visit at 465 Grand Ave Falmouth, MA 02540, or contact (508) 540-3549 for more information on their bicycle rental services.

2. Corner Cycle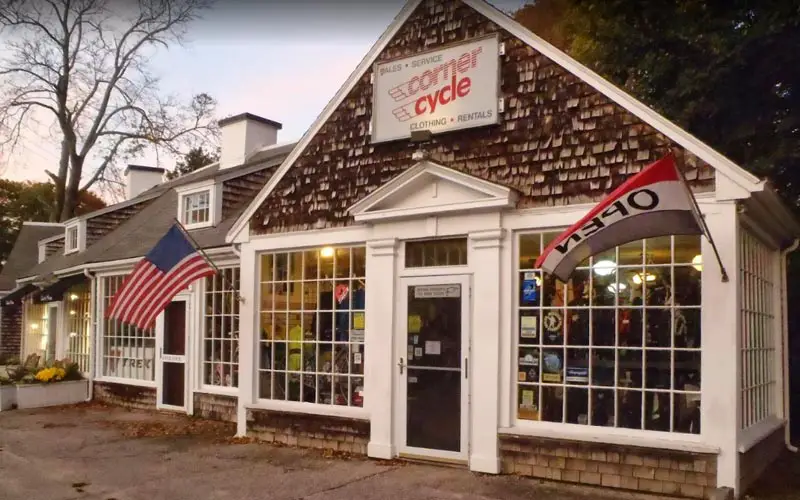 Located at 115 Palmer Ave Falmouth, MA 02540, Corner Cycle offers bike rentals, kids' bike trade-up, and "design your ride" services to their patrons. They also have online ordering and free store pick-up for convenience.
Adhering to the CDC safety guidelines for COVID-19, they ensure health and safety protocols, such as the staff members wearing gloves. They also have a limited number of customers in the store for safety purposes. Keep in mind that they do have instances where their shop is closed, such as the 4th of July or Road Race Weekend so be sure to contact them ahead.
Established in 1986, this old yet bustling bike rental service is Trek Fit certified and for bike fitting, they also do video motion capture. Their staff members are knowledgeable with bike jargon and explain them thoroughly and simply to new riders. Among their bike offers to include tandem bikes, performance, hybrid, and trailer bikes.
They also offer the following services:
rental deliveries – the fee may vary depending on the location
Burley trailers – for carrying small kids
kids' bikes – they will fit children from 5 to 13 years of age
no reservations on rentals – they have a plethora of bikes ready to be rented for your convenience
When it comes to road bikes, they have men's and women's bikes available for you to choose the appropriate size for your needs. They also come with extras such as seat packs, Garmin Mounts, water bottle cages, inflation devices, rechargeable lights, and a flat repair kit for emergencies.
Their bike rental services are available at various rates, such as for daytime, overnight, week(s), or a whole month. This is a great choice for those who need a bike for an entire month's vacation or stay within the area. Following the COVID-19 guidelines, they also offer additional disinfection services per item.
Their office hours are from 10 AM to 5 PM on weekends and up to 6 PM on weekdays. You can contact them at (508) 540-4195 for more information. For payments, they also accept credit cards for convenience. visit their website at cornercycle.com
3. Art's Bike Shop
A long-standing bike rental service for 37 years is Art's Bike Shop. If you live in North Falmouth, MA, this is a great bike shop and rental service for you. They offer the following bikes for rental:
single bicycle
tandem bicycle
bike with a trailer for kids 4 to 8 years old
trailer for 1 to 2 children
bikes with baby seat
With the above-mentioned bikes that you can rent, you also have various renting plans, such as daytime (8 to 5 PM), a 24-hour renting, or up to 7 days, all of which can be found in their rates page.
Keep in mind that when you do consider renting from their shop, they require credit card imprints for rental, which is only for security purposes. You have the option to pay in cash when you return the bike. Art's Bike Shop has partnered with Raleigh Bikes, as well as North Falmouth Hardware & Marine.
With their bike service, you don't normally need to reserve a bike but do know that they only have 65 bikes up for grabs so large groups need to contact them right away. Their staff members are also willing to assist with travel advice alongside free maps of the surrounding areas.
If you're near the area, you may pay them a visit at 91 County Road, North Falmouth, MA 02556, or call them at 508-563-7379 (phone) or 508-563-3105 (fax). You can also shoot them an e-mail at [email protected] for more information.

4. Bike Zone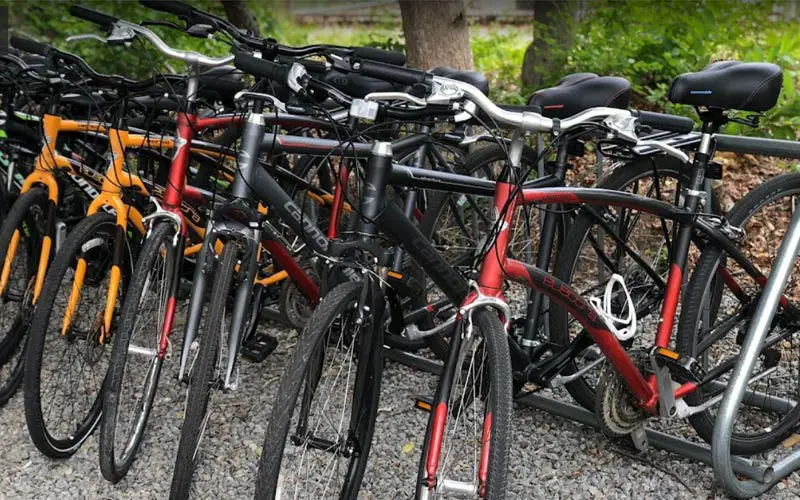 Located at 13 County Road, North Falmouth, MA, Bike Zone of Cape Cod is a bike store and rental service. They accept both walk-ins and online reservations for their bicycles. What's nice about this shop is that their rental fee will go to your bike purchase in case you loved their bike(s).
Among their bikes for rent include hybrids, mountain bikes, and road bikes for you to choose from. Aside from that, they come with a free bike lock and a helmet plus advice and information on nearby stops and spots.
They also offer other services in their bike shops, such as repairs, custom bike fitting, and trade-in, so it's a one-stop shop. To get in touch with them, you can contact the shop at (508) 563-2333. Their shop is open from Monday to Saturday from 9 AM to 6 PM and until 4 PM on Sundays.

A bike shop and rental service that's near the Shining Sea Bikeway is the AutoCamp. With their bike rental service, you can enjoy various amenities and sceneries, such as landmarks, coastal views, and an ice cream shop. You'll also find it easy to get to Woods Hole from this location.
Aside from renting bikes, they also have various bikes for sale, as well as bike parts, tires, accessories, and even clothing and bike gear. They even have scooters up for grabs.
When it comes to bike fitting, they have certified specialists whom you can talk to once you've scheduled an appointment with them. Bike fitting is ideal for those who want comfort without sacrificing speed. They also sell special bike shoes for those who need them.
To adhere to COVID-19 safety guidelines, they have protocols such as a travel form, the requirement of a negative test result, quarantine procedures, and more. The shop is also pet-friendly and they only charge a fee for pet companions that will ride their bikes.
To reserve a bike, contact them at 888-405-7553 or visit them at 836 Palmer Avenue, Falmouth, MA 02540. You can also e-mail them at [email protected] for more information.