If you're staying in Denver, Colorado, you might want to check out a bike rental shop to get you from point A to point B. Having bike rental shops also allow you to tour the city's greatest escapes and sights without having to bring or own a bike of your own.
We have a couple of suggested bike rental services for you below, which we handpicked. Simply contact them for more details on their services.
1. eBikes USA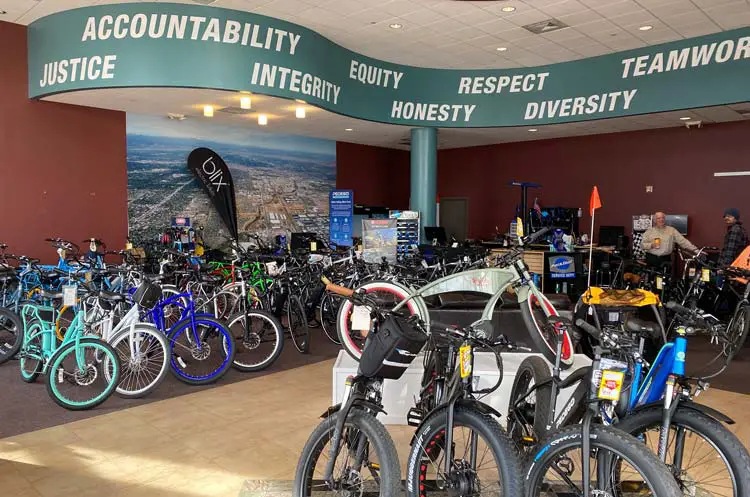 Specializing in electric bikes, eBikes USA has a lot of nifty bikes that are available for you to rent. They have brands such as Raleigh, Magnum, Sondors, Stromer, Haibike, Diamond Back, Aventon, Izip, Addmotor, Bagi Bike, Super 73, Revi Bikes, and much more.
All you need to do is to contact them to schedule your bike rental or service (whether it's a repair or purchasing a bike). The staff members will also take time to make sure that the bike you choose correctly fits your frame. This is to ensure that your bike will be comfortable to ride.
Moreover, the staff will also teach newcomers while being honest with their rates. If you are new to e-bikes then they will give you some advice.

In light of the COVID-19 pandemic, they also adhere to safety standards, such as social distancing and curbside pick-up options. You may also contact them for more options on deliveries and the charges/rates depending on the destination or where you live.
You can visit them at 201 University Blvd Ste 123 Denver, CO 80206, or call them at (720) 746-9958. Their business is open from 10 AM to 6 PM on weekdays and up to 5 PM on weekends. You can also contact them at [email protected] for more information.
2. Wheel Fun Rentals – Washington Park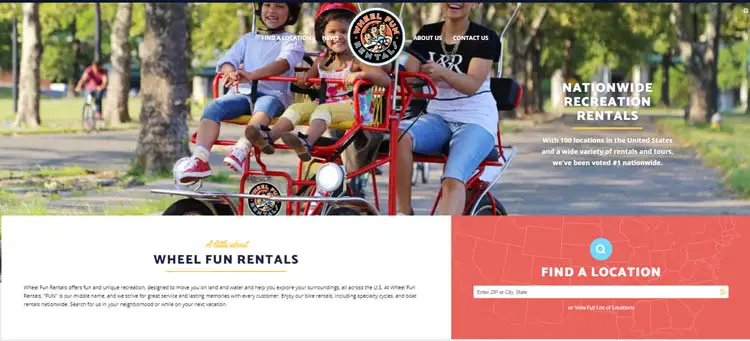 For a family-friendly rental service, the Wheel Fun Rentals – Washington Park is for you. Located at 691 S Humboldt St Denver, CO 80209, this bike rental and bike tour service offers fun and enjoyment for the family. Among their list of bikes and whatnot include:
Surrey (for small groups)
Double Surrey (for large groups)
Deuce Coupe (for two people)
Chopper and Quad Sport (single person)
Cruiser Bike
Water Vessels (boats, canoes, kayaks, paddleboards)
With every bike rental, you get a free bike lock, helmet, and a basket for your belongings (or sometimes a bike bag). Water vessel rentals, on the other hand, have free life jackets and a paddle. Both rental services include the rental guidelines.
The bike rental service will also accept team building and private events for group sizes up to 100. Whether it's a company event, a family party, a school club event, or a non-profit event, you can contact them for more details on outdoor riding rentals.
The Washington Park's Wheel Fun Rentals are associated with the local city government of Denver, as well as Denver Parks and Recreation and Big Brothers Big Sisters of America. They will also offer you trailing advice on the Cherry Creek Trail and Old South Gaylord Street.
You can contact them at (303) 505-3695 or [email protected] for more information on their renting fees, schedules, group tours, and the like. You may also want to ask them if there are special holidays when their hours will be slightly different.
3. Base Camp Cyclery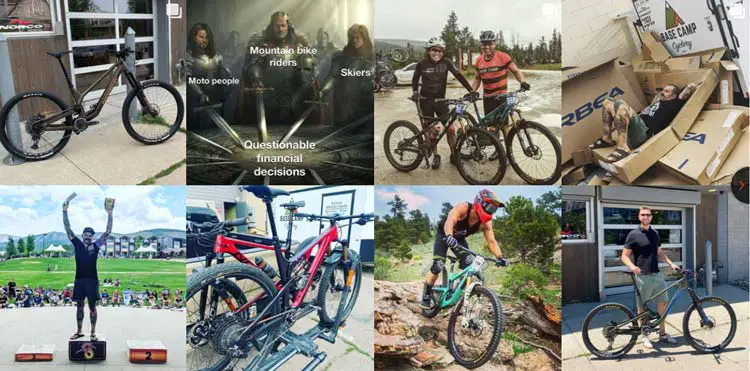 If you want a bike rental service that's focused on repairs as well, the Base Camp Cyclery is for you. They have a lot of bike technicians as staff members and they will also help beginners when it comes to tuning up their bikes and fixing common problems.
Established in 2017, the bike hub also has hard-to-find bicycles and accessories up for grabs. They also have a trade-up service in case you have an old bike and would want to upgrade to a new one. Base Camp Cyclery is near various establishments, such as Steam Espresso Bar, First Christian Reformed Church, and Grant Beacon Middle School.
Aside from rentals, they offer bike services such as tuning and assembly. They even have a flexible demo program for those who would like to try a new bike but are not sure if it will suit their comfort, riding style, and needs.
Their location is at 1869 S Pearl St Denver, CO 80210 and they are open from 11 AM to 7 PM on weekdays (up to 5 PM on weekends). You can send them an e-mail at [email protected] or call them at (720) 612-4962 for more information. Keep in mind that they are an appointment-only store every Tuesday.

4. Cycleton

Located at 7480 E 29th Ave, Denver, CO 80238, Cycleton is a Denver-based bike rental service with various rates. They offer road bikes up to 24-hour riding but they currently don't have hybrid/city bikes yet. They do charge for the helmet and the bike lock.
Their bikes are great for going to Lookout Mountain so this is a bike rental service to consider if you plan on that destination. Make sure to ready a deposit when you make a reservation for your intended bicycle.
During the summer or the peak season, you may want to book earlier than usual to avoid the hassle. Their two bikes for rent are the Allied Alfa All-Road and the Specialized Tarmac.
They also have other services, such as bike repair, trail guides, weekly rides, and more. If you want to buy bikes, they also have an assortment of bicycles up for grabs, such as road bikes, mountain, hybrid, kids' bikes, turbo (e-bikes), and more.
You can call them at (303) 329-0069 or go to their address mentioned above every 1 PM to 6 PM from Tuesday to Friday and every 10 Am to 6 PM on Saturday.

5. Evo Denver

With multiple locations around the United States, Evo Denver has bike rentals, servicing, tune-up, and repair. They are open from 10 AM to 7 PM on weekdays and up to 6 PM on weekends. All of their bike rentals include a basic helmet.
Their lineup of bikes for rent includes mountain bikes, full-suspension, electric bikes, downhill bikes, hybrid, and gravel bikes. You can also pick a wheelset, choose a full-face helmet, or rent a tailgating pad. All their bikes have varying rates depending on the hours and days used.
All of their bikes are applicable for multi-day renting. Keep in mind that if you do wish to rent e-bikes, you have to pay a refundable deposit. You can simply ask their staff about their pick-up and drop-off points when renting a bike.
Moreover, if you happened to love the bike you rented, you can apply for the credits from your rental deal to buying the bike. You do have to go in-store to talk with the staff members to have your bike rental fees go to the purchase of the bike.
Bikes need to be checked out with an existing bike rack or tailgating pad (the store can provide it for you if you don't have one). If you are interested, you can call (303) 831-7228 or visit them at 860 Broadway, Denver, CO 80203.

6. Mile High Bike Tours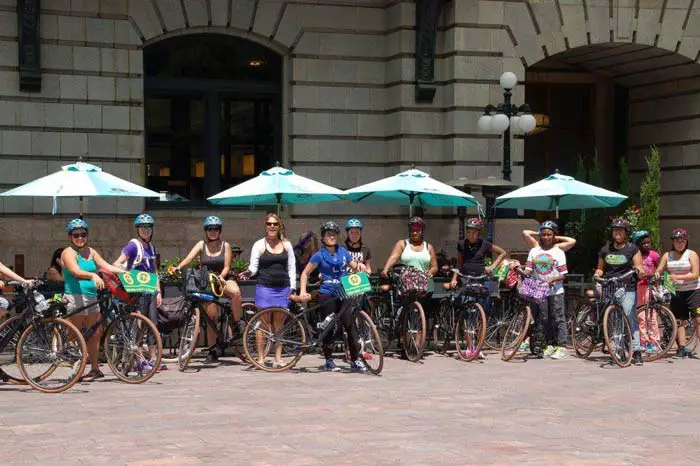 Located at 2301 Champa St, Denver, CO 80205, Mile High Bike Tours has a lot of bikes to offer, usually 3-speed bikes. They have various rates depending on whether you want to rent the bikes half-day, full-day, or for 2 days. With each bike rented, you get a free helmet and bike lock.
You can also book various tours, such as the Denver City Tour or the Bike & Brew, which is a 3-hour tour for adults who like to drink.
Their bike rental service is available all year-round so you can even go during the off-season. Their business establishment is open until 6 PM on Tuesdays to Saturdays and up to 5 PM on Sundays. If you want to check them out, simply call them at (303) 801-1766 or e-mail them at [email protected] for more info.