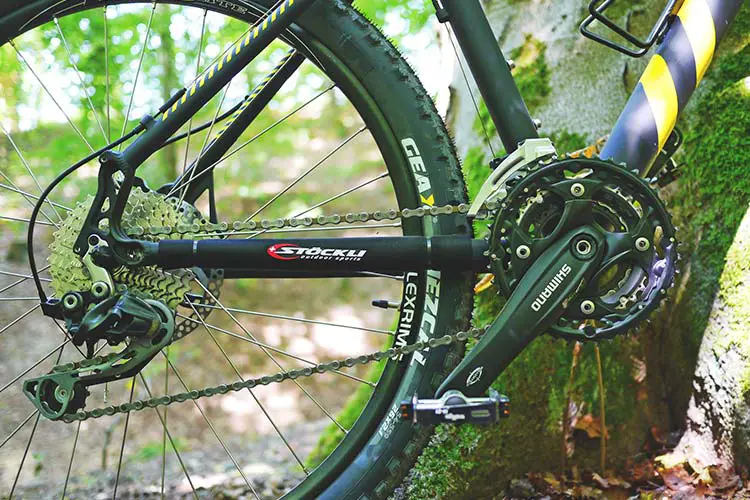 MTB pedals come in different types: flats and clipless. Whichever pedal you choose, most bikers prefer to install their custom pedals to their bike and some even buy the bike without pedals for added personalization, which is the same for bike goes building. Or, if your bike pedals are simply worn out, you may be looking for a replacement.
That's where we'd like to help you – we've listed down some of the best mountain bike pedals for you to choose from, each with its features. We hope that you'll like our choices below. After all, a bike's efficiency depends on quality bike pedals.
6 Best Mountain Bike Pedals Reviews
Here are some of the best mountain bike pedals out there – including flats and clipless, as well as those in-between:
1. SHIMANO PD-EH500 Bike Pedals
Our top choice is the SHIMANO PD-EH500 Bike Pedals not just because of the well-renowned name, but also because of the dual-surface design. You can use this combo pedal for both SPD shoes and regular shoes thanks to the double-sided feature. It also comes with the needed multi-release cleats.
If you're a cyclist who prefers the best of both worlds, this is a great investment to have. You can use the flat side if you're a beginner or feel the need for a flat pedal, or you can use the cleat side for extra efficiency. With that said, even the flat side has sufficient grip so you won't feel awkward regardless of your usage in the mountains (or on the road).
We like the very light release that doesn't make clipping out too much of a nightmare. If you had older cleats that don't work smoothly on older pedals, this MTB pedal has a much lighter release but you're less likely to accidentally pull your cleats out – a combination of security and convenience when pedaling.
Aside from this light release, we like that the SPD doesn't make an annoying noise when you do, which can sometimes put off some riders. What we like about the flat side is the arrays of hex head screws. These will help riders grip the pedals even without having to use the clipless side and wear cleats for it.
Key Features:
Flat and clipless (reversible)
Extra grip flat side due to the hex screws
Light clipping release
No awkward clicking sound
2. CXWXC Road/MTB Bike Pedals
If you're looking for a less expensive and lightweight pair, the CXWXC Road/MTB Bike Pedals are for you. Since the platform is quite spacious (4 x 4 inches), it will be easy for beginners to use and it will also cause less likelihood of slipping.
What's more, the installation of the pedals is convenient thanks to the standard 9/16-inch spindle. Each pedal is also labeled for left and right so you won't get confused. Aside from the spacious design, we like the inclusion of 8 pinheads to keep your foot on the platform as much as possible, especially during slippery winter and rainy weather.
Just like with all bike pedals, these are sealed to protect against rain damage, which is important for MTB riding. If you have larger or wider feet, we recommend this pair because it has sufficient support for up to size 9 for men. When you start cranking them, you'll find little to no noise as they are made of alloy and the bearings seem to be well-made.
While some bike pedals have harsh designs that might ruin your favorite sporting shoes, these have just the right amount of height on their screw heads so you get sufficient grip without having to sacrifice your well-earned rubber footwear.
Bottom line: if you simply want to ride with safety and want to replace a stock pedal pair that you believe isn't gripping enough, these are great bike pedals for MTB riding.
Key Features:
Spacious platform
8 pinheads for gripping
Quiet bearings
The pinheads aren't footwear-invasive
3. Crankbrothers Stamp Flat MTB Pedal
For those who want a minimalist feel, you will like the Crankbrothers Stamp Flat MTB Pedal. Due to the 13-mm thickness of the pedal, it's very lightweight and will help with pedaling efficiency, despite being flats. There's no need to worry about traction, though, due to the 9 hex pattern pins.
If you are a US size 10 or more, or if you simply like wearing large shoes for added protection, this pedal will suit you best. Despite the minimum profile, they are quite sturdy to use even with big shoes.
They also work well as a good replacement for stock pedals due to the added grips from the pin. These would be ideal for MTB riding due to potential threats, such as water splashes and the like.
If you've been on an injury and can't use clipless pedals for a while, or if you want a change of pedaling style, these are great transitions from clipless back to flats again. That's because they provide good traction without being too difficult to release your footing when needed.
Although the paint may chip off a little with extremely rugged use, it won't affect the overall durability of the pedals.
However, when you install the pedals, you'll also find little to no gap between the pedal and the arm, which might not be ideal for professional riders. Nonetheless, because the foot platform was wide enough you'll less likely scrub your rubber shoes onto the crank arm, making it less of an awkward riding experience.
Key Features:
Slim profile
Wide platform
9 hex pattern pins
4. ROCKBROS Mountain Bike Pedals
The ROCKBROS Mountain Bike Pedals, yet another set of flats, are made with 12 pins on each side so they're great for those who want added traction and support (and probably pretty picky when it comes to flat riding). Since it has sealed bearings, the pedals will withstand the elements and water splashes.
Since it is a 9/16-inch MTB pedal, it will fit into most bike brands and models. If you are a casual user of an MTB, these will work well due to the lightweight feel while having a larger pedal. It also has a low-profile design. While not many professional MTB riders will like it, if you're a beginner, these will suit you just fine, especially if you're just looking for a replacement for stock pedals.
Regardless, for those who want to ride with it and are having trouble with axle bulging, there's a workaround. For instance, you can increase the grip by using super glue on the treads. You can also add washers on the spikes to help with the height increase.
While the design is good due to the carbon fiber and the variety of colors to choose from, we think that it's only meant for casual MTB riding and not for very rocky terrain. You can even use these as emergency or replacement pedals in case your current pair wears off in the middle of your trail.
Key Features:
12 pins for traction
Great for casual MTB riding
Wide platform
5. HAIMIM Road Bike Pedals
If you want to ride with style, the HAIMIM Road Bike Pedals have a vaporwave-style color that will make your bike look aesthetic and '90s themed. With a standard 9/16-inch screw for most bike models, it has a total of 16 non-skid nails to keep your foot secure on the pedal.
Noise and the elements are also controlled by the sealed DU bearings. It also has a sufficiently large platform so they'll fit fine for most foot sizes and/or sneakers. We also like that installation was kept simple since the manufacturer already includes an Allen key set for you to DIY install them (but you can also use your set of tools at home).
They work well as replacement pedals as well for stocks, especially if you just want quieter pedals. We like that the pedals are also beginner-friendly in terms of installation and you won't spend a lot of time working on them.
Although they have a bit of added weight, this aspect may depend on user preference as sometimes, added weight may mean better durability and/or traction when you are climbing or descending, especially on the safety part.
As these are flats, they will work well with most kinds of shoes and you won't easily slip off thanks to the screw heads on each side, which aren't very invasive.
Key Features:
Sealed DU bearings
Vaporwave-style color
Not too lightweight for climbing/descents
Beginner-friendly installation
Non-slip screws
6. Venzo MTB Sealed Clipless Pedals
If you are used to wearing cleats when using a mountain bike then the Venzo MTB Sealed Clipless Pedals are for you. They fit well into most Shimano SPD cleats and similar shoes so you won't have a problem using them if you have those.
You can also adjust the tension using the screw so you won't get an awkward feeling when you clip in and out. Some folks have different comfort zones when it comes to cleats. For instance, some prefer a lighter clipping while others want more security.
Aside from that, you also get the required cleats along with the pedal for you to get started (standard Shimano SPD cleats). As for installation, they will work on any bike with 9/16-inch shafts.
Likewise, if you are new to clipless pedals, these are great transitioning pedals to start with, especially since they come with cleats and are budget-friendly. Moreover, the clipless pedals are also compatible with other similar cleats, such as the Tomaso MTB shoes.
Although the weight isn't that ideal for most meticulous riders, the pedals are already sufficient alternatives to pricier pedals. If weight isn't an issue for you, these are great beginner to intermediate-level MTB clipless pedal riding. The clipping may require a slight learning curve, but you will eventually find it comfortable.
Key Features:
Tension adjusters
Budget-friendly clipless pedals
Compatible with Shimano SPD and other similar shoes
Before You Buy
To help you decide further on MTB pedals, we wrote a value section to provide you with more information:
How to Choose the Best Mountain Bike Pedals For You
As mentioned above, MTB pedals fall into two major categories: flats and clipless. Aside from that, many other deciding factors will help you choose the best MTB pedals for your needs. Here are some of them:
1. Clipless vs. flats
Flats are the first bike pedals that your feet have probably landed on. They come as the default or stock pedal when you buy a bike and they are friendlier towards beginners due to the straightforward design. You simply land your foot and you won't need special cleats to ride them.
Flats are also ideal if you want to upgrade your skills or learn how to ride a bike more efficiently. For technical sections, you'd want to train on a pair of flats first before moving on to a clipless pair. Some racers even use flat pedals as contrary to clipless even though the stamina might wear them down.
In general, flats are easier to ride on without the feeling of fear since you can easily land one foot in case of an emergency or a slippery road, which would be otherwise difficult for clipless pedals. Moreover, flats are also great for making jumps.
Clipless pedals, on the other hand, are more suitable for professional riders or if you've already mastered some skills. These types of pedals emphasize the need for pedaling efficiency. Since you need special shoes/cleats to use them, the power transfer becomes significantly better, allowing you to ride a bike more efficiently.
One more advantage of clipless pedals is when you're on difficult terrain or tricky sections. If you use clipless pedals, you don't have to feel too bulky or hold down your foot on the pedals just to stay put because your cleats are already doing their job in keeping your foot locked into the pedals.
This mechanism results in a more lightweight feel when biking. Aside from that, since it reduces the pressure on your feet, it will also likely reduce arm strain since you don't have to thoroughly secure your arms to the handlebars. Clipping in and out is a challenge for clipless pedals, however, since it can be a bit more tedious than when you ride with flat pedals.
2. Design, quality, and budget
Die-cast is typically budget-friendly but a little heavier. If you are eyeing a flat pedal, you may want to choose something with a better q-factor. This refers to a further space between the pedal and the crank arm to avoid brushing your shoes awkwardly.
3. Size
You should also choose a pedal depending on your foot size. Thin pedals are ideal for those who want more stability and a low-profile feel. However, they aren't so much ideal for people with large foot sizes due to the effect of the q-factor.
4. Grip
If you're choosing a flat pedal, make sure that it still has sufficient traction and grip. Screw heads are often on the top surface of both sides of the pedal to ensure grip. However, some people may find the screw heads too invasive and may ruin their sneakers, so you should choose a pair that best suits your riding comfort.
Can you use MTB Pedals on Road Bike?
That depends on how you ride and how you will use the bike. Unless you are into serious road racing, MTB pedals placed on a road bike should do just fine because of the convenience of clipping in and out.
Most clipless bikers also prefer MTB pedals for road bikes because even when you walk with your cleats, there's less chance for discomfort. However, for longer rides or racing, road pedals might make more sense.
Q&A
Do you want to know more about MTB pedals? We have some frequently asked questions for you below:
Do mountain bike pedals make a difference?
Yes, changing your bike pedals for specific MTB pedals will give you a lot of benefits, such as:
– Pedaling efficiency (especially for clipless pedals)
– Better foot comfort (since you can go a size up for the pedal platform)
– Less weight
– Better grip
– Improved safety against rocks and bumpy terrain
– The ability to perform tricks easier
Are clipless pedals dangerous?
Yes, clipless pedals can be dangerous if you don't know what you're doing. This is also a good reason why beginners should stay with flats until they've learned to control the bike properly. Clipless pedals require you to wear special cleats and if worn incorrectly, it may result in foot injuries or worse.
Are bike pedals worth upgrading?
Yes, bike pedals are worth upgrading from the stock pair. That's because usually, stock pedals aren't that efficient when it comes to power transfer, grip, and durability.

If you want your bike to last longer and if you love to ride it but want to consider efficiency and safety, as well as comfort, a new set of pedals is a good investment overall.
Are plastic MTB pedals any good?
It depends on how you will use them. Plastic pedals have the advantage of being budget-friendly, but they seem to have more disadvantages as a whole. For instance, it's easy to dent or ruin them through rock strikes as compared to something made from aluminum. Their pins are also difficult to replace when ruined.
Do downhill riders use clipless pedals?
Some of them do, but in general, DH riders usually go with flats. The common reason for using flats on downhill riding and descents is the safety factor. You feel less awkward if you can easily land one foot down when your descent takes a wrong turn. This feat is a little more tedious with clipless pedals.
Why are some mountain bikes sold without pedals?
If you spot higher-end bikes in well-known stores, you'll likely find them without pedals. That's because the store knows that pedals are more of a personal agenda rather than something generalized.

The store is letting you choose your pedal depending on your riding style, comfort preferences, and other factors. In some cases, the rider might also have difficulty in getting cleats that match the pedals (if clipless) so that's also a factor.
Conclusion
In the long run, when buying MTB pedals, it pays to look into your comfort preferences, riding style, and other factors. Flats and clipless both have their pros and cons and it depends on how you want to ride. Whether you're into casual or serious racing, just want to improve your skills, or want to pedal with efficiency, there's a bike pedal for you.
We hope that you liked our top picks mentioned above. Remember: whatever bike pedal you choose, always make sure to install it properly to avoid mishaps on the road!