Are you feeling high-spirited and heading for Daytona Beach? We've got you covered below with some great bike rentals to help you get around scenic spots in the area. With these bike rentals, you'll find more than just a means of transport but also a great way to enjoy your summer vacation. We hope you find these bike rentals interesting!
The Best Bike Rentals in Daytona Beach
Here are some great Daytona Beach bike rentals for you to choose from:
If you want to rent an e-bike or electric bike for convenient traveling and touring, the Daytona Electric Bikes is the bike shop/rental service for you. They also have bikes for sale other than for rent. Their bike is meant for cruising along the beach, whether you're solo, with a partner, or with some friends, or even going for a group tour.
Their staff members are quite knowledgeable and approachable for those who don't have a lot of riding experience. Their bikes are also well-maintained despite not being brand new. With their bike rental service, you must be 16 years old and above to rent an e-bike. They have hourly, daily, and weekly rates depending on your needs – and you can also book online.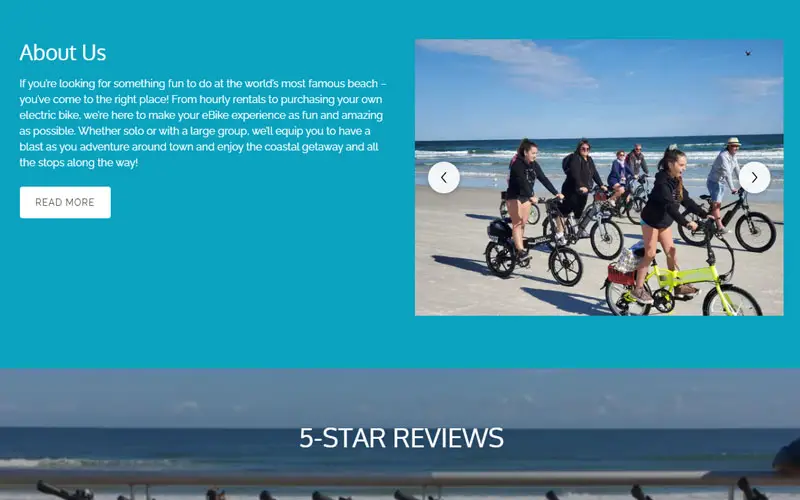 If you will mostly stay near the beach, this is a great rental service because the bikes are easy to ride on and the crew members are also quite accommodating. They will even give you a refund for any unused hour or schedule. Not to mention, they offer reasonable rates for their bike rentals and their sales.
Among their bikes for sale include MOTIV, SONDORS, and SURFACE brand bikes – all with different designs (e.g. cruisers, fat bikes, etc.) for you to choose from.
Daytona Electric Bikes also has some nearby shops such as CVS, and food hubs, such as the Dairy Bar, YAYA's Beachside Bar, Starbucks, Jimmy Hula's Port Orange, and more. If you need to stay in a hotel, there's also the Pirate's Cove nearby. If you're also aiming to go for a little fishing, you can stop by the Fishin Shack bait shop around Raymond Ave.
Their store is open from 9 Am to 5 PM every day and is located at 116 Dunlawton Ave UNIT 4, Daytona Beach Shores, FL 32118. You can also call them at 1 (386) 214-2452 or e-mail them at [email protected] for more information on their rental program.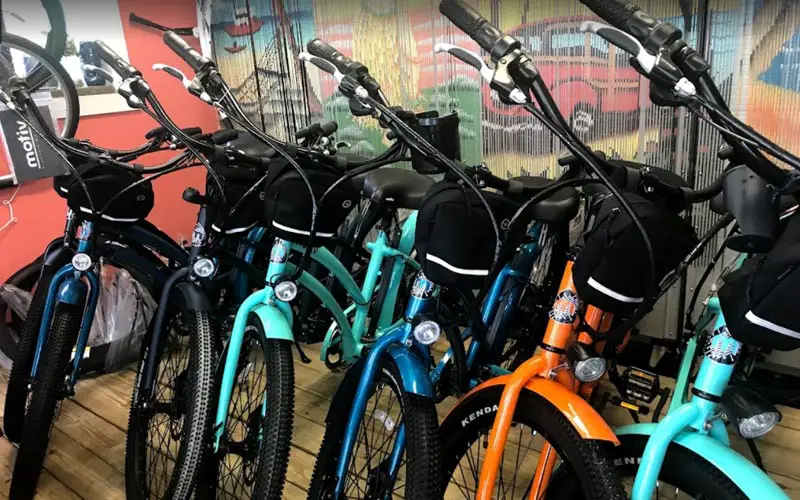 Another great bike rental service that you'll find in Daytona Beach is the Blue Coast Shop. Opening from 9 AM to 5 PM every day, this shop is located at 3110 S Atlantic Ave, Daytona Beach, FL 32118. They offer rentals for beach cruisers (single-speed and multi-speed), kids' bikes, as well as other beach gear like boogie boards and stand-up paddleboards.
They also have bike trailers for the children. As for the pricing, they have daily and weekly rates for your bike (or board) of choice. Aside from bike rentals, they also offer bike tours and lessons. If you are interested in both surfing and biking, this is a great shop to check out.
When it comes to customer service, they greatly favor the customers when it comes to returning what you rented to them. They provide you with extra time to return the bikes plus they also give you some points of interest on your next summer adventure.
The renting process is not that difficult, which makes it ideal for those who are just new to the area. Currently, since their shop caught fire so they are currently rebuilding it, they only deliver bikes. However, you can just call them at 386-310-8318 for a reservation or if you want a special arrangement for a subtle shop opening to choose a bike for your needs.
Among the nearby establishments to this bike rental service include Vittoria's Italian Coffee's and Pastries, where you can order food after a long ride. You can also stay at the Tropic Shores Resort or the Bluegreen Vacations Daytona Seabreeze.
There are also a couple of condo units nearby, as well as a smoke shop. After a long day's ride, you can also go to Van Avenue Park. The NASCAR museum is also here for racing enthusiasts (since we're in Daytona Beach and all).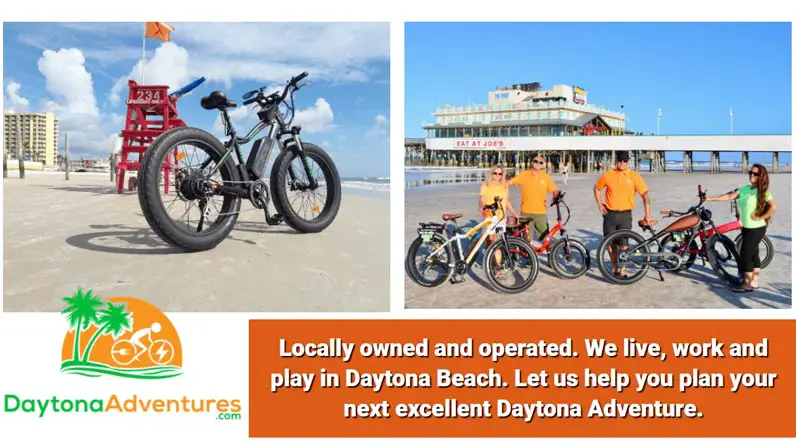 Yet another e-bike rental service in the area is Daytona Adventures, which offers fat bikes for you to ride comfortably. The bike rental service is near Ponce de Leon Lighthouse (Florida's landmark of a lighthouse as it is the tallest in the area) so it's also a great way to get there.
When it comes to their bike rental rates, they have an hourly rate, as well as a full-day (or half-day) rate. They also have other types, such as peddle beach bikes (7-speed) for your needs. The shop offers free delivery to nearby residents, as well as if you stay in a condo unit or a hotel. The area also has nearby restaurants so it's a great way to tour Daytona Beach.
Moreover, the owners and staff members are quite approachable and they easily know which bike suits you best. They have good customer service and their bikes seem to be well maintained since they are meant for beach cruising. The staff members and owners explain thoroughly (in layman's terms) how to use the bike properly.
Daytona Adventures has a barbershop nearby, as well as Ponchos Tacos if you ever get hungry. Just a block away, you'll spot a whole array of diners, such as the Daytona Taproom, Cafe du Japon, The Joint, The Red Bud Cafe, Danny's Lounge and Package, and much more. There are also other shops nearby.
This bike rental service also has tour packages for large groups, such as a beach tour, park, sunrise, and even a tour of the famous Ponce Inlet Lighthouse.
They are open from 9 AM to 5 PM (closed on Sundays) and are located at 204 Seabreeze Boulevard, Daytona Beach. If you want more information about their rental service and/or reservations for group tours, don't hesitate to call at (855) 553-2453 or send an e-mail at daytonaadventures.com for inquiries.