Are you looking for some great bike trails in West Palm Beach? We've got some suggestions for you below. Whether you want to ride solo or with a group for a tour (or just a vacation), these bike trails will take your breath away and will bring you the true beauty of the great outdoors.
The Best West Palm Beach Bike Trails
After you've picked up a bike from one of the bike shops or rental hubs, here are some West Palm Beach bike trails that you will like:
Palm Beach Lake Trail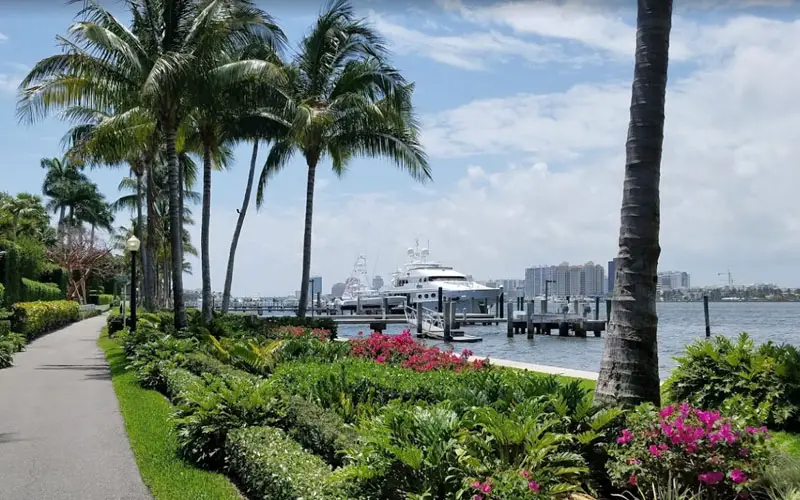 West Palm Beach has a lot of great places and you'll spot them at Lake Trail. Spanning at 5.5 miles, Lake Trail will give you a great view of the docks. If you like a combination of asphalt and off-road biking, this is a great place to try. You will enjoy the various sceneries along the way while also gaining access to some nice restaurants and shops.
Because the trail has a lot of trees, you will feel refreshed when you ride your bike. If you are a big fan of architecture, you will also marvel at various mansions along the trail. On the northern part of the trail, there's a water fountain in case you need some refreshments.
You will also spot the Sailfish Club when you get past South Lake Drive. This is also a great spot to look for yachts (or ride one) due to its scenic waterscape. Various art installations will make you feel inspired.
You will also spot many runners and joggers because of its laidback atmosphere. The sunset view here is also quite great whether you're on a bike or walking. Because it doesn't have a lot of traffic, it's a great place to take pictures or just enjoy the scenery ahead.
Although some sections are slightly cut off (you'll just have to follow fellow bikers) due to lack of signs, it's still a great bike trail to consider if you want a cool atmosphere. The shopping areas are located around Poinciana Boulevard where you can also use the comfort room.
Overall, this trail presents a nice, tranquil atmosphere for those who want a comfortable place to feel the breeze through their face. Because it's not too challenging for most bikers, it is a great bike trail for first-time riders since not many bikers speed up too much here. To go to the trail, you can start at 300 Sunset Ave, Palm Beach, FL 33480.

Bluegill Trail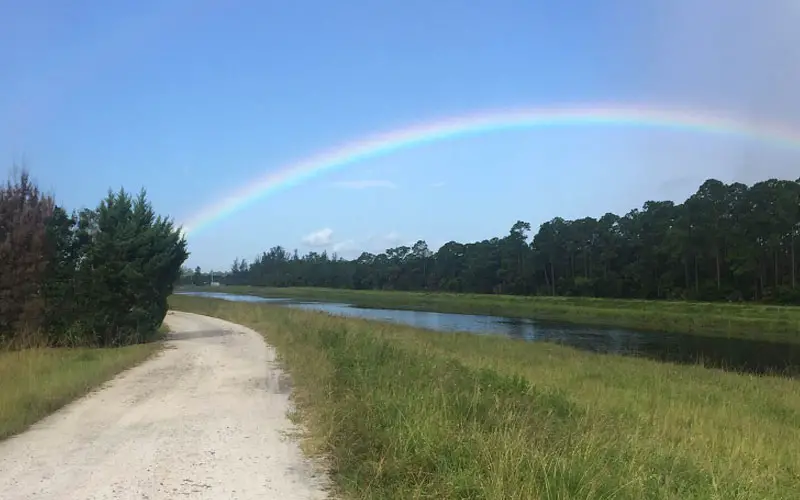 The Bluegill Trail is a rough-road trail for those who want something challenging yet closer to nature. It's not just for bikers but also for those who want to engage in horseback riding, hence the rough road. Spanning at 7.4 miles with endpoints in Riverbend Park and the Grassy Waters Preserve, this is also a well-renowned equestrian trail other than a bike trail.
If you intend to ride your bike here, be sure to get thick tires that are meant for rough roads. Or, if you want extra preparation, make sure you have puncture repair kits ready with you. At the park, you'll find more than just a parking area for your vehicle, but also some well-maintained restrooms.
History buffs will love this area thanks to the Palm Beach Country's Riverbend Battlefield Park. If you're on a guided tour, your leader or guide will likely take you to that area and give you some background information about the Seminole Indian War – a great history lesson for those who want to know more about West Palm Beach.
We like the shaded areas that help a lot in the summer where the sun can be unforgiving. If you like curves, however, this might not be your cup of tea, but otherwise, it's still a great off-road bike trail to consider around West Palm Beach.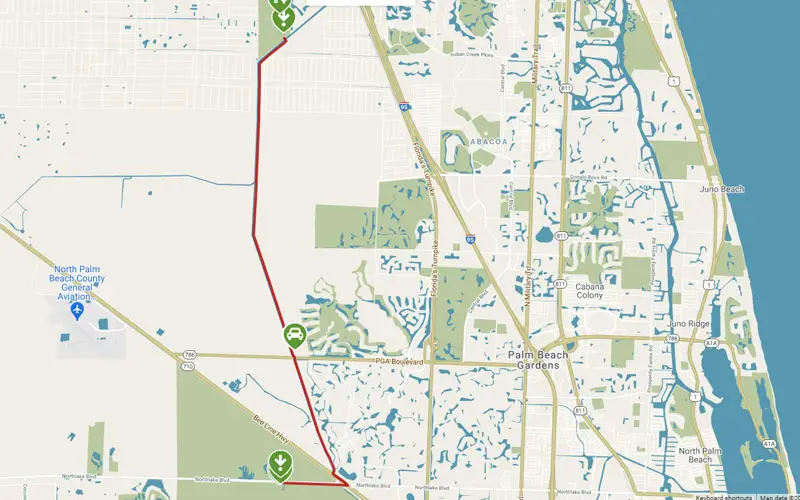 Palmetto Greenway
The Palmetto Greenway is a rather short trail (at 0.75 miles) with an asphalt surface but it's still a considerable choice if you're around West Palm Beach. It extends from NE 13th avenue to NW 4th Street. Aside from bikers, you will also find people casually walking there, as well as those who are doing inline skating.
Whether it's just walking your pet outside, taking the kids for some fresh air, or hopping onto your bike, this pathway is near Boynton Beach so if you're headed there for some reason, don't miss out on this bike trail!
Aside from that, the bike trail is also nearby some amenities, such as the Carolyn Sims Community Center (where you can park your vehicle). You can also relax a Wilson Park after a short ride. At the end of the trail near Carolyn Sims Center, there's also a mini-market that you can check out.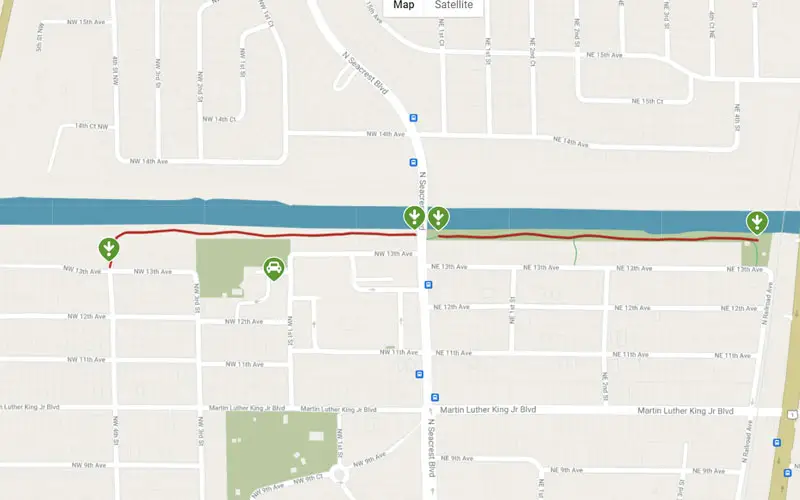 Barton Greenway
For those who want some African-American history, culture, and heritage insights, the Barton Greenway is a trail for you. It's been a culturally significant bike trail thanks to being near Barton Memorial Park, which is the primary and historic African-American graveyard for those around the area.
The Barton Memorial Park, named after the Barton family that defended it from being damaged by highway infrastructure projects in the '70s, is also near Boynton Beach. The trail runs at 0.3 miles in length and has an asphalt surface so most bikes will find it suitable to ride on it with little to no problems. The trail can be accessed from two ends: 12th and 8th avenue (I-95).
Established in 2011, it has some great amenities for bikers and those in vacation mode, such as tables and benches for you to rest. Speaking of which, they have well-maintained restrooms along the way. We like that the Barton Greenway has been developed to help the Poinciana Elementary School students go to school safely, so it had a heart-warming purpose.
It's also a relaxing trail because not much traffic usually happens there. If you are interested in the local community history, especially for the African-American community, this is a great place to do some research while enjoying the views. Along the way, you will also find some stores so it's not too remote.