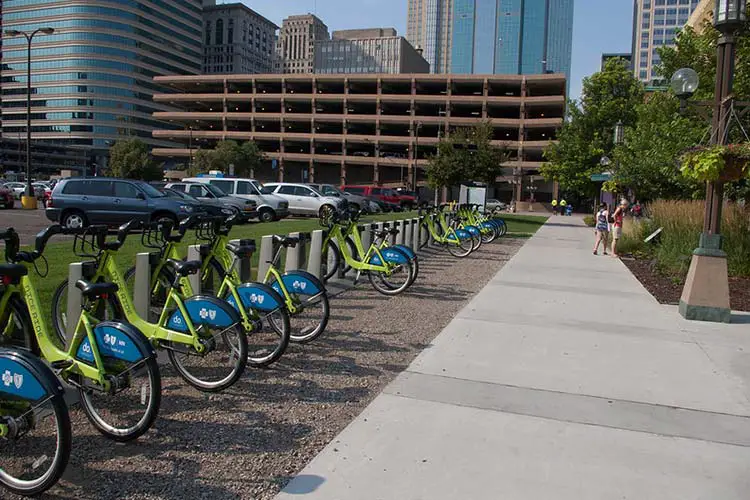 Minneapolis, a highly-populated city in Minnesota, is highly sought-after for being bike-friendly. They have over 118 miles of bikeways, of which 92 are off-street, they're a well-renowned place for bike enthusiasts who want to rent their bike if they can't afford one.
So, if you're spending some time in this bike-friendly city, you might want to check out the plethora of bike rental options that are available nearby. In this article, we list down some great places to rent a bike in Minnesota.
1. Wheel Fun Rentals: Rent Mountain Bike Minneapolis

Wheel Fun Rentals offers mountain bikes so it's a great option for the adventurer. Aside from mountain bikes, they also offer a ton of other bike types, such as kids' bikes, cruisers, and the like. You can also rent unique bike types, such as double surreys and choppers.
We like that this rental service also works on being sustainable and eco-friendly. For instance, many of their bike rental locations run on solar power alone, which will benefit the environment in the long run. Aside from that, their bike accessories do not contain harsh solvents so they're eco-friendly on that part.
When it comes to waste management, they make all kinds of efforts by reusing and recycling old bike parts. They also practice water conservation, keep vegetation in their areas, and educate renters about the environment.
You'll find Wheel Fun Rentals in the following locations:
Minnehaha Falls
4801 S Minnehaha Park Dr
Minneapolis, Minnesota 55417
(612) 729-2660
(877) 273-2453
Lake Harriet
4135 W. Lake Harriet Pkwy
Minneapolis, Minnesota 55419
(612) 922-9226
(877) 273-2453
Lake Nokomis
5022 W Nokomis Pkwy
Minneapolis, Minnesota 55417
(612) 729-1127
(877) 273-2453
2. Nice Ride Minnesota: Rent Electric Bike Minneapolis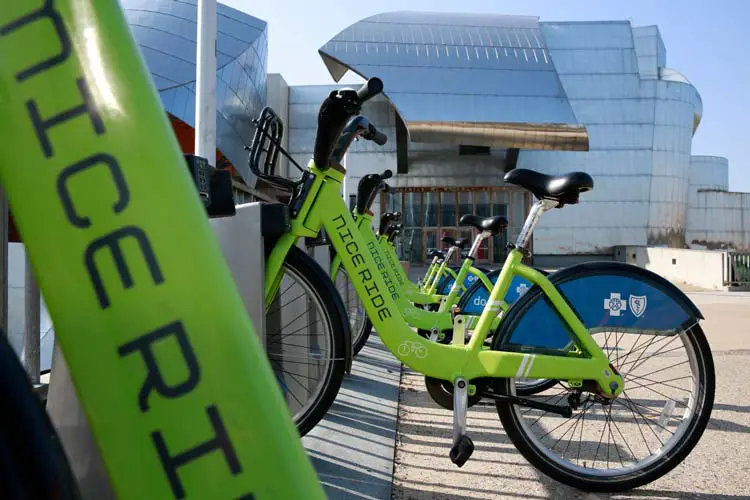 With over 190 locations all over Minnesota, they are a bike-sharing system that offers various deals, such as yearly memberships, 30-day passes, day passes, and the like. You will find most of their stations around St. Paul and Minneapolis.
If your main concern is getting from point A to point B, this is a popular choice. As of 2019, Nice Ride Minnesota has already rolled out an e-bike or electric bike-sharing. Most of their "unlock" prices are just $1 so it is generally a budget-friendly solution for those who are looking for bikes as a means of public transport.

This bike rental service is so popular that they've reached about 405,000 rides over the past year. Whether you're a daily commuter for work or you just want to experience riding a bike, this rental service is a hassle-free choice for you.
3. Erik's Bike Shop: Road Bike Rental Minneapolis
Located at Dinkytown, Erik's Bike Shop offers road bikes and other types, such as tandem bikes, fat bikes, hybrid, and more. Since they are near the University of Minnesota, they are a favorite of students and can be your gateway to having easy transport if you are eyeing studying there.
This bike shop also has a lot of other locations outside of Minnesota, so they have a large selection of models to choose from. Aside from being a bike shop that offers rentals, they also offer various services.
If you want to reserve a bike, you can check out their website for availability and you can reserve a bike model that you prefer. Their store is open from 11 to 7 p.m. on weekdays and until 5 p.m. on weekends.
STORE ADDRESS
1312 4th Street S.E.
Minneapolis, MN 55414
(612)-617-8002
STORE HOURS
Monday – Friday: 11am – 7pm
Saturday: 11am – 5pm
Sunday: 11am – 5pm
4. Freewheel Midtown Bike Center: Minneapolis Bike Trails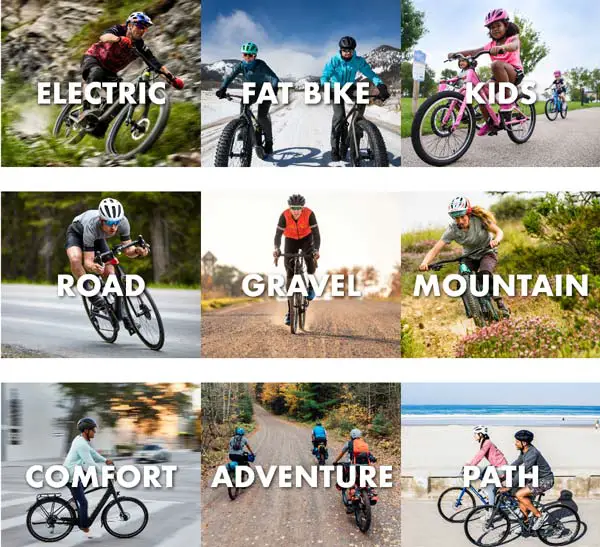 This bike center is located at Midtown Greenway, which has a plethora of bikes that are ready to be rented. What people like about this bike center are the trails that you can ride once you've rented a bike that you prefer. You can see a breathtaking view of lakes, rivers, and other areas.
Aside from being a recreational bike rental service, you can also use it to rent a bike for work purposes. To make maintenance easy for you during emergencies, Freewheel Midtown Bike Center has a transportation station, which offers the following services:
bike storage
emergency bike repairs
bicycle classes
public restrooms
café
2834 10th Ave S, Minneapolis
(612)-238-4447
5. Tangletown Bike Shop: Minneapolis Bike Map
Located at 816 W 50th St, Tangletown Bike Shop offers you a bag and a map, alongside the bike, safety gear, and bike lock – all of which will help you on your adventures. Their bike rental program appeals to people from all walks of life.
Their bikes can be used for recreation purposes, as well as if you want to stay fit or if you simply want to feel the breeze. They have various rental programs available, such as daily and hourly. They also have long-term bike rentals, which will be helpful for those who are also looking for an eco-friendly way of transportation.
They offer the following bike types:
city cruiser
hybrid
comfort bikes
mountain bike
fat bike
road bike
They also offer custom sizing from small to extra large. All you need to do is to provide them the data plus the pickup and drop-off date.
Tangletown Bike Shop 816 W 50th St
Minneapolis, MN 55419
C: Mike O'Leary
P: +16122598180
6. Penn Cycle: Cruiser Bike Rentals in Minneapolis
If you are looking for various sizes of bikes for rental, this is a great choice. People who live in the Uptown area are the most common customers/clients of Penn Cycle.
Located at 710 West Lake Street, when you rent their bike, you'll get to see a breathtaking view of various lakes, such as Lake Calhoun, Harriet, and Lake of the Isles. You will also spot Minnehaha Parkway and Midtown Greenway when you consider their bike rental service.
Their selection of bicycles is also good for those who want to look into shedding extra pounds. For those who want to rent cruiser bikes in Minneapolis, as well as bikes that are meant for workouts or to stay healthy, Penn Cycle is a great rental service for you.

Update: Penn cycle is no longer open. Freewheel is taking over their locations
7. Angry Catfish: Fat Bike Rentals in Minneapolis
Fat bike enthusiasts rejoice – Angry Catfish is here to provide for your needs. Because fat bikes are great for various terrain, you can cross snowy or sandy areas without feeling out of balance. Fat bikes usually appeal to people who prefer to do some off-road adventures rather than commute in the city all the time.
What we like about this bike rental service is that they do more than just bike repairs, fitting, hand-built wheels, and the like – they also have their coffee shop. This makes it a great hangout place if you belong to a group of community riders.
Among the bikes that they offer (other than fat bikes) include:
kids' bikes
mountain bikes
commuter bikes
road or gravel bikes
Aside from that, they also have branded merchandise, bike clothing, safety gear, and other essentials needed by a daily bike commuter, so it's a one-stop-shop and rental service. Among the wonderful views that you'll see during your bike ride with this rental service include the Mississippi River, Minnehaha Parkway, Lake Hiawatha, and Lake Nokomis.
4208 S 28th Ave.
Minneapolis, MN 55406
P: +1-612-722-1538
8. One on One Bicycle Studio: Touring Bike Rental in Minneapolis
If you prefer a comfortable view of the river and the lakes, this bike rental service is a fancy choice. They offer road bikes and even sporty-types that have 3 speeds. Additionally, you get a bike lock, maps, and helmets for renting any of their bikes.
They have high-end bikes that you can inquire about with their demo program. You can learn more about what they offer on their website.
4461 Minnehaha Ave
Minneapolis, MN 55406
(612)-371-9565
9. Maple Grove Cycling: Trek Bike Rental in Minneapolis

Located at 13950 Grove Dr., Maple Grove, this bike rental service is also a bike store that will also educate its clients on how to use and maintain their bikes. If you aren't very knowledgeable with bike specifics and technical terms, they will assist you so that when you run into trouble on the road, you'll have a quick bike fix.
Maple Grove Cycling has been around for 30 years. When you go into their shop, they also employ health and safety standards so you'll worry less. They also have friendly employees and focus more on getting people to ride bikes to maintain a healthy lifestyle.
When it comes to bike rentals, they also offer curbside pick-up. Their business hours are from 11 a.m. to 6 p.m. from Mondays to Fridays and 10 a.m. to 5 p.m. on Saturdays (they're closed on Sundays).
13950 Grove Drive
Maple Grove, MN 55311
(763)-420-8878
10. Pedego Electric Bikes Twin Cities: Electric Bike Rentals in Minneapolis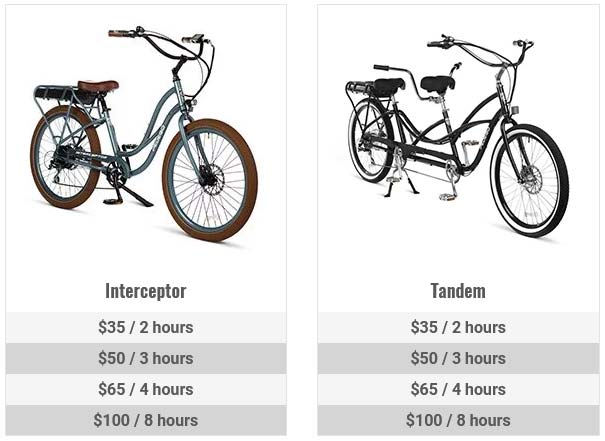 This bike rental service specializes in electric bikes, they cater to kids and adults of all ages. Among the electric bikes that they offer include:
tandem bikes
folding bikes
mountain bikes
fat bikes
cruisers
city commuters
cargo bikes
Located at 9719 Valley View Rd, Eden Prairie, they're open from 11 a.m. to 5 p.m. during weekdays, 10 a.m. to 3 p.m. on Saturdays, and are closed on Sundays. Aside from bike rentals, they also offer services, sell accessories, and the like.
When it comes to service, their employees also advise on bike choice, as well as recommendations on bike trails. We love their customer-friendly staff and wide range of bikes that are available for rental.
Website: https://www.pedegoelectricbikes.com