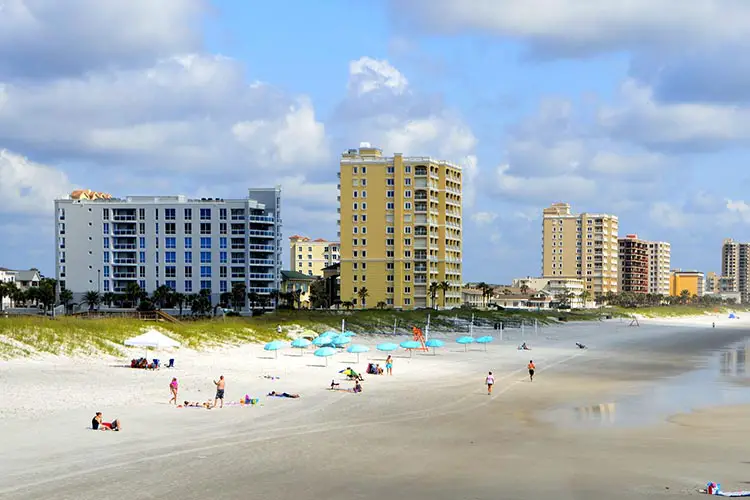 Are you looking for bike rentals near Jacksonville Beach? You've come to the right place – we've listed down some great bike rentals for you to check out on your next adventure to the area.
Whether it's a week or a month's stay in Jacksonville, here are some nice bike hubs that you will like so that you can cruise around – whether solo, with a partner, with the family, or with a group.
The Best Bike Rentals near Jacksonville Beach
If you're heading out to Jacksonville Beach, be sure to check out the following bike rentals: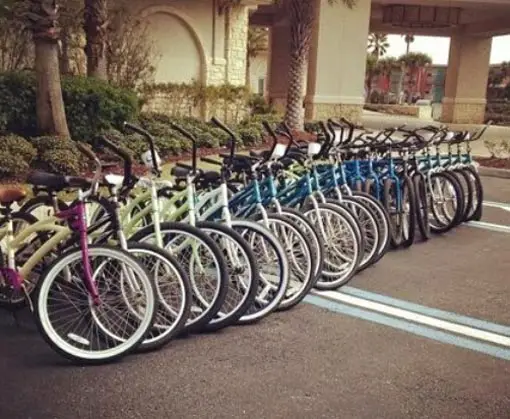 Yet another all-in-one vacation gear renting service is Beach Life Rentals. They have beach cruiser bikes for rent and they each come with a bike lock to keep you secure (you do have to ask for cup holders and baskets). What's more, they also have carriages, child seats, and kids' bikes for your little ones.
The bike rental rates range from hourly to daily rates, as well as a weekly rate. If you're planning a company team building, group tour, or a large family gathering, they also have group arrangements for a better pricing plan. The staff members are quite polite and approachable when it comes to renting anything from their shop.
We like that they have a free delivery to nearby areas (within Jacksonville Beach, Dutton Island Preserve, Intracoastal Waterway, and the Ponte Verda Beach). If you need anything else on your beach trip, they also have ice cream for the kids, snacks, drinks, and even sunscreen.
Aside from bikes, they also rent out umbrellas and other beach gear – and they will set it up for you! This means that they care about their customers a lot when it comes to rentals. Other items for rent include kayaks, SUP, surfboards, and more.
The bike rental service is also near various food hubs, such as Rita's, Monkey's Uncle Tavern, Beach Diner, Grom Angie's, Casa Marina, Ragtime Tavern Seafood & Grill, One Ocean, Graffiti Junktion, and Larry's Giant Subs. You will never run out of dining options when you're in the area. You can also stay at Casa Marina and One Ocean.
If you want to visit them, check out their shop at 102 6th Ave N # 13, Jacksonville Beach, FL 32250, which opens from 9 AM to 7 PM. You can also call them at (904) 584-7368 for reservations and other questions.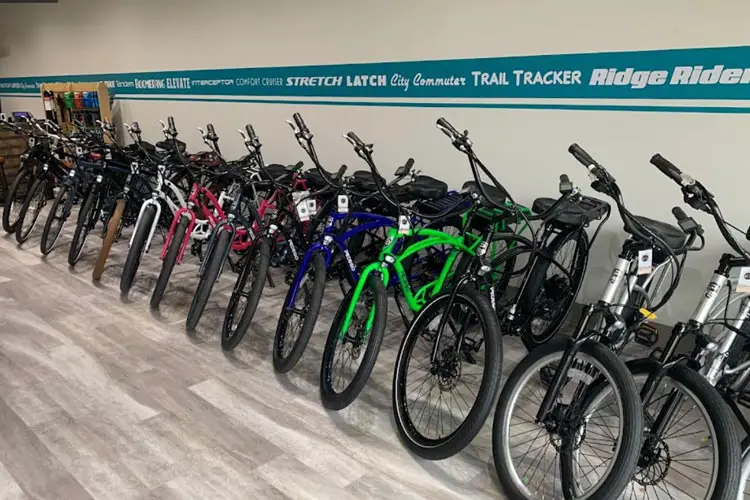 If you head further south, the next nearest bike rental that we can find is the Pedego Electric Bikes Ponte Vedra. Although not specifically in Jacksonville Beach, Pedego Electric Bikes is a well-known bike rental service in the United States with different branches so you'll find it a great place to rent your next vacation e-bike.
They rent e-bikes and the staff members make sure that they suit your needs and comfort. Among their bikes for rent include cruiser bikes, commuter bikes, tandem bikes, fat bikes, and more. They have hourly and daily rates depending on your needs as well. If you have children, you can also rent seats from them.
Aside from bike rentals, they also have a repair service in case you need it. To make it convenient for their customers, they also have a pick-up and delivery option. As we mentioned above, since most of the other bike rentals can deliver up to Ponte Verda beaches, you'll find it okay to rent a bike from here to Jacksonville Beach.
They also offer guided e-bike tours if you are new to the area. Their tour mostly consists of going to the Jacksonville Beach Pier, so it's a great way to get around Jacksonville Beach even though the bike rental is not that near. If wildlife preservation is your forte, you'll also enjoy their guided tour to the Guana Wildlife Management Area.
The bike shop/rental service also has nearby food hubs, such as the Nona Blue Modern Tavern and the Aqua Grill. If you're planning on drinking with your buddies when you get to Jacksonville Beach, you can also check out ABC Fine Wine & Spirits or shop for essentials at Publix Supermarket at Sawgrass Village.
If you want to visit them, they're located at 340 Front St Suite 750, Ponte Vedra Beach, FL 32082, which is a couple of miles down south from Jacksonville Beach. They are open from Monday to Saturday from 9:30 AM to 5:30 PM and closed on Sundays. You can contact them at (904) 373-5204 or [email protected] for more information.

When it comes to vacation, East Coast Sport Rentals has a lot of items for rent, which include bikes. They have hourly and all-day rental rates, as well as extras for child carrier options if you have kids with you.
Aside from bikes, they also rent out beach gear (umbrellas and chairs), as well as paddleboards, surfboards, kayaks, wetsuits, and beach sports (volleyball, Frisbee, and the like).
This is an all-in-one shop if you want a complete summer vacation experience in Jacksonville Beach. For large occasions, they also offer wedding rentals with rates for white chairs, arbor, and bamboo arbor, depending on your plans.
Because this bike rental service is already on the beach, it's easy to access and to talk to the staff members about what you want to rent from them. If you're both a surfer and a bike enthusiast (or if you'd like to try both of them), this is a great shop for you.
After renting a bike, it's also easy to find food hubs near the area, such as Vitality Bowls, Metro Diner, Cookies, and Creme Jax Beach, Monkey's Uncle Tavern, and more. They also have various stores, such as Dollar Store, CVS, a bunch of boutiques, and others.
You can also conveniently stay at hotels and suites by Marriott (Courtyard and Fairfield Inn & Suites), both of which are 3-star hotels.
Owned by Mike and Michelle Vannucci for 13 years, you can find East Coast Sport Rentals at 1617 1st St N, Jacksonville Beach, FL 32250. They are open from 8 AM to 6 PM but just to be sure, you may want to call them at (904) 349-0997 for inquiries and reservations.