Do you live or are currently staying in or near Santa Monica? We've got suggestions for your next bike rental hub so you can cruise around the town, hit some trails, or go to work without having to walk (or use your car all the time). Check out these bike rentals near Santa Monica that you might be interested in:
The Best Places for Bike Rentals near Santa Monica
Here are some worthy spots and hubs to rent a bike near Santa Monica: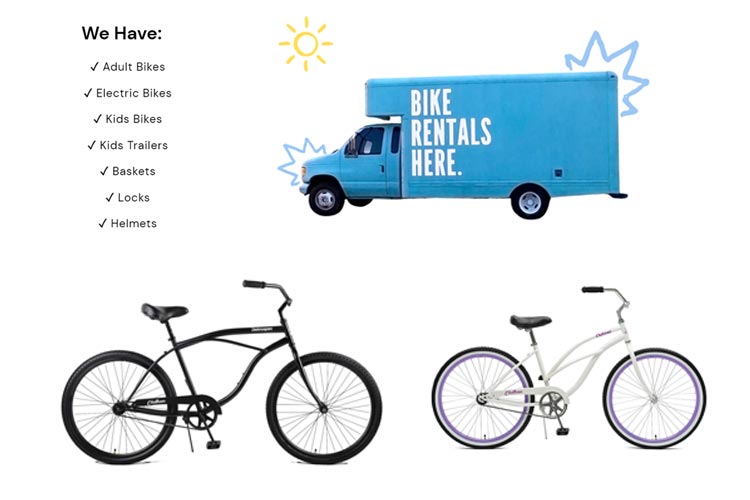 If you want a decent cruise around the shorelines of Santa Monica, Ride It Baby Bikes is a great place to start with. They rent regular bikes and electric bikes so you have a wide range of choices.
Their bikes for rent include adult bikes, e-bikes, and kids' bikes. They also have trailers up for grabs, as well as extra options such as helmets, locks, and baskets. Most of their plans and pricing are budget-friendly plus their staff is beginner-friendly, especially to those who are new to the area.
The staff members were not just welcoming but were also knowledgeable of various points of interest that you might like. Nearby establishments in this bike rental spot include the Santa Monica State Beach, Crescent Bay Park, Cha Cha Chicken, The Ink Well, Stella Barra Pizzeria & Wine Bar, and much more.
If you want more information, you can visit them at 2009 Bay St, Santa Monica, CA 90405, or check out their Google Maps address for a more precise location. They open from 10 AM to 7:30 PM on Saturday and Sunday and from 11 AM to 7:30 PM on Monday and Friday (closed the rest of the week).
They can be reached at (424) 407-2024 or [email protected] if you have additional questions about their bike rental program.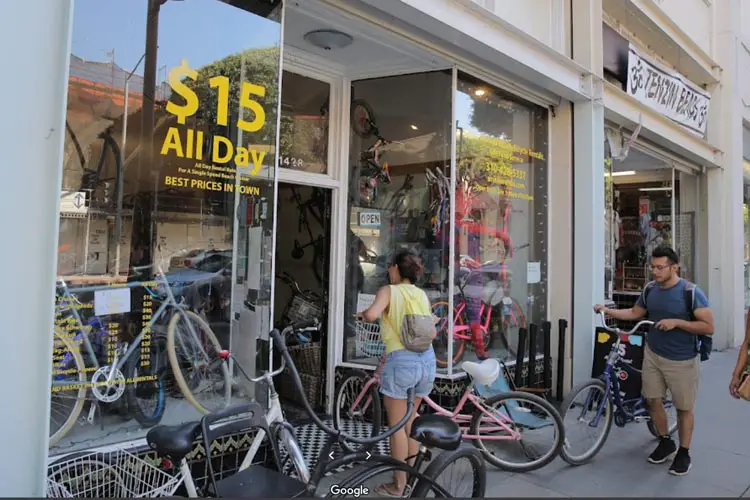 Yet another rental service that offers beach cruisers is the Santa Monica Bike Rentals. They have single-speed and 7-speed cruisers at different prices, as well as various other rates depending on your rental plan.
When you rent a bike from them, you'll get the first 90 minutes for free (they also have flat rates). Aside from the plethora of bikes to choose from, each bike comes complete with a basket, a map of local destinations, a bike lock, and safety lights. You can also ask them for helmets.
What we like about this bike rental service is that there's an ATM near the area so it's easy to pay for it (they only accept cash for rentals). Their location is also near the local pier.
You'll find their bike rental service a great spot to ride around Santa Monica Beach and Venice Beach. When it comes to the staff members, they are quite approachable and will answer most of your questions about bikes and renting them.
Their address is at 1428 4th St, Santa Monica, CA 90401 or you can check them out on Google Maps. For more information, you can send them an e-mail at [email protected] or call them at 310-428-5337 if you want to know more about their bike rental service.


If you are looking for guided tours as well as bike rentals, Joy Ride Santa Monica Tours is for you. They are open from 10 AM to 7 PM on weekdays and up to 7:30 PM on weekends. They have beach cruisers, electric bikes, city bikes, and even beach equipment (umbrellas, chairs, boogie boards) for you to rent to make your summer vacation experience a blast.
Their staff members are kind and approachable plus they always make sure that the rider is safe by giving them tips. They also ensure that their bikes for rent are well-maintained. As a female-owned company, they are also famous among female athletes.
They also now offer electric bikes up for rent plus they also have sunset tours in case you want to check out beautiful sceneries. They have an all-day rate and an hourly rate depending on your preferences/needs, in which each rental comes with a map, a basket, a bike lock, and a helmet for your convenience.
Do you have questions regarding their bike rentals? Why not give them a visit? Just head to 2 Arcadia Terrace, Santa Monica CA 90401 or you can check them out on Google Maps as well. They're near Chess Park and the Original Muscle Beach with two parking options: 1670 Appian Way and Arcadia Terrace/Pacific Terrace.
You can also call them at 310-866-5960 or e-mail them at [email protected] for further information.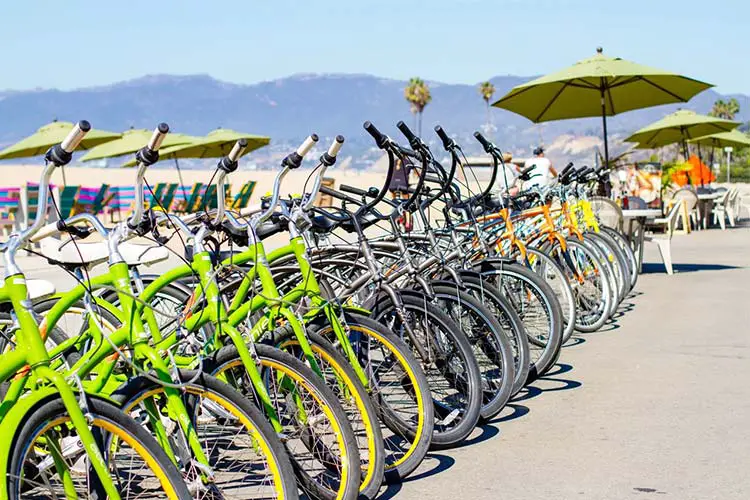 For those who want to combine surfing, biking, relaxing at the beach, and other outdoor beach fun, Perry's Cafe is a great choice. They offer a lot of bikes, such as cruisers, mountain bikes, kids' bikes, tandem bikes, tricycles, choppers, e-bikes, performance bikes, and even others such as tag-a-long bikes and carts.
Aside from bicycle rents, they also rent out beach items such as chairs, boogie boards, surfboards, mats, umbrellas, paddleboards, and even volleyballs if you'd like to have extra fun at the beach! They also offer roller skates for rent and they've recently introduced a beach butler service.
The staff members are quite professional and friendly and they will give you a refund in case you haven't used a single hour on your bike.
You can head to their address at 2F8X+5F Santa Monica, California, or check them out on Google Maps. Aside from that, you can also call them at 310-458-3975 or e-mail them at [email protected] for more information.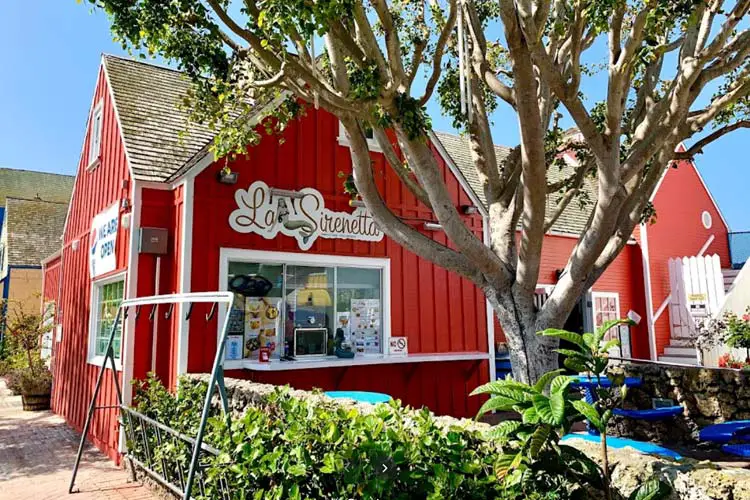 For those who'd like a mix of bike rentals and a pier experience, Daniel's Bicycle Rentals-Sales is for you. They rent bikes that allow you to tour the scenic spots of Torrance Beach, Playa Del Rey, Hermosa, and more. They offer a lot of choices, such as hybrids, beach cruisers, and 3-speed cruisers.
Aside from that, they also have tandem bikes, mountain bikes, road bikes, a kid's cart, kids' bikes, and bike trailers for kids. All of their bikes have an hourly and a daily rate for you to choose from. You'll also spot the Los Angeles Airport near the bike rental, as well as a Hertz Car Rental service.
They have a knowledgeable staff and they're friendly towards new riders. These staff members will also point you to various bike trails and whatnot. When it comes to accessibility, their comfort rooms are well-maintained plus they have food and drinks nearby.
Visit them at 13737 Fiji Way, Marina Del Rey, CA 90292, or check them out on Google Maps. You can easily park at Dock 52 without charge if you want to visit them. You can also e-mail them at [email protected] or call 310-980-4045 for more information about their bike rentals. They are open from 9 AM to 6:30 PM on weekends and 10 AM to 4:30 PM on weekdays.