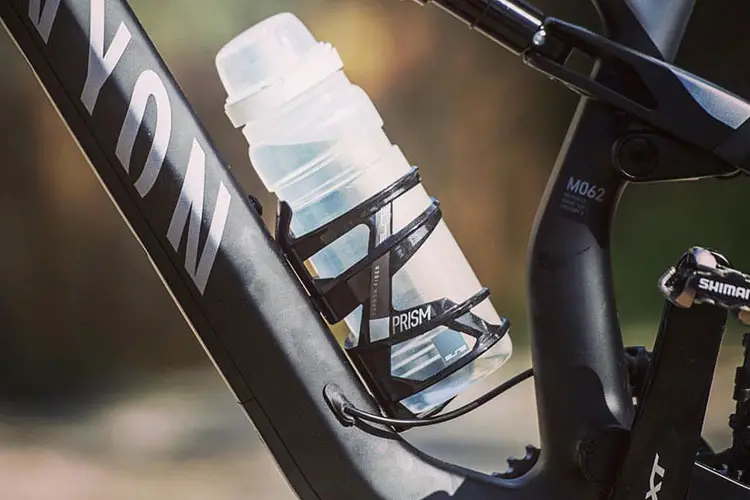 After a long and exhausting ride, there's always something to look forward to – a refreshment. Water bottle cages don't always come in all bikes so you may have to buy one for yourself. Or, if you find that the water bottle cage on your MTB isn't that durable for the elements or won't hold your bottle properly, you can also find a replacement for it.
In this article, we'll review some worth-mentioning water bottle cages that you can use for your MTB. We handpicked products that we know will support your favorite drink throughout the ride. After all, at the end of your ride, you should expect your cup of iced coffee, water, or sports drink to be intact.
Best MTB Water Bottle Cage Reviews
Here are our top picks for the best MTB water bottle cage for your next ride:
1. USHAKE Water Bottle Cages
If you're planning a long trip, you'll like the USHAKE Water Bottle Cages because it comes in a set of 2, which are installed on two frame areas of the bike. Setup is also convenient thanks to the included Allen wrench, other than the screws.
With included screws that are easy to install onto most bikes that already have pre-drilled holes, each of them weighs 2.1 ounces and will fit most plastic water bottles. We like that the design of the holders allows you to bend them further for slimmer bottles.
Aside from plastic water bottles, you can even use them to hold fast-food drinks as long as they are properly sealed (use the upright mounting method and make sure you pedal slowly). Bottles that are 3 inches or less will fit just fine (usually up to 26 ounces).
Since it is made of aluminum, it won't add a lot of weight to your bike while also holding your drinks as stable as possible on rough roads. Because these are made without any plastic materials, they will have sufficient durability for long-term use and long-distance riding.
Anodic oxidation and the black coating finish will help ensure durability amidst bad weather and your cold drinks. When installed properly, your water bottles could even survive a bumpy road or staircase!
Key Features:
A bendable mechanism for fitting
Holds fast-food drinks
Aluminum with weather-resistant finish
Comes with installation hardware
No plastic parts
2. PRO BIKE TOOL Bike Water Bottle Holder
Made with a contoured design to strongly grip your water bottle on a bumpy road, the PRO BIKE TOOL Bike Water Bottle Holder has a matte black finish that won't easily ruin your water bottle by scratching. It comes with mounting holes and stainless steel bolts for easy installation onto your bike frame.
Each bike bottle holder weighs 1.69 ounces so they're not too bulky to put on a bike, especially if you're meticulous about added weight. The powder coat finish will also keep it durable against weather and the elements.
Various sizes of water bottles will fit into this holder – from 20 to 33 ounces. The wing area of the bottle cage is also adjustable, like our previous pick, so you can squeeze in and secure a much narrow or smaller bottle, just to be sure.
If you have an MTB with a full suspension design, having a water bottle holder can be tricky. Fortunately, with this water bottle holder, you can drill a much lower mounting hole so it will fit larger bottles up to 33 ounces.
Because of the aluminum alloy construction, custom drilling the mountain bike water bottle holder won't be much of a problem. Just make sure you use a non-invasive screw if you need to put a large water bottle.
Key Features:
Lightweight
Will fit up to 33-ounce bottles
Adjustable for small bottles
Can be tweaked for full suspension bikes
3. ROCKBROS Bike Water Bottle Holder
For those who want a lightweight aluminum holder for their favorite drinks, the ROCKBROS Bike Water Bottle Holder is for you. Available in various colors (all are gradient in color style); they will fit water bottles up to 33 ounces when installed properly. Since it is not made of plastic materials, you can comfortably bend it for smaller water bottles.
It is also a one-piece construction with included Allen wrench and screws for easy DIY mounting. Each of these holders is only 0.8 ounces so they won't add bulk to your bike. For special bike frames with a different frame design, the screw holes are also adjustable to best fit your drinks without feeling awkward.
What's more, the uniquely designed baffle at the bottom will keep the drink from spilling or otherwise going out of place on a bumpy road. This would be helpful if you are working on difficult trail sections on your next MTB ride.
When it comes to the finish, if you want a high gloss finish, this is also a great water bottle holder for your MTB. What we like is the unique subtle gradient paint that adds a layer of aesthetic to your bike. While other bike water bottle cages only have a simple black color, if you want a touch of art and personalization, this is a great choice for you.
Key Features:
Gradient color pattern
Very lightweight
Aluminum alloy
High gloss finish
4. CNC Bike Water Bottle Holder
Another set of two holders is the CNC Bike Water Bottle Holder, which is ideal for those who want to keep two bottles in one go and maximize their trip. The metallic finish gives it a cool design and you can choose a color that best suits your bike theme.
It will fit water bottles up to 27 ounces so it's good for small to medium-sized drinks. As with all bike water bottle holders, it's easy to install thanks to the included Allen key wrench, screws, spaces, and the like. If your water bottle isn't that large or if it fits most bottle holders, it will fit just fine on these holders.
At night, we think that the metallic finish would be an advantage. This will help you easily see where your water bottle is and grab it with comfort. In this way, there's less worrying about getting hydrated when cycling at night or dawn.
This water bottle cage is also suitable for the summer since it will carry two drinks at once. If you feel that you can't get enough hydration in the hot weather or if you need to go for a long day out, this set is for you and your bike.
Key Features:
Metallic finish
2-pack for more drinks
Easy installation
5. USHAKE Lightweight Bike Water Bottle Holder
The USHAKE Lightweight Bike Water Bottle Holder is a different design from our top pick above since this is only one holder instead of two. The design is also more of a hugging look rather than like a roller coaster seat holder.  This means that it's more suitable for bumpy roads where you believe your water bottle would easily spill out.
This holder will fit up to 32 ounces. It will also be easy to clean due to the polished finish, which is ideal for riding out in the rain. As with most bike water bottle holders, it comes with a hex key for installation.
Although there is a little bit of challenge when removing the water bottle, that depends on the size and/or the design of your drink in hand. In the worst-case scenario, you may have to bend the cage slightly to get a big bottle out, so it might only be ideal for small to medium-sized bottles.
Nonetheless, if you are looking for a bike water bottle holder that's more on safety and security rather than the ease of removal, this is a good choice for you. Tricky sections and long rides need a stable water bottle holder, and this is a good candidate due to the hugging arm design.
Key Features:
Fits up to 32 ounces
Has a polished finish for easy cleaning
Has a hugging design for bottle security
6. Marque Classic Bike Water Bottle Holder
Yet another 2-pack set that you'd find suitable for very long trips (or hot summers) is the Marque Classic Bike Water Bottle Holder, which can be installed on the bike frame in two areas. Since it is made of aluminum alloy, it will be quite durable for long-term use. Due to being a one-piece design, the holder is quite universal when it comes to handling water bottles (or even take-out drinks).
What we like about this design is that you can bend the outer cage to adjust to smaller water bottles. This would make it a great bike water bottle holder for those who have different kinds of drink holders.
When it comes to weight, do note that each holder is 2.3 ounces so they are more ideal for those who want durability without minding the added bike weight. You may also need to borrow or supply your own Allen key for the installation because the manufacturer doesn't include it.
Although these fit into mountain bikes, you still have to be careful as the design is different from the hugging-type bottle holders we mentioned earlier. We recommend these for casual riding and not for super bumpy roads but they will fit well into most MTBs.
Key Features:
2-pack set for more water bottle room
Universal fit
One-piece design
Easy to install
7. RUNACC Adjustable MTB Water Bottle Holder
If you prefer a rotatable unit, the RUNACC Adjustable MTB Water Bottle Holder is a great choice since you can adjust it to 360 degrees for ease of access. All you need to do is to rotate the screw to adjust the holder to your preferred direction.
What we like about this bottle holder is that you don't need to have drilled holes on your bike just to install it. The flexible clamping mechanism of this water bottle holder allows you to place it anywhere on the bike – on the frames, below the seat, or even on the handlebar.
This makes it suitable for a wide range of uses (not just drinks). If you have an old bike and don't want the trouble of having to get it drilled, this is an easy DIY setup for you.
The water bottle holder will fit anything that's around 2.5 inches in diameter. You can also use the rotatable screw to increase the tightness of the clamp, which is useful for MTB users (but we still advise using it casually and not so much on technical surfaces).
Not to worry about the grip – the clamp has a sticky gasket design, which has a non-slip surface. Perhaps the only challenge with this bottle holder is if you had a bike with a much thicker frame, which you're better off with a holder that's installed by drilled holes.
Key Features:
Easy to install
Can be placed almost anywhere in the bike
No need to drill holes
The clamp has a strong grip
8. LEZYNE Side Load Flow Bicycle Bottle Cage
The LEZYNE Side Load Flow Bicycle Bottle Cage allows you to conveniently access your refreshment thanks to its side-load design. With various colors to choose from, it weighs 1.6 ounces (48 g) so it won't be much of an impact on your overall bike weight.
Because the mounting holes are a long oval in design, it's easy to tweak the mounting position based on the bike's mounting holes. The side-loading mechanism makes this more ideal for MTB users who want convenient access to their drinks at all times.
Most bottles will fit into the cage but you do need to be careful when handling a larger drink. Take-out cups can also be placed there but with great caution. If you have a bike that doesn't allow for a lot of space on the frame, this is a good choice for you due to the side access design.
While it does come with mounting bolts, we suggest going to the hardware store and buying much longer and thicker bolts just to be sure. The provided bolts are a little thinner if you put a lot of load on your water bottle holder.
We also like how you can ask the manufacturer to meet the comfort levels of left-handed people by ordering a custom-designed holder.
Key Features:
Just right weight
Sideloading mechanism
Fits most bottles and take-out cups
Before You Buy
Now that we've seen some great water bottle cages, below is some valuable information when it comes to choosing one for your needs:
Things to consider
So, how do you choose an MTB water bottle cage? Here are some criteria to look for:
Durability – a good water bottle cage should be durable for all-weather use, especially since you will install it in an MTB.
Ease of access – no one wants a water bottle that's difficult to access after all.
Security – at the same time, a water bottle should also be secured to the cage with a proper design.
Installation – most MTB water bottle cages we mentioned above have free Allen keys for easy installation.
Your water bottle – of course, you have to know if your water bottle fits the cage.
Q&A
To help you further, we listed down some frequently asked questions about water bottle cages:
Where should I put my water bottle cage on my bike?
You usually put a water bottle cage on the frame that has pre-drilled holes. If your bike doesn't have them, you may want to get it custom driller or use a cage/holder that has a clamp mechanism instead. Water bottle cages are also a personal preference so you can sometimes freely choose where to put them.
Are carbon water bottle cages worth it?
Carbon water bottles are pricier but they're no different from aluminum water bottle cages in terms of performance. If you have a quality aluminum alloy cage and you installed it properly with regular maintenance, it will last longer and not make your bike look bulky.
Are all water bottle cages the same size?
Not exactly, as some are designed only for small to medium-sized bottles. Some, however, have adjustable frames or stoppers to keep your bottle fit whatever size it is. Think of those frames that lock you in place when you ride a roller coaster – they work best for different bottle types.
Conclusion
As a whole, MTB water bottle cages will do justice as long as they fit your bike properly, are installed correctly, and are loaded with a correctly-sized water bottle. You can take your favorite drinks with you with great ease if you have a quality cage or holder for them.
We hope that these picks helped you choose the best MTB water bottle cage for your needs. Always remember to pack sufficient refreshments when you're going for a long trip outdoors!