Are you looking for some great bike shops around West Palm Beach? Worry no more – we've got some suggestions for you below. Whether it's a cruise along the bike trails or just a commuter's way of getting around the town, these bike shops will give you the best deals while maintaining good customer service.
The Best Bike Shops in West Palm Beach
Here are our picks for the best West Palm Beach bike shops that you can find around: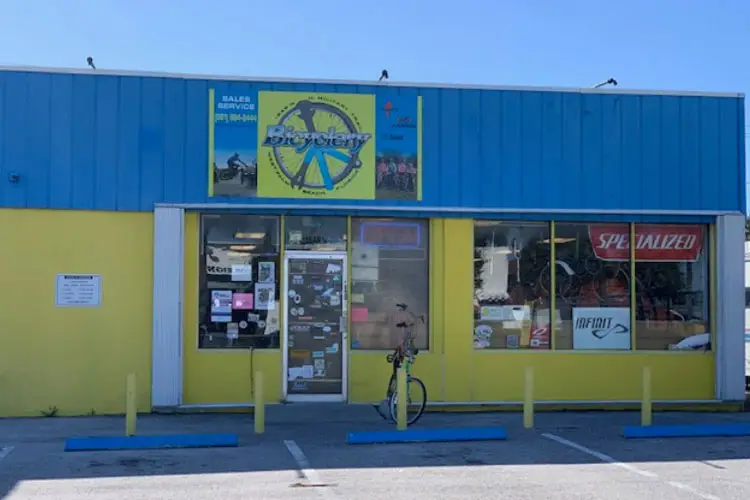 If you are looking for a great bike shop in West Palm Beach, the Bicyclery is a great choice. They offer bikes and bike parts plus they also have on-site testing if you are well-suited for the bike. This includes lactate testing, wattage testing, and spin scan analysis.
What's more, they also use their fit kit to properly size your bike for your best comfort and needs. In adherence to the COVID-19 pandemic, they also ship your bike to anywhere in the United States and have also adjusted their hours from 10 AM to 6 PM every Tuesday and Thursday and from 12 noon to 4 PM on Sunday.
Among the brands that they sell include Thule, Shimano, Continental, Castelli, Hammer, Nutrition, Bell Helmets, Sram, Adidas, Vittoria, and more. When it comes to repairs, expect about 2 to 3 days if you want to get your bike repaired in their shop. They also accept VISA, MasterCard, and others, as well as Synchrony Bank financing.
Are you interested in The Bicyclery? Visit them at 1649 N Military Trl, West Palm Beach, FL 33409, or call them at +1 561 684 8444. Moreover, The Bicyclery can also be found on Google Maps for further directions.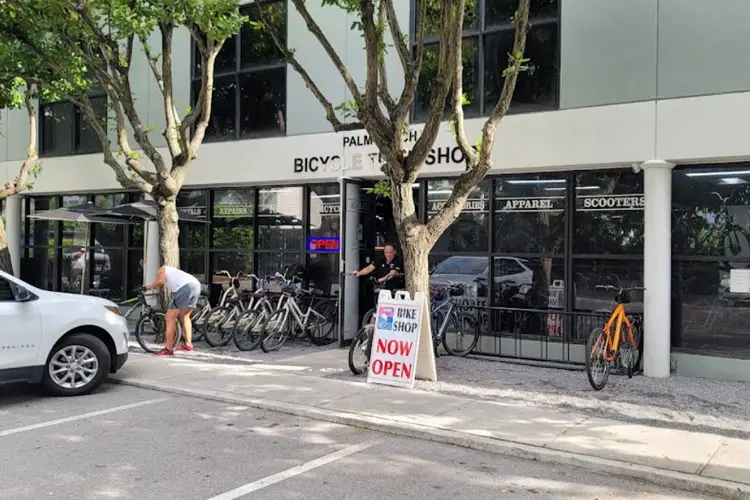 Are you looking for high-end bikes as well as regular bikes? The Palm Beach Bicycle Trail Shop has a wide selection of bikes for you, which also includes electric bikes and tandem bikes. They even have scooters (as long as you're 21 and above) up for grabs.
Among their bike brands include Sun, Jamis, Electra, Elliptigo, Phat Cycles, Kymco, Dahon, Trek, Biria, Tifosi, and more. They have hourly and daily rates and they all come with helmets and locks (you do have to pay for them separately).
The location is near restaurants, a steakhouse, and more, so you'll have plenty of choices after you ride a bike. Aside from that, the staff is quite friendly when it comes to giving you tips on the nearby bike trails. Moreover, they make sure each bike comes out of their shop with absolutely no damage whatsoever.
If you are interested, visit them at 50 Cocoanut Row STE 117, Palm Beach, FL 33480. You can also check them out on Google Maps for further information. You can also call them at 1 561 659 4583 or send them an e-mail at [email protected] if you want to book a service.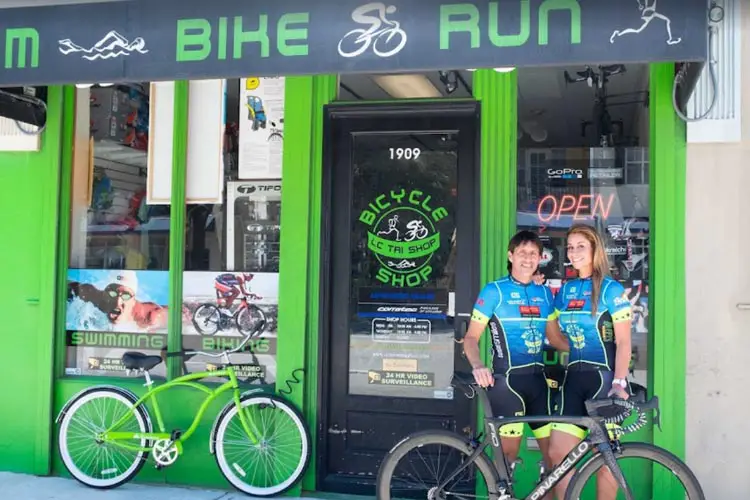 Located at 1909 S Dixie Hwy, West Palm Beach, FL 33401, LCT Tri Shop is a great place to look for bikes, as well as accessories, apparel, and parts. You can also take your bike there for repair and have it custom-fitted for your needs.
If you are a triathlon competitor, you will love this shop because they mostly have high-end bikes for you to choose from, whether it's a road or a mountain bike. The staff members are all experience when it comes to bike jargon and repairs so they will give you professional yet friendly advice. They can also go overtime to finish a repair job when needed.
As for the location, just along the main road, you'll find a school and an Asian cuisine restaurant. You'll also find other food hubs nearby.
For further questions, you can send them an e-mail at [email protected] or call their office at (561) 249-1333. You can also visit them at the address mentioned above from 10 Am to 6 PM (weekdays) or on Saturday from 10 AM to 5 PM (they're closed on Sunday). You can also visit them on Google Maps for further directions.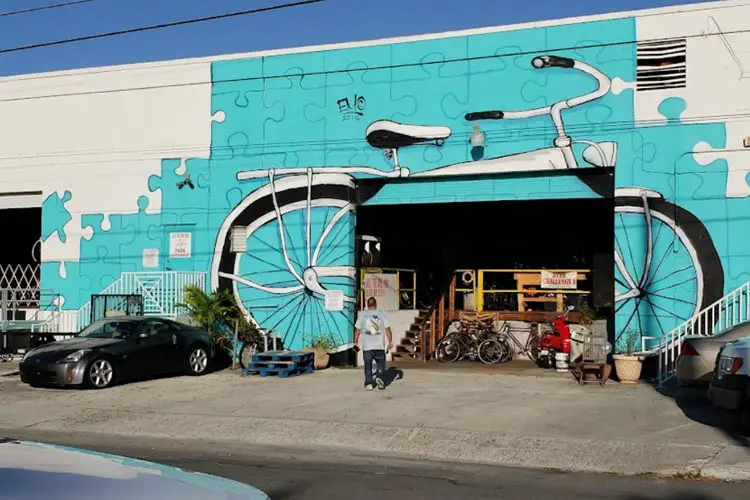 For those who want a charitable bike shop, you will like Jack the Bike Man. They focus on giving to the poor, especially to the children, while also having a repair shop and some bikes up for grabs. They include various charitable programs for people and kids to own a bike at an affordable price.
With the help of some volunteers, they open their shop at 2406 Florida Avenue, West Palm Beach, Florida 33401. They are open from 10 Am to 6 PM from Monday to Friday and up to 4 PM on Saturdays (closed on Sundays and major holidays).
If you're interested, you can drop by and look at their bikes for sale and for rent, as well as their children's programs for owning bikes. When it comes to staff members, they make sure that each of them is well-trained when it comes to bikes and whatnot. They will also guide you on affordable choices and quick fixes on bicycles.
Do you have any questions regarding their programs? You can call them at (561) 832-0071 or send them an e-mail at [email protected] for your inquiries. If you're currently driving, they are also on Google Maps.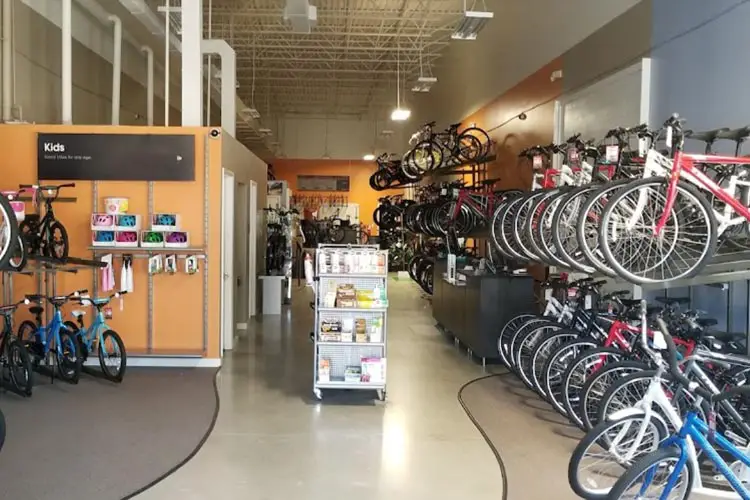 If you are looking for bike fitting and servicing, Trek Bicycle Store Boynton Beach is a great place for you. They even have protection plans in case you want insurance for your bike, which is especially helpful for competitors or frequent bikers.
They have a wide range of road bikes, triathlon bikes, e-bikes, mountain bikes, and even special bikes for kids and recreation, such as hybrid, cruisers, and fitness bikes. Their staff members have a lot of knowledge when it comes to technical aspects and they will also easily answer your questions (even the most obvious ones).
They are open from 10 AM to 6 PM every day or you can visit them at 800 N Congress Ave #1A, Boynton Beach, FL 33426. You can also check them out on Google Maps. For further information, you can also call them at 561-733-8300 or send them an e-mail at [email protected], especially for appointments.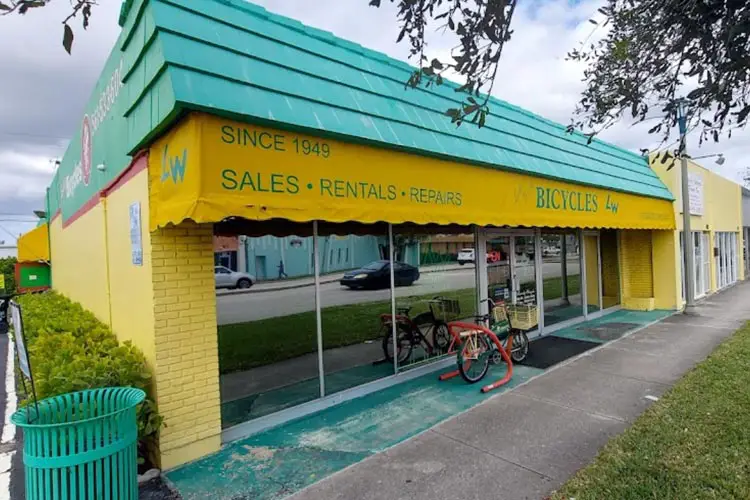 Combining the expertise of a bike rental and a bike shop service, Family Bicycle has friendly crew members that will easily welcome you to the world of cycling, especially if you are new to West Palm Beach. They make sure each bike that gets bought or rented goes through a thorough inspection and they also have budget-friendly options.
You get a complimentary bike lock, a helmet, and a basket when you rent one of their bikes. They have an assortment of bikes to choose from, such as road bikes and hybrids. We like that they will also advise you on what kind of accessories go well with your rented bike. What's more, road accidents are usually insured by them.
Family Bicycle is on Google Maps but you can also visit them directly if you're near the area: 127 S Dixie Hwy, Lake Worth, FL 33460. On Saturdays, you can visit them from 10 AM to 4 PM and from 8:30 AM to 5:30 PM from Tuesday to Friday. Their contact number is +1 561 533 6040 for further information on renting and buying bikes.