Are you looking for awesome bike rentals in St. Petersburg, Fl? We've got some suggestions for you for your next summer vacation.
Whether it's a beach that you are heading to or just a cruise along with the towns and whatnot, there's a bike rental that will suit your needs. Don't worry – we'll help you choose one.
The Best Bike Rentals near St Petersburg
If you're around St. Petersburg, here are some worthy bike rentals to check out: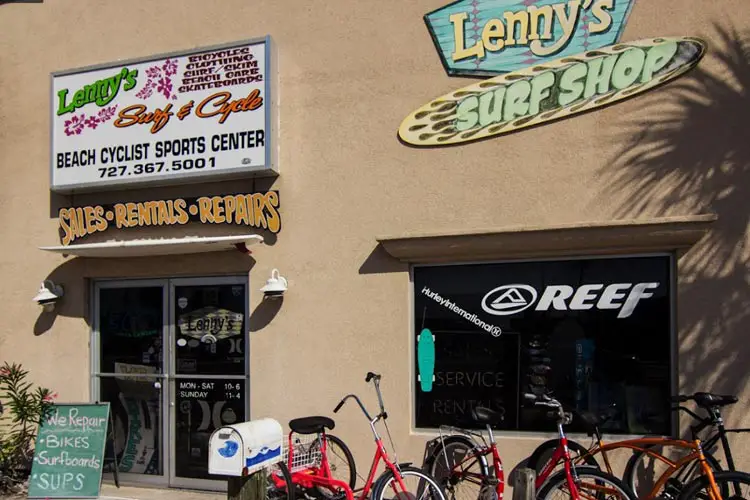 If you're looking to bike and surf in one vacation period, BCSC / Lenny's Surf Shop is for you. Because the staff members are knowledgeable not only in bikes but also in surfing, you'll find this 2-in-1 shop worth a shot.
This has been a long-standing shop for 30 years so their owner and operators all have sufficient experience when it comes to bikes and boards. They will also eagerly answer your questions about bikes and give you advice on riding and gear as well.
What's more, they accept bike repair jobs when you need them – great for when your bike (whether rented from them or your own) needs a good fix. Aside from bike rentals, they also have electric bikes up for grabs if you want a more convenient way of cruising.
When it comes to nearby establishments, this bike rental/shop is easily accessible to a gasoline station (Exxon), as well as shops and groceries (Walgreens, Corey Avenue Shopping District, and Key West Shrimp Company). They also have food hubs such as La Croisette, Nori Thai, PJ's Oyster Bar, and more.
There's also Enterprise Rent-A-Car if you need to get around St. Petersburg or you can stop by and relax at Colonel Micheal J. Horan Park.
Moreover, due to the COVID-19 pandemic, the staff members are enforcing health and safety protocols (such as the mandatory wearing of face masks) on-site to keep the customers and the staff members safe.
Are you interested in renting bikes from them? Call them at 727-367-5001 or visit 7517 Blind Pass Road, St. Pete Beach, FL 33706, which is just a couple of miles away from St. Petersburg. BCSC / Lenny's Surf Shop opens from 10 AM to 6 PM from Monday to Saturday except for Thursday (closed) and from 11 AM to 4 PM on Sunday.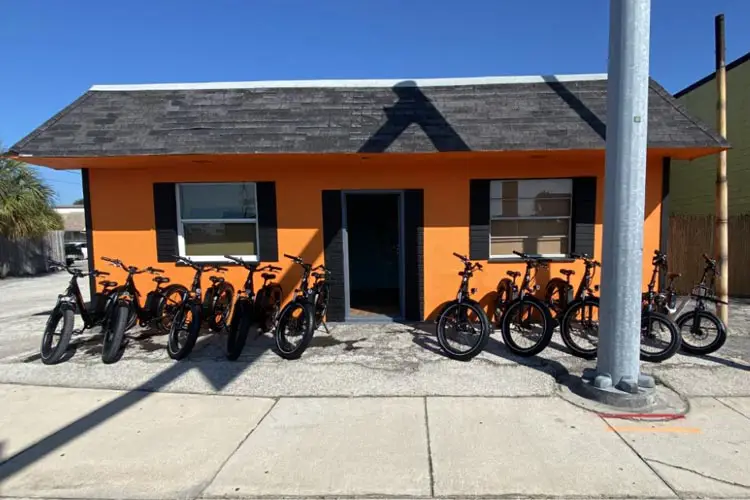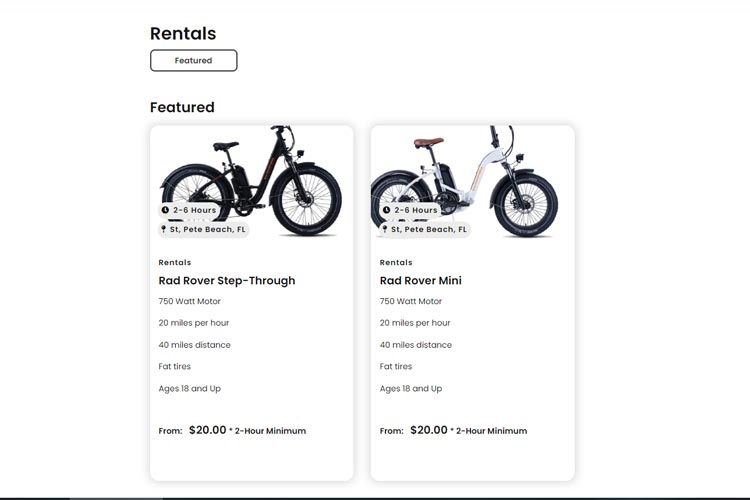 Another nearby bike rental just beside Lenny's bike and surf shop is Power Rents, which has a wide assortment of powerful electric bikes for you to rent. They have Rad Rover Step-Through and Rad Rover Mini, both with fat tires, making them ideal for cruising on the beach. They have a 2-hour minimum rate for riders but you can also book for a longer period of usage.
They also have various trail maps for you to discover, whether you're touring solo, with a partner, or with friends and family. What's more, their shop also accepts bike repairs when you need them.
When it comes to staff service, the crew members are approachable, and renting a bike is quite simple. If this is your first time, you will less likely have a hard time because the staff members will already explain to you what you need to do with it.
In most cases, the staff members will even give you additional accessories and cold water for your bike trailing needs. They will even give you some additional points of interest to check out around the area.
Much like the shop we mentioned earlier, it is also near some establishments such as shops and diners so you won't feel lost and hungry after a good cycling experience. Power Rents is also near Bank of America if you run out of cash.
If you want to reach out, you can call Power Rents at 727-310-1590 or email them at [email protected] for inquiries. You can also visit them at 433 75th Ave, St Pete Beach, FL 33706 if you are near the area.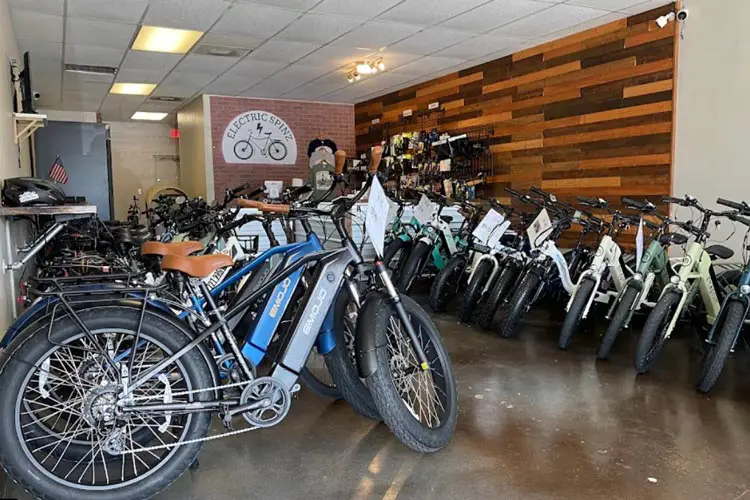 If you need to get around St. Petersburg, Electric Spinz is yet another nearby bike rental service if you're around Bay Pines. They mostly rent e-bikes that you can use to ride a wide range of trails and scenic spots around St. Petersburg.
Are you heading to St. Pete or Redington Beach? If so, this is a great e-bike rental for you. You can also use it to ride to Clearwater North Beach. This bike rental service is a must-try if you want to go to the Pinellas Trail.
Each bike you rent comes with a free helmet, bike lock with cable, electric peddle assist, and of course, the bike battery, which is good for 30 miles or more. You can choose from a wide range of bikes from them, such as the Panther Pro, Pathfinder Pro, Rambo Rooster, or the Bunch Bike if you need to carry youngsters (or luggage) with you.
Their e-bike rental program has various rates (hourly, half-day, and full-day) depending on your needs. What's more, their customer service is quite good because the staff members know what they are doing and they make sure the customer does, too. Are you a beginner at using e-bikes? No problem – the staff members will get you covered!
Aside from e-bike rentals, they also have a bike shop where you can order different bike models or pre-order something that catches your eyes. They also offer e-bike assembly or servicing, such as brake adjustment, replacement, tire replacement, troubleshooting, and more.
Their shop is open from 9 AM to 5 PM and is located at 9653 Bay Pines Blvd, Seminole, FL 33708 so you can take a look at the bikes they have for rent (and which ones are in stock). If you want to inquire ahead, you can also call them at +1 727 275 0037.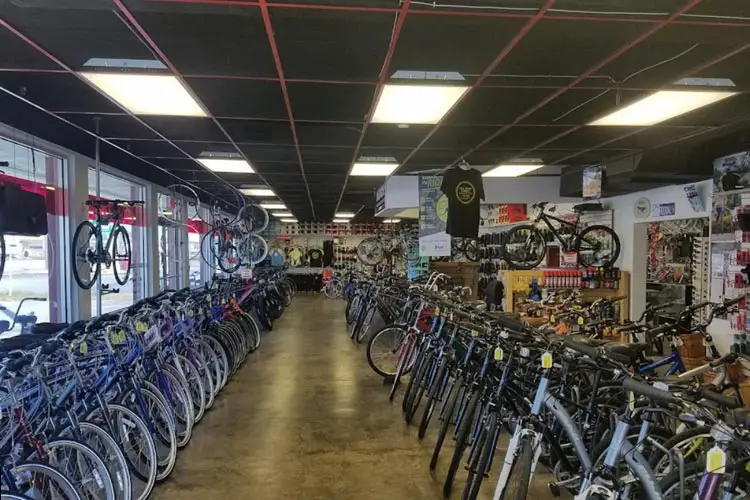 Just north of Electric Spins is Trail Sport Bicycles, where you can rent different bikes as well. Each bike comes with a bike lock and helmet but you can also ask for an additional bike bag. They also have bottled water on-site in case you forgot or ran out.
Among their bikes for rent include hybrids, road bikes, and tandems – all of which have day rates. Their customer service is quite good as the staff members have good knowledge of bikes and are approachable. They make sure each bike that gets rented (or sold) is properly working and that it suits the customer well.
If you're interested, check them out at 6201 Seminole Blvd, Seminole, FL 33772 from 10 AM to 7 PM every weekday (closed on the weekends). You can also call them at +1 727 395 0509 for more information on their bike rentals.